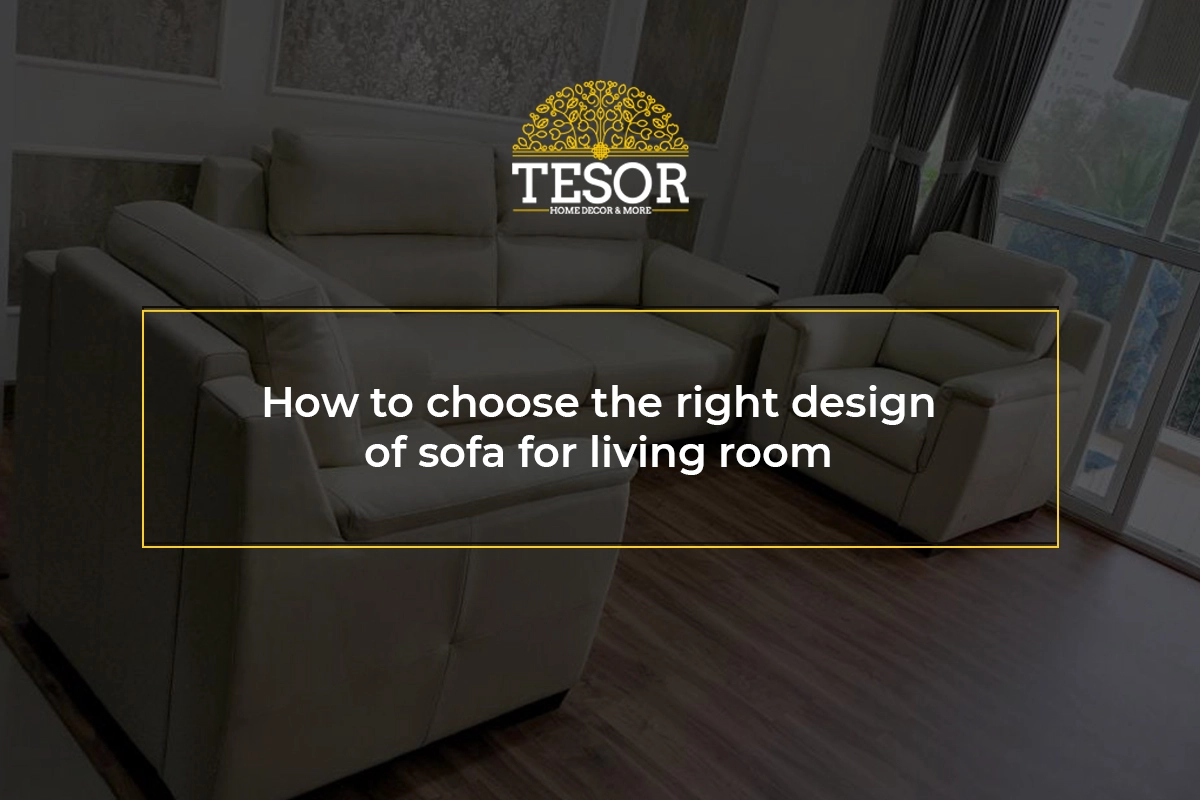 How To Choose the Right Sofa Design for Your Living Room
When you're looking to change up the look of your living room, a great place to start off is the sofa. Choosing the ideal sofa design for your living room can be a daunting task. With a flood of options to choose from, it can be challenging to land on a design.
You want to choose something that both fits the practical requirements and the aesthetic of your living area. The ideal sofa should be appealing, cosy, durable, and meet all practical requirements.
We've put together some tips on how you revamp your space by choosing the right sofa design for your living room that satisfies all the criteria.
Five Tips to Find the
Sofa Design for Your Living Room
Based on some of the best living rooms we've helped design, here are five tips for finding the perfect sofa design for your living room.
1. Choosing a High-Quality Frame
A strong, high-quality frame guarantees durability and comfort.
Most high-quality frames are made from materials like hardwood and metal, which are known to endure wear and tear.
Choosing a high-quality frame ensures your sofa will stay in excellent shape for many years to come.
2. Find the Perfect Seat Cushions
The ideal sofa is a symbol of comfort. Choosing the right cushion enhances the comfort of your sofa. Find something that's sturdy enough to support your back while still being soft enough to sink into.
A popular choice of seat cushions includes options like tufted seat, foam seat, and down seat cushions.
If it's style and comfort you're looking for, tufted seat cushions are an excellent choice. These come in a wide range of colours and fabrics.
Foam seat cushions are the best option if you're looking for both support and contouring. The best thing about these cushions is that they're plush and soft.
Down seat cushions are made from real or artificial feathers. The plus side is that they're extremely soft and comfortable. The downside is that they're not the most environmentally friendly option.
3. Prioritize Choosing the Right Fabric
Your choice of upholstery material will make or break the appearance of the sofa design for your living room. The colour or pattern you select is secondary as long as you get the perfect balance between a strong fabric and a soft, subtle texture.
The way you use the sofa affects how long it will last. For example, sitting down, putting your feet up, and wearing shoes on our sofas tend to add wear and tear to your sofa. So choose a fabric based on how you plan on using your sofa.
If you have children or pets, you may want to choose a smooth cotton fabric that's easy to wash. Luxurious, textured blends like wool are better for the bedroom because they add a plush feel.
4. Check for Measurement and Size
When it comes to choosing the perfect sofa design for your living room, size and measurements are key.
Take proper measurements of the room where you plan to keep the sofa to ensure it fits comfortably.
Also, take into consideration the number of people that'll be using the sofa to get the right idea of the size needed.
5. Consider the Shape of the Sofa
The shape of your sofa can affect the look and feel of your living room.
For example, a sectional sofa is the best option to give your living room a casual, relaxed, and laid-back feel. You can opt for an L-shaped sofa for a more sophisticated and formal feel.
The right shape can also help maximize the seating in the right spaces.
Why Choosing the Right
Sofa Design for Your Living Room Matters
Getting the right sofa design for your living room can transform your living space by enhancing your home decor.
With the right sofa design, you can also maximize seating without sacrificing comfort, durability, and design.
Finding the ideal sofa need not be a difficult task. To view a broad selection of sofas in various styles, colours, and textures, visit Teso World's sofa shops in HSR layout or visit our website today.