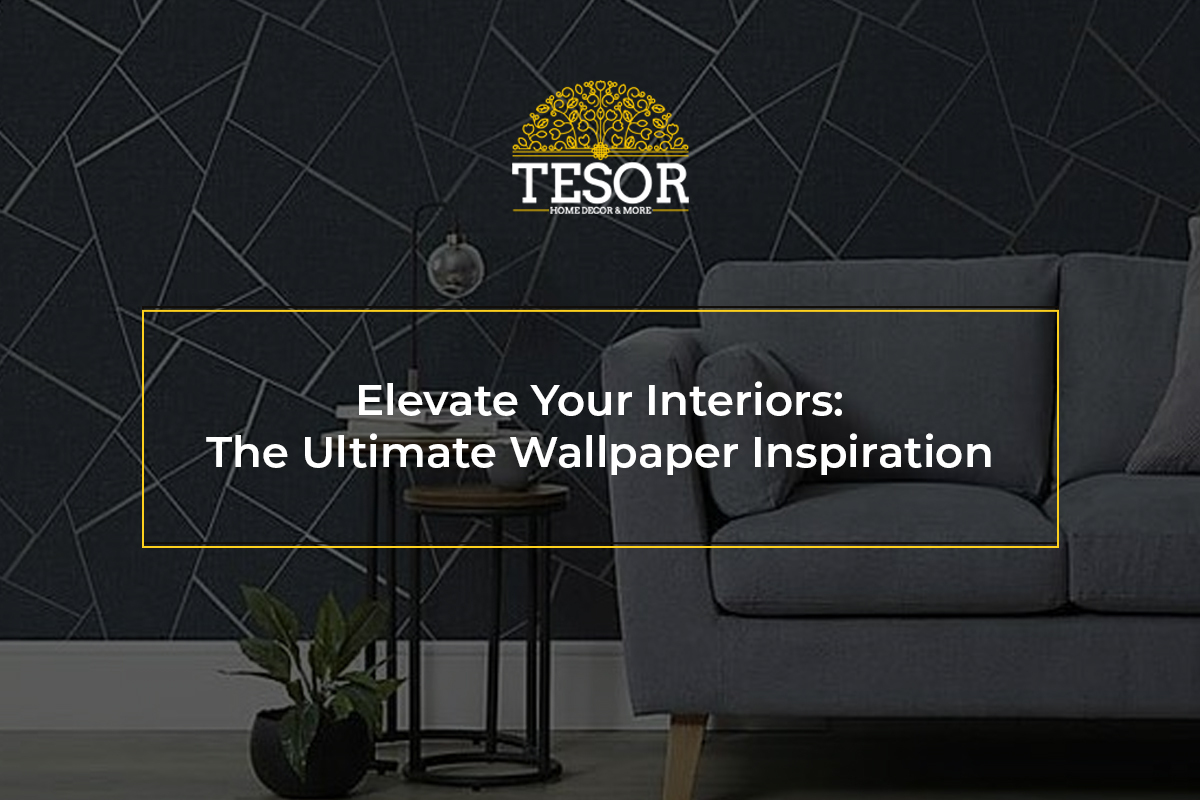 Elevate Your Interiors: The Ultimate Wallpaper Inspiration
When it comes to interior decoration, eye-catching wallpaper is the key to creating an aesthetically pleasing room.
Like an empty canvas, your wall presents endless possibilities for decoration. While trinkets and wall hangings are good options, nothing beats the beauty of a well-designed wallpaper.
There are several exciting wallpaper designs available, but it's imperative to select the one which suits your style and space. 
This article will take you on a tour of some of the most trendy and chic options out there so that you can choose the ultimate modern wallpaper design to match your aesthetic.
What is the Ultimate Wallpaper For Your Wall?
1. Classic Colours Design
Starting off with this timeless wallpaper design, bold colours have been and will continue to be one of the most cultured and tasteful options available. Neutral colours such as white, cream, mild grey, or pale blue are classics for a reason.
These are suitable for common areas as well as your bedroom and are known to create a minimalist yet sophisticated ambience. Because sometimes less is more!
2. Geometric Shapes
Another fan favourite modern wallpaper design is the use of geometric shapes. These give off a contemporary vibe to your place and an aura of opulence.
This type of design includes using bold lines, sharp-edged shapes, and vibrant contrasting colours, and is best suited to workspaces or your home office room.
3. Nature-Themed Designs
Bring the allure of nature and the outdoors inside! With these exciting nature-oriented modern wallpaper designs, you can now add an element of tranquillity and zen to your home and be one with nature.
These include prints such as vibrant florals, dense rainforests, lush mountains, and scenic landscapes. Our personal recommendation for this type of print is for your cozy reading nook at home.
4. Faux Brick Finish Designs
Another favourite that takes the industry by storm is the faux brick finish. Elegant to look at, these vinyl wallpapers for your wall bring in the elusive rustic and vintage old-school charm to your home. Suitable for bedrooms as well as common areas.
5. Murals and Artworks
If you're looking for a statement wall, then murals are the way to go. Transform your boring wall into a masterpiece of art by selecting mural or artwork-themed modern wallpaper designs. Whether you like cityscapes, famous paintings, or something more abstract, these are sure to command everyone's attention.
The only thing to remember is that murals are usually one-piece, and so unlike the other designs on this list, these need to be on walls that don't have any windows, doors, or entrances of any kind.
Ready to Spice Up Your Walls? Head Over to Tesor!
A great wallpaper goes a long way in transforming a mere house into a home. It can elevate your interiors and transform the aesthetics. These are some of the most fashionable designs that can help enhance the aura of your home, but there are still plenty more exciting options at Tesor for you to choose from! 
Remember, the secret to choosing the ultimate modern wallpaper design lies in picking the style that matches your personality and aesthetic. This is not just a purchase but rather a long-term investment in your home. 
Frequently Asked Questions (FAQs)
1. How Do I Choose the Right Colour For My Wallpaper?
A: Choosing the right colour is important to maintain the consistency of your interiors. Consider your existing colour scheme of the decor at home and accordingly get a wallpaper design that matches that palette. 
2. Can I Mix Different Wallpapers in the Same Room?
A: Ideally, no, since the aesthetic is enhanced if one particular theme is followed. Nevertheless, with careful consideration, you can ensure that the two themes match and there is visual cohesion.
3. How Do I Ensure Wallpapers Last Longer?
A: Maintenance and installation is the key here. Make sure your walls are primed before you set any wallpaper on your wall.