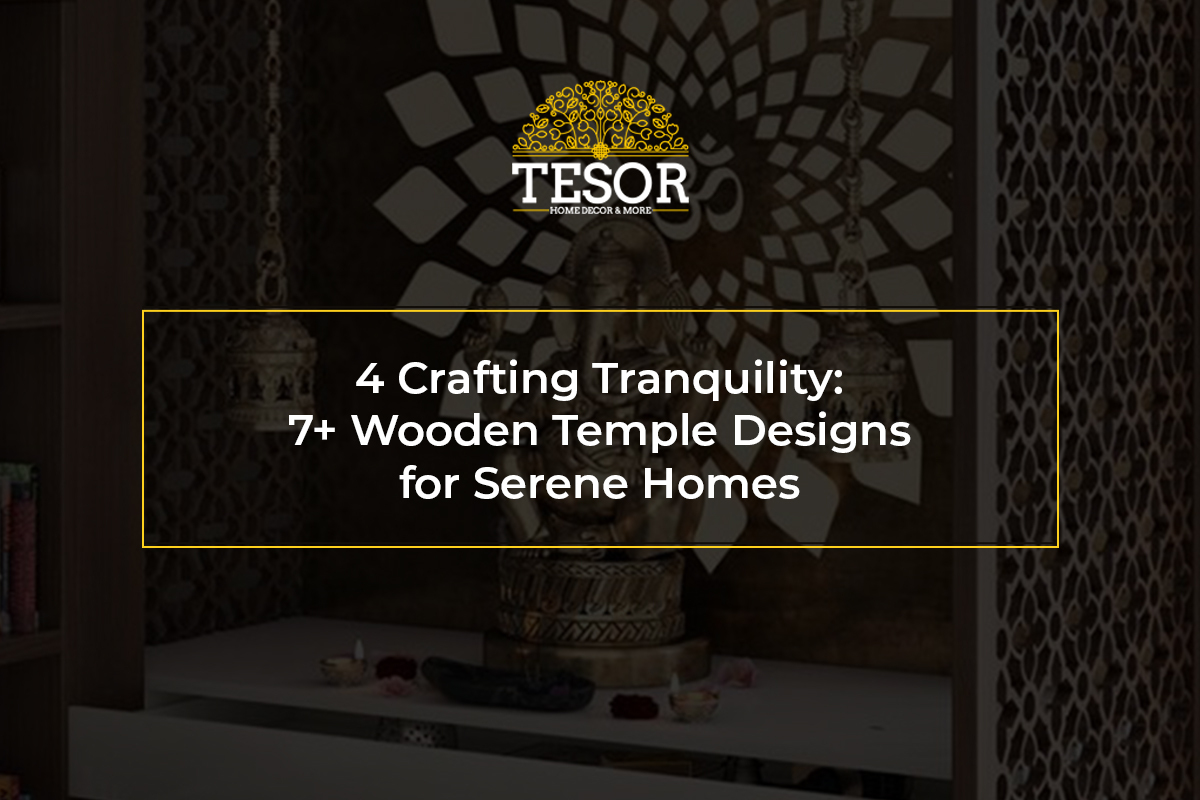 Crafting Tranquillity: 7 Wooden Temple Designs for Serene Homes
Do you wish to create an aura of serenity and tranquillity for your home? Then adding a wooden temple to your house is the perfect solution. A mandir symbolizes the essence of peace, devotion, and love. Embrace these qualities by gracing your home with a lovely wooden temple.
Add to the pious ambiance of your home by blending in the contemporary artistry of these modern designs with profound spirituality through these exquisite pooja mandir ideas.
7th Heaven with these 7 Wooden Temple Designs
Here are seven wonderful pooja mandir ideas that you can consider for creating a corner of reverence in your home.
1. Minimalist Temple Design
It's true what they say — sometimes the best designs are the simplest. Pick a minimalist wooden temple design for a calming yet reverend finish. Fitted with a shelf if you desire, this design pooja mandir idea incorporates straight lines and bright natural colours to enhance tranquillity through simplicity to provide a clean finish. After all, cleanliness is next to godliness!
2. Geometric Patterns 
Another aesthetic home temple decor option for you is using geometric patterns. A pooja mandir with a wooden panel backdrop carved with geometric patterns would look very aesthetically pleasing. 
You can also fit in some lights in your temple, as geometric patterns are known to enhance the lighting effect as well.
3. Nature-Inspired Wood Carvings 
You can also try an exquisite nature-inspired wood carving design template to bring the beauty and harmony of Mother Nature into your home. You can also add potted plants and indoor greenery to add to the aesthetic.
4. Open-Air Pooja Mandir
Another great pooja mandir idea is an open structure for your temple. This would allow plenty of natural light to flow through and keep your idol open for all to see and pay their respects.
5. A Traditional Wooden Jali
Contrasting the open-air mandir style, you can opt for the timeless, intricate jali structure for your wood temple. These jalis have been a distinctive design for home temples for decades and are considered a classic for a reason!
6. Wall-Mounted Wooden Temple Designs
Till now, all pooja mandir ideas were for temples based on the ground. However, here's a fashionable deviation! Mount a wooden panel with concealed brackets to create the illusion of a floating temple.
This design works incredibly well in tighter corners and small spaces and has the added benefit of allowing you to worship while standing. 
7. Stone Cladding Wooden Design
The last, and perhaps boldest of pooja mandir ideas, is using a stone cladding! This creative idea is perfect for those looking for a more rustic, bolder aesthetic for their homes. Add some warm yellow lighting to match this incredible look!
Decided on Your Favourite Wooden Temple Design? Head Over to Tesor!
Select any of these pooja mandir ideas and add to the pious ambiance of your worship room. With these wooden temples, as soon as you enter the prayer room, you will experience the reverence and power permeating through you. 
Head over to Tesor and delight in the wonderful array of options for your aesthetic home temple decor. Infuse your home with a combination of fashionable artistry as well as pious spirituality with an exquisite wooden temple, and instantly enhance the décor of your home in a simple but revered manner.