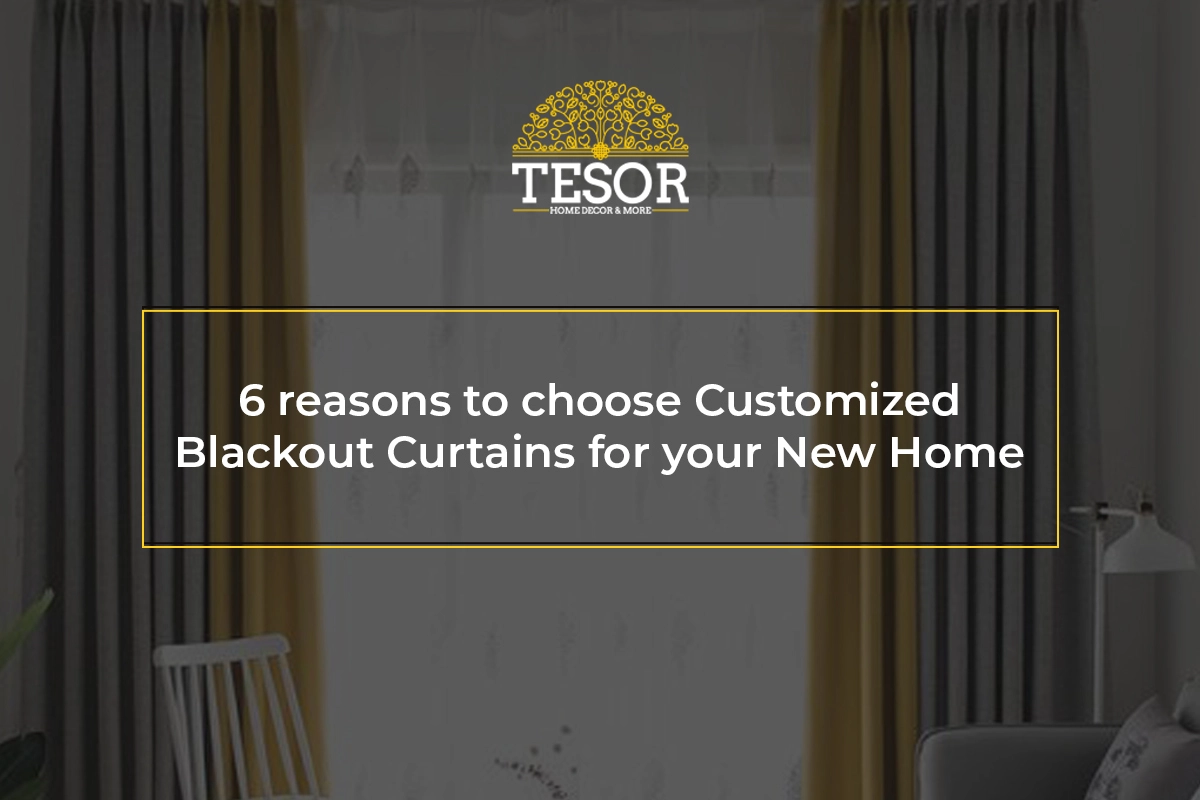 6 Reasons To Choose Customized Blackout Curtains For Your New Home
Window treatments are one of the most overlooked elements when it comes to interior decoration. A mixture of both functionality and fashion, blackout curtains can significantly boost your home's aesthetic. 
Blackout curtains come in a wide variety, but none match the elegance or practicality of customized curtains. Whether it's a niche sense of style or better quality sleep, these curtains offer numerous benefits to the homeowner, making it an excellent investment. 
Customized curtains are an economical way of effortlessly transforming your home into a haven of comfort and beauty.
In this article, we will examine six reasons you should invest in customized curtains for your new home. 
6 Reasons to Pick Customized Blackout Curtains
There are several different kinds of curtain designs in the market. But choosing one that matches your aesthetic can be tedious. Opting for customized blackout curtains can ensure that you get exactly what you are looking for without having to compromise on functionality. 
Let's explore the benefits of choosing customized curtains. 
1. Improved Sleep Quality
The first and perhaps biggest benefit of choosing blackout curtains is that they vastly improve the quality of sleep. Homeowners can craft the ideal sleep environment by customizing these blackout curtains to fit their bedroom.
This is because the darkness created by blackout curtains is responsible for drastically filtering out light pollution from outside, such as from street lights, buildings, advertisement hoardings, or even early morning sun rays. This enhances an individual's REM sleep cycle, ensuring they wake up well-rested and ready for a new day. 
2. Personalized Touch
Customized blackout curtains can be tailored to your aesthetic and sense of fashion. Personalizing them allows customers to modify every minute detail to their liking, such as the colour, pattern, fabric used, and even the overall design. All of this ensures that the curtains perfectly fit your interior decor and personal style. This personal touch goes a long way in transforming a house into a home. 
3. Precise Fit
Another pivotal benefit to getting customized blackout curtains is that you can get precise measurements for your curtain length and width. This will dramatically impact not just the curtains' overall presentation but also their functionality. This level of customization ensures that your blackout curtains seamlessly blend with your interior decor and palette, creating a visually stunning environment.
4. Variety of Uses
Blackout curtains are designed specifically with the intention of blocking out virtually all light entering through your windows. This makes them ideal for a variety of different rooms and purposes. 
For instance, their light-filtering quality can be used in bedrooms to create a better sleeping atmosphere. At the same time, they can also be used in the living room or home theatres to create complete darkness to enhance your viewing experience. 
5. Noise Cancelling
One of the most frustrating elements that interrupt deep sleep is outside noise. Thankfully, due to their heavy build, blackout curtains are highly effective at blocking out noise pollution. 
The thick fabric helps in dampening and absorbing external commotion, such as traffic noises and noisy neighbours. Getting blackout curtains customized also allows users to add additional linings to the curtain to further enhance its noise-cancelling capabilities.
6. Saves Energy Bills
Lastly, it is said that about a third of our home's heat escapes through the windows. This means higher consumption during winter and, consequently, higher electricity bills. Blackout curtains are extremely economical in that aspect. Their thick fabric offers the best insulation, thus reducing how much heat escapes. 
Moreover, it's not just the winters where these curtains are useful. Their ability to prevent thermal exchange between your interiors and outdoors also means that during the summer, these curtains will block out a lot of the sunlight from entering your home. This allows your indoors to remain cool while preventing your AC from working overtime. 
Decided on Getting Customized Blackout Curtains? Head Over to Tesor!
Blackout curtains are the perfect blend of functionality and elegance. Homeowners can choose to customize these curtains for an incredible fit. Tesor offers customers the chance to tailor their blackout curtains so you can add the perfect window dressing to elevate your interiors. Moreover, we also offer our users the chance to purchase custom curtains online. With Tesor, decorating your home has never been easier and more convenient.
Read More: 5 Curtain Designs To Elevate Your Home Decor