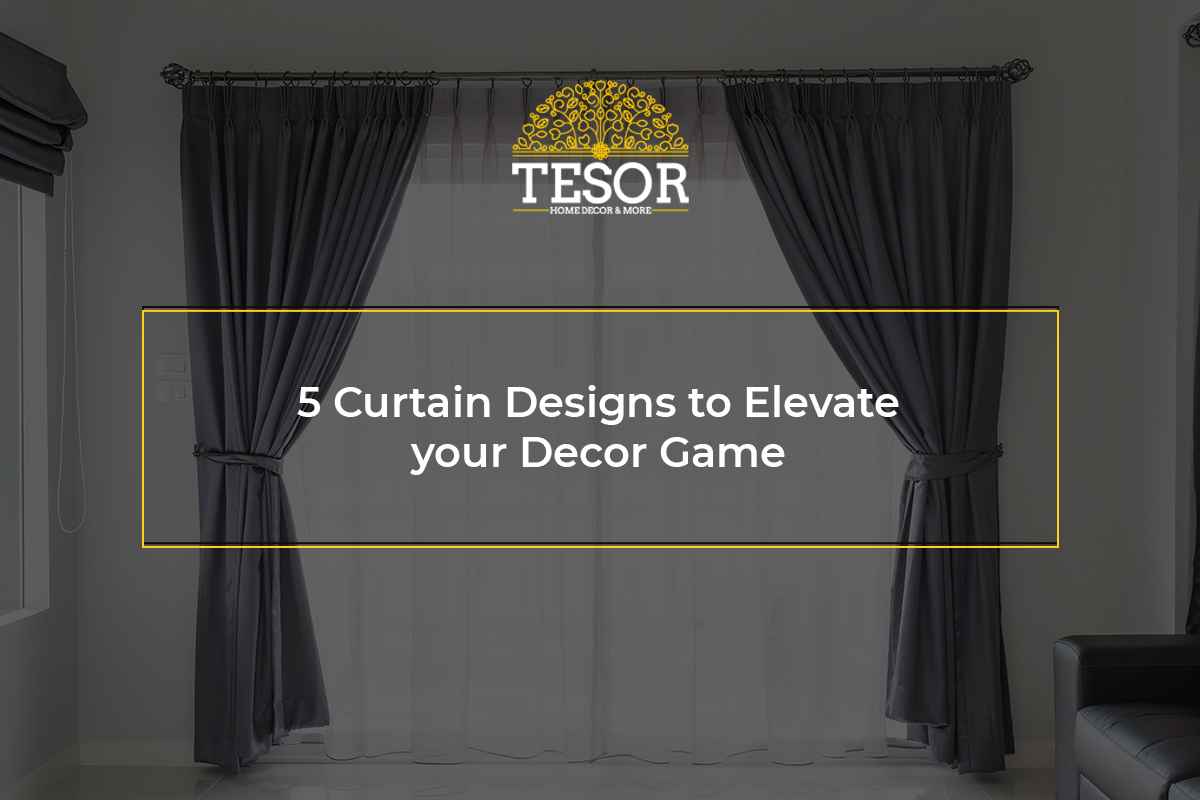 5 Curtain Designs To Elevate Your Home Decor
A simple but effective way to instantly transform your home is by adding elegant curtains. The right curtain designs aren't only a functional necessity; they also elevate the style and sophistication of your living space.
You can personalize and customize the right curtain design for the bedroom or living room by selecting from a variety of colours, patterns, textures, and styles.
In this blog post, we'll share five exciting and creative ways to use curtain designs to transform your home into a haven of beauty.
Tips to Elevate the look of Your Home with Elegant
Curtain Designs
There are numerous ways you can instantly elevate the curtain designs in your home. We've prepared a few pointers for you to experiment with.
1. Add Dramatic Contrast
If you have a flair for the dramatic, you might want to consider adding a striking contrast to your curtain designs.
The use of contrasting colours on your curtains can create focal points in a room, drawing your attention to a specific area and emphasizing key features of a room.
Using dramatic contrast on your curtains can make the room they're in more visually impactful, making a lasting impression and creating a specific mood or ambience, such as a cosy, warm feeling in a living room or a sleek, modern vibe in a bedroom.
2. Layered Textures
Layering is an age-old tactic in home decor that has truly stood the test of time because of its effectiveness.
To add visual interest to your room, try layering different fabrics, patterns, and materials in your curtain designs, as this can add depth and dimension to it.
Experiment with soft, plush textures to enhance a sense of warmth and cosiness. You can create a quiet, restful environment by using thick, heavy fabrics to block out unwanted noise.
3. Play with Prints
Prints are a great way to showcase your personality and style. With a wide range of options available, from florals and geometric shapes to abstract designs, incorporating prints into your curtain designs is a great way to personalize them.
The versatility of prints makes them easy to mix and match, making them a great option for layering and creating a cohesive look in a room.
You can even experiment with prints with solids or other patterns to create a dynamic atmosphere that feels well put together.
4. Choose the Right Length
The length of the curtain can significantly impact the aesthetic appeal of your room. Curtains that are too short or too long might detract from a room's decor, but curtains that are exactly the correct length can improve the look and feel of a place.
When it comes to light, choose longer curtains that extend to the floor or just above it to block out more light. For more light and a more casual look, choose shorter curtains that fall just below the window sill.
5. Go Monochromatic
When in doubt, go monochromatic. By extending a continuous line of colour from the walls to the windows, monochromatic curtains can visually enlarge the room, giving it a bigger, more spacious feel.
In addition, they blend well with other colours and patterns in the space, making it easy to change the decor without replacing the curtains.
Choose curtain designs that match the colour of your walls or furniture, creating a seamless and cohesive appearance. This look works especially well in a minimalist or contemporary style of decor.
Revamp Your Living Space with Stunning
Curtain Designs
from Tesor!
Curtain designs offer countless options, making them a game-changer for interior design. Don't be afraid to play with prints, try out different lengths, add drama with contrasting textures, or go monochromatic when designing the curtains for the bedroom and living room.
Want to make the plunge and add some gorgeous curtains to your house? To discover the ideal curtains for your own taste and personality, visit Tesor right away. You can design a space that you'll love and use for years to come!
Let's make your home a beautiful, stylish, and sophisticated haven right now!