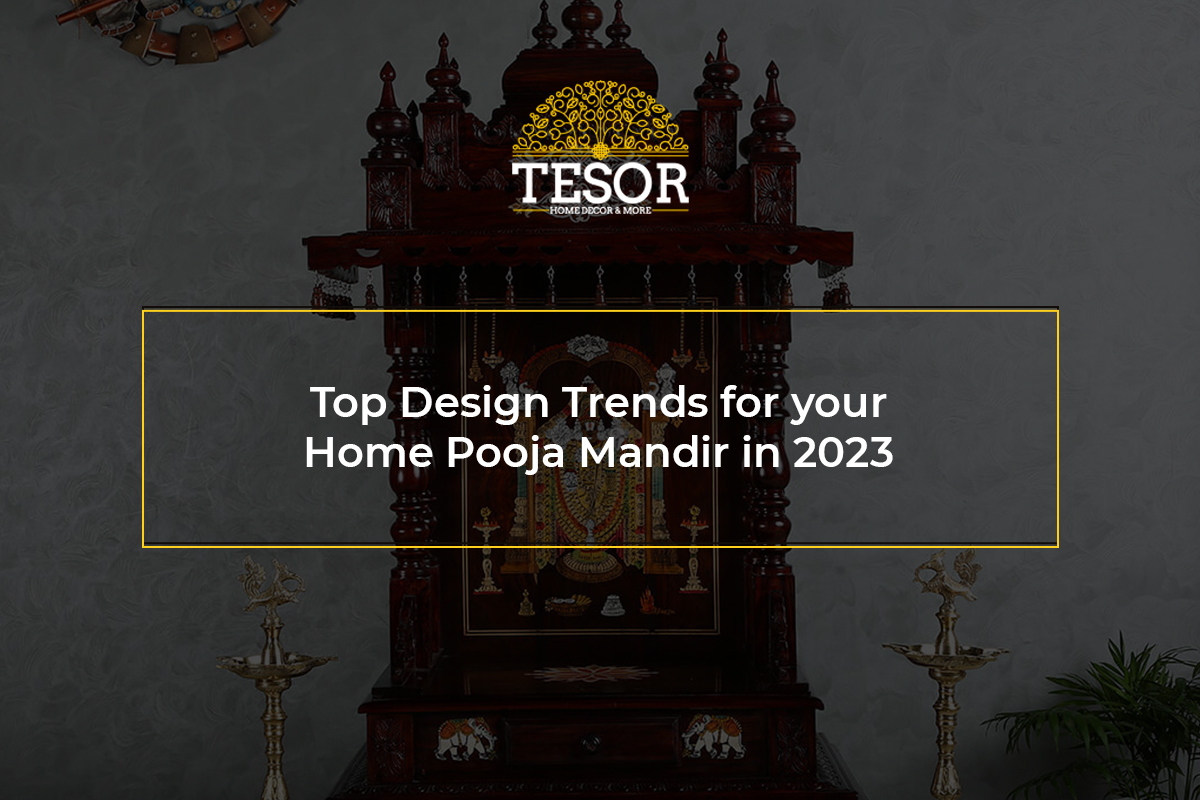 Top Design Trends for Your Home Pooja Mandir in 2023
For most Indian homes, the design of a mandir is an integral part of their home decor. It wouldn't be wrong to state the pooja mandir is the one place where you feel most relaxed, rejuvenated, and connected with your spiritual side. For that reason, considering the right home pooja mandir design is absolutely crucial.
Urban living spaces have evolved over the decades, and pooja rooms have adapted and transformed accordingly. The plain pooja rooms and wooden home pooja mandir designs are being replaced with chic, stylish, and modern decor elements.
From minimalist and opulent to intricate and traditional ones, different styles and designs in home pooja mandirs are becoming popular in 2023.
In this blog, we'll help you explore the latest home pooja mandir designs that'll surely elevate the aesthetics and bring positivity into your space.
Top 6
Home Pooja Mandir Designs
in 2023
This year, it's all about the fusion of styles. From stone countertops, glass pooja mandirs, and elaborate teak mandirs to simple wooden home pooja mandir designs, 2023 is the year for all things chic.
Here are the top 6 design trends in home pooja mandirs for the year 2023. 
1. Minimalism of Marble
A minimalist design with clean lines and simple shapes is an excellent option for those seeking a contemporary look. A wooden home pooja mandir design with a sleek, white marble base and a few strategically placed gold accents will give the space an elegant and timeless appeal.
2. Elegance of Wood 
If you prefer a more traditional look, wooden home pooja mandir designs with intricate carvings and brass accents may be a perfect choice.
Choose a design with traditional Indian motifs like peacocks, flowers, or mandalas to add a touch of elegance to your space.
3. Fusion of Elements
A fusion design blends traditional elements with modern materials and shapes to create a unique and trendy look.
A home pooja mandir design with a wooden frame and quartz top or a glass top showcasing a beautiful statue or idol is an excellent example of this style.
4. Simple Wall Mandir
A great way to use an empty wall in your house is by placing your deity and mounting a mandir on it.
Wall-mount wooden home pooja mandir designs are simple, minimalist, and aesthetic. They're also an ideal space-saving hack for homes that don't have designated open areas for a pooja mandir.
5. Temple of Lights
Pooja mandirs with backlights are popular in upscale apartments. Adding illumination to a pooja room enhances its look and keeps it bright.
Choose fairy lights, decorative diyas, ashtalakshmi diya, brass lamps, etc., to add charm to the space.
Pro tip: you can also design an intricate false ceiling to create a bright and stunning home pooja mandir.
6. Aesthetics of Glass 
Glass pooja rooms provide a sense of continuous connection with your deity even when you're not actively praying inside the mandir.
This elegant, sophisticated, and modern concept is becoming more popular in 2023. This home pooja mandir design can feature double glass doors, a frosted-glass background or glass countertops.
How To Select The Right Pooja Mandir Design
When it comes to selecting the perfect pooja room design for your home, there are multiple details to consider.
The following factors will help you select the perfect wooden home pooja mandir designs:
Size

: The size of the pooja room must be proportionate to the overall size of the home.

Vastu

: Vastu or orientation of the pooja room should be carefully considered as the right placement harvests abundance, positivity, and happiness.

Location

: The placement of the pooja room is crucial; it should be located in a peaceful and serene spot, away from any noise or distractions.

Material

: Materials used in the pooja room's construction should be of high quality, durable, fire-retardant, and easy to maintain.

Lights

: The lighting in the pooja room must be well placed, creating a warm and inviting atmosphere while also providing adequate illumination for rituals and prayers.

Style

: Placing intricately designed brass idols or metal idols not only radiates brightness from a diya lamp but also elevates the look and feel of your pooja room.

Concept

: The design of the pooja room must be in sync with the overall aesthetic of the home and reflect the family's religious beliefs and customs.
Looking for the Top
Home Pooja Mandir Designs
?
Incorporating these magnificent decor trends for your home is now easier than ever. With trusted sources for an elegant home pooja mandir, you can transform your space to make it look straight out of 'Elle Decor' magazine.
If you're looking for beautiful wooden home pooja mandir designs, check out Tesor. We offer the highest quality, chic, and affordable home pooja mandir in Bangalore.
Check out our amazing collection of home decor products, including tabletop lamps, clocks, picture frames, and other options. You can check out our store or online at our website.