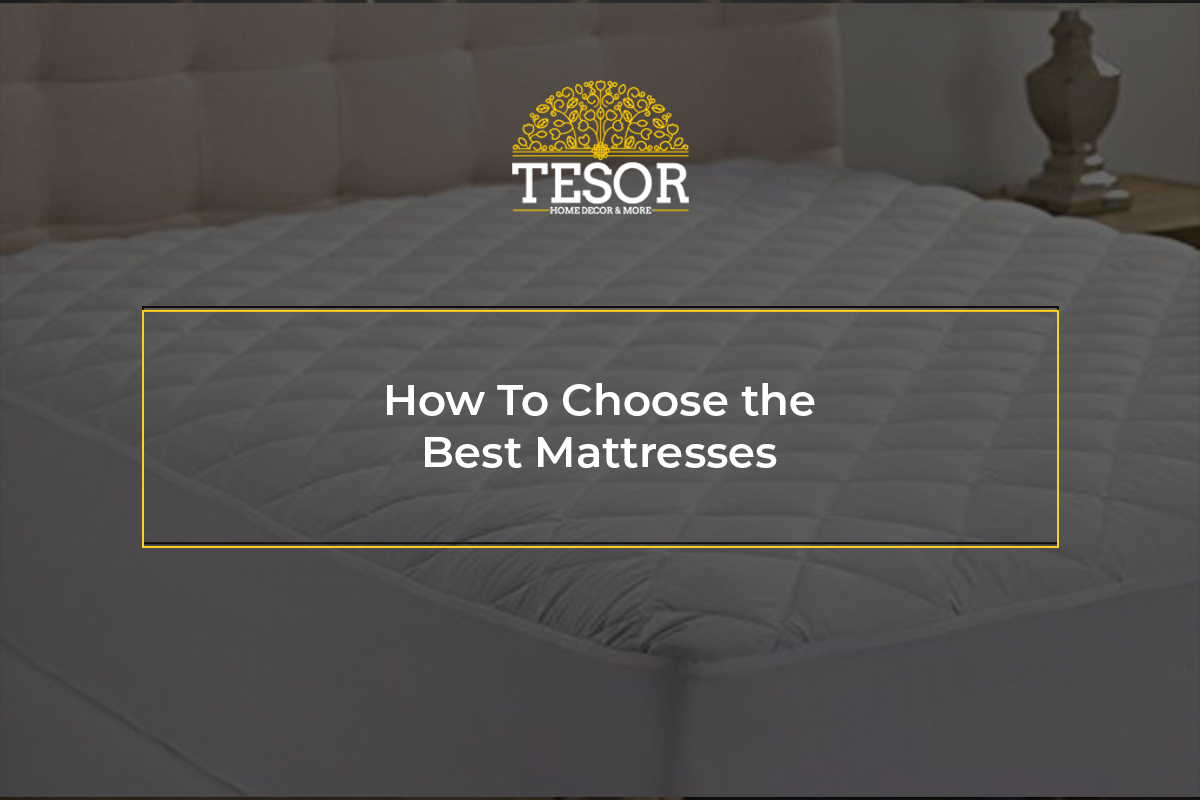 How To Choose the Best Mattresses?
Choosing the right mattress is one of the keys to a good night's rest.
With several mattress options in the market, picking out the correct mattress for you can be quite tedious.
This guide will help you navigate through the entire mattress-buying process. We'll cover important factors to consider when choosing the best mattress.
Let's begin.
Important Factors For Choosing the Best Mattresses
Let's examine the important factors you should consider before purchasing a mattress.
1. Be Clear on Your Sleep Preferences
The first step to choosing the best mattresses is assessing your sleep preferences. This involves determining whether you like sleeping on your side, back, or tummy. 
This will help you figure out the firmness you want in your mattress. Side sleepers usually require a softer mattress. Stomach and back sleepers tend to be more comfortable on a firm mattress.
2. Be Clear on the Different Types of Mattresses
There are four main types of mattresses that you can choose from:
I. Memory Foam
This type of mattress offers you contouring support as it will take your body shape. These are great for pressure relief.
II. Innerspring Mattresses
These have metal coils underneath that provide the bouncy feel we all love! These are especially popular among kids.
III. Latex Mattresses
These are well-known for their great durability. Latex mattresses are usually made with either natural or synthetic latex and are often recommended by osteopaths for pain relief.
IV. Hybrid Mattresses
As the name suggests, these mattresses combine different features of other kinds of mattresses, providing balanced support to your back.
2. Temperature Regulation
With summers getting hotter, you want to pick a mattress that helps you stay cool throughout the night. Certain mattresses have temperature regulation features that can help prevent you from sweating at night.
Pick one with the appropriate cooling technologies, such as breathable materials or gel-infused foam.
3. Durability and Warranty
Invest in a mattress that has a long lifespan since it's going to be your companion every night. Before you rush to make a purchase, ensure that it is made of durable materials and will last you a few good years. 
It's also important to check the warranty and ensure that it covers any defects, sagging, contouring, or any other issues that may come up with use over time.
4. Affordability
The last thing to keep in mind before buying a mattress is affordability. Create a reasonable budget for yourself before setting out to make your purchase. But remember, buying a mattress should be viewed as an investment.
Buying a quality mattress — although a little pricey — will go a long way in giving you the beauty sleep you deserve. It will last much longer and won't lose its shape and contour easily, giving you years of peaceful rest.
Looking to Choose the Best Mattresses? Head Over to Tesor!
Picking out the best mattresses involves understanding your sleep habits, your sleep preferences, and the kind of materials you would like. It's also important to consider the affordability of the mattress and whether the features it offers are suited to you. 
Head over to Tesor, where you can find an exciting array of the best mattresses. Whether you prefer memory foam, latex mattresses, or a hybrid — we have them all! We understand that buying a mattress is an investment. Tesor allows you to strike the right balance between comfort and cost with quality yet affordable mattresses!