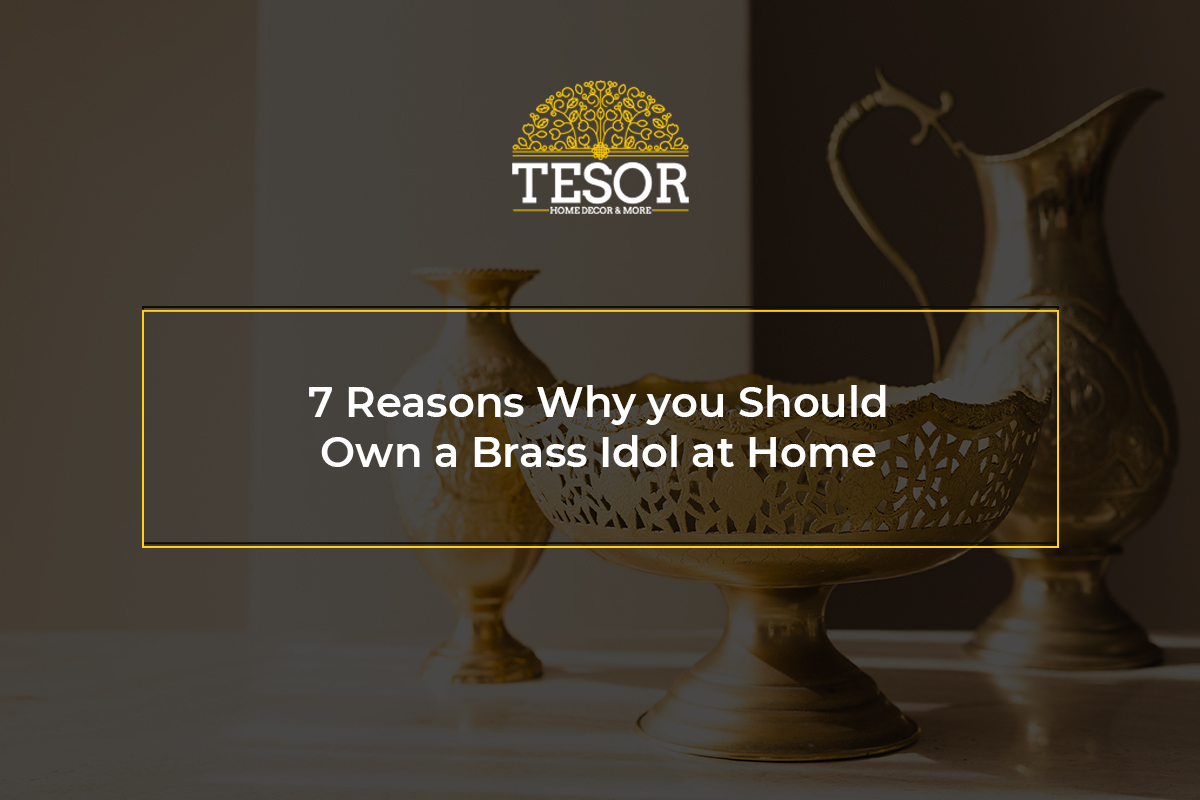 7 Reasons Why You Should Own a Brass Idol at Home
From small accent pieces to grand statement items, brass offers versatility in design. Introducing brass idols into your home decor can elevate the ambiance and bring a touch of refinement to any space.
For centuries, brass idols have graced homes and offices with their timeless beauty, attracting positive energy and promoting relaxation, creativity, and spiritual growth. No decor is truly complete without the addition of brass items, given the multitude of benefits they offer.
Are you still on the fence about purchasing a brass idol? Read the following blog, wherein we present seven reasons why incorporating brass idols into your home or office is an absolute must.
7 Amazing Benefits of Choosing a Brass Idol
Let's first understand the significance of brass idols before discussing their benefits.
The History of Brass Idols
For eons, metallic elements have played an integral part in Indian home decor. Our history boasts an array of exquisite metallic crafts unique and indigenous to specific communities.
From the gilded grandeur of gold and silver to the rustic warmth of copper and bronze, a variety of metals were used to showcase our country's deep cultural and artistic traditions.
Among these marvellous metals, brass reigned supreme as the most versatile material for crafting stunning decorative objects.
With its perfect blend of copper and zinc, brass has stood the test of time as a reliable and durable medium that can be cherished throughout the ages.
Seven Benefits of Having Brass Idols at Home
For modern-day decor inspiration, here are seven irresistible benefits of adding brass idols to your home decor.
1. It's Timeless
Heirloom pieces like
brass idols
fit perfectly in any space. They've been prevalent symbols of divinity and devotion in offices, homes, and temples for ages. The intricate designs and exquisite craftsmanship involved in creating
brass idols
make them not just a symbol of faith but also a masterpiece of art that is truly unique and timeless.
2. Easy Maintenance
Brass idols are easy to maintain as they are corrosion-resistant. Brass is a hard metal that doesn't deform easily, making it durable and long-lasting.
Maintenance only requires occasional cleaning with a soft cloth and a mild cleaner. With proper care, a brass idol can last for generations and continue to be an object of devotion and beauty.
3. Invokes Devotion
The ethereal presence of a god's statue in one's abode harvests pure and divine energy.
Idol worshipping has a powerful effect on devotees, instilling unwavering faith and dispelling doubts or confusion.
Worshipping brass idols allows one to express their deepest emotions towards the divine, transcending mere appearances and prayers.
4. Improves Quality of Space
Being an integral part of Indian culture, these idols not only help you stay connected to your roots but also uplift the quality of your living space.
Whether it's your home or office, quality brass idols can leave a lasting impression on your guests or clients, thereby elevating the overall impression of your space.
5. Versatile Options
Brass idols are highly versatile as they come in various designs and options adaptable to any decor style, whether it's vintage, modern, minimal or traditional. They're an ideal decorative element to add charm and elegance to any space.
6. Easily Available
In contrast to other expensive home decor elements, brass idols are easily available and don't cost a fortune. It's one of the cheapest and simplest ways to elevate the atmosphere of a dwelling space. Owing to the accessibility and natural heritage of craftsmanship in India, brass idols are often easily available.
7. Vocal for Local
Purchasing exquisite brass idols promotes the "Vocal for Local" movement.
You're endorsing the skill and artistry of talented artisans while empowering them. Each brass sculpture is a true masterpiece, meticulously crafted with hours of labour.
With every purchase, you're not only adorning your home but also keeping this craft alive. 
Looking for the Best Brass Idol Shop Near You?
If you're looking to redecorate your space or amp up your current atmosphere, then try placing a brass buddha idol or a brass peacock statue as an accent piece. These brass idols are sure to impress your guests and fill the space with positivity.
If you're looking for an authentic brass idol shop near you, then check out Bangalore's best home decor store Tesor World. 
Tesor World is a leading brass idol shop in HSR layout that houses meticulously selected statues, brass idols, home decor elements, and furnishings sourced from the heartlands of India. Browse through our collection online or visit our brass idol shops in HSR layout to get a feel of our products. If you find something you like, let us know, and we'll have them safely delivered to your doorstep, or you can take them home with you from the store!
Check out our product catalogue now!