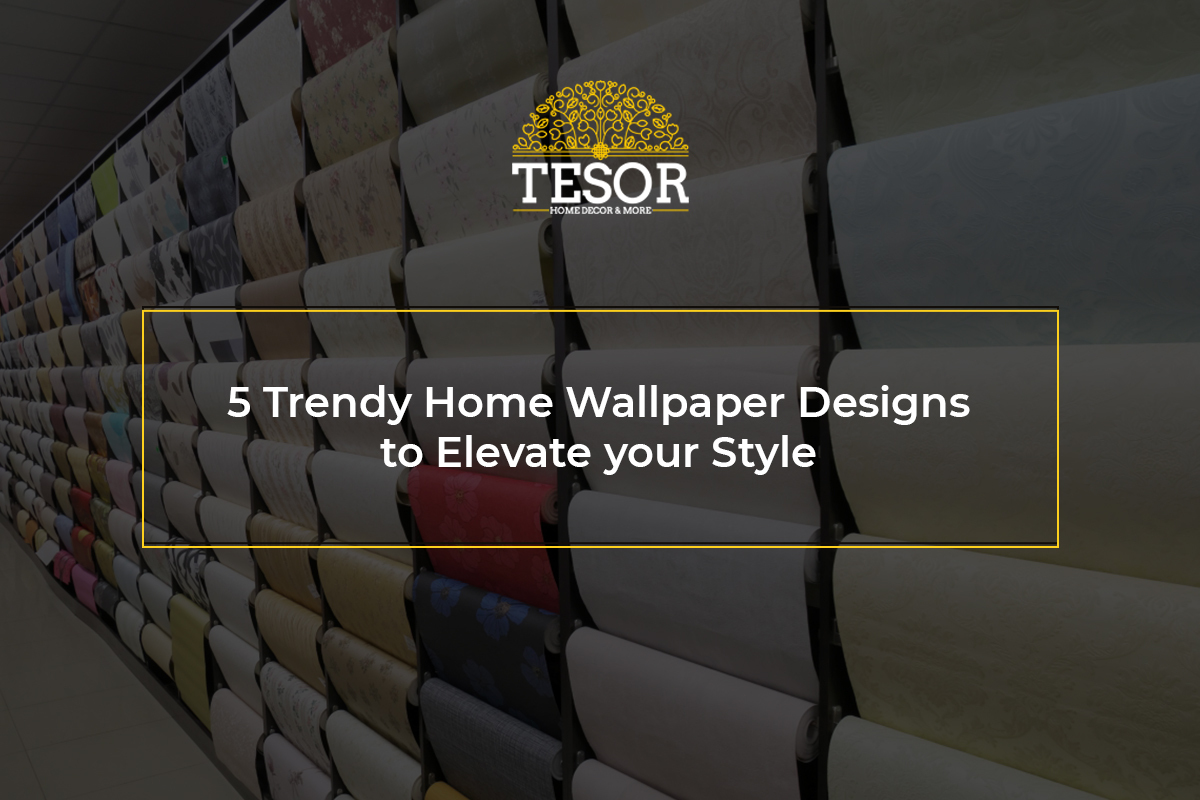 5 Trendy Home Wallpaper Designs To Elevate Your Style
Tired of seeing the same home wallpaper? Maybe it's time to update your look with trendy home wallpaper designs. With so many stylish options available, wallpaper has made a comeback in recent years, and it looks like it's here to stay.
Wallpaper comes in a variety of patterns, textures, and colours, making it ideal for creating a unique and personalized look in any space.
In this blog, we'll discuss five modern home wallpaper designs that might help give your house a dash of class and elegance. Let's dive in!
Stylish Home Wallpaper Designs to Transform Your Decor
Here are five modern home wallpaper designs to spruce up your living space.
1. Floral Wallpaper
Floral home wallpaper designs, which have been a classic trend for decades, are finally coming back in style and gaining popularity. According to its name, this design contains beautiful patterns of flowers, leaves, and vines.
Depending on the look you want to achieve, it can range from delicate and dainty to bold and dramatic. You can also choose from a wide range of colour combinations and patterns, such as small-scale florals, large-scale blossoms, and watercolour washes.
Because of its striking pattern, it can be used as an accent wall in a living room or bedroom.
2. Geometric Wallpaper
Geometric home wallpaper designs have grown in popularity in recent years and are a versatile design option. You can use them to make a statement, add texture and interest to a space, or create a feature wall.
Geometric wallpaper is a design trend that adds a modern and trendy look to any room by featuring strong and graphic patterns with geometric forms, such as triangles, circles, squares, and hexagons.
Bright and daring shades, metallic glosses, and monochromatic patterns are just a few of the many colour and pattern options available for geometric wallpaper.
3. Textured Wallpaper
To add an interesting three-dimensional effect to any wall, try adding textured wallpaper to your home wallpaper designs. This versatile design option can help you come up with a variety of looks, from rustic and natural to elegant and sophisticated.
You can also experiment with different materials, such as burlap, grasscloth, linen, and faux brick or stone. A room that needs a focal point or a burst of visual interest is the best spot to add textured house wallpaper ideas.
This design can add depth and dimension to a room by enhancing the overall design of the space.
4. Mural Wallpaper
A mural is a large-scale wallpaper with a scene or image that often fills the entire wall. This design concept is a fantastic way to add a dramatic and bold statement to a room and can fully transform it into a work of art.
The designs range from abstract and geometric patterns to nature and landscape scenes and even personalized ones.
To get the most out of mural home wallpaper designs, choose one that complements the aesthetic of the room.
In a space that receives lots of natural light, choosing a natural landscape can create a peaceful atmosphere. In a more eclectic setting, an abstract pattern might provide visual appeal and texture.
5. Bold Wallpaper
Bold home wallpaper designs are a trend that incorporates unusual and unexpected elements into colourful designs. You can experiment with various colours and styles, such as floral, animal print, and abstract designs.
Use tropical scenes, metallic decorations, vintage patterns and themes, or even stripes of different widths and colours. You can transform a dull space by pairing bold wallpaper with solid colours and simple patterns.
Enhance Your Home Wallpaper Designs With Tesor!
An accent wall is a great way to include interesting home wallpaper designs, be it in your living room, bedroom, or home office and kids' room wallpaper. Select a wallpaper pattern that complements your existing furniture and pair it with neutral-coloured decor to create a balanced and cohesive look.
Looking for the perfect wallpaper to elevate your home's style? You can check out our collection of wallpaper designs at Tesor and find the perfect match for your personal taste. Our experts will be happy to guide you!
So, why wait? Check out Tesor to elevate your home decor with trendy wallpaper designs today!