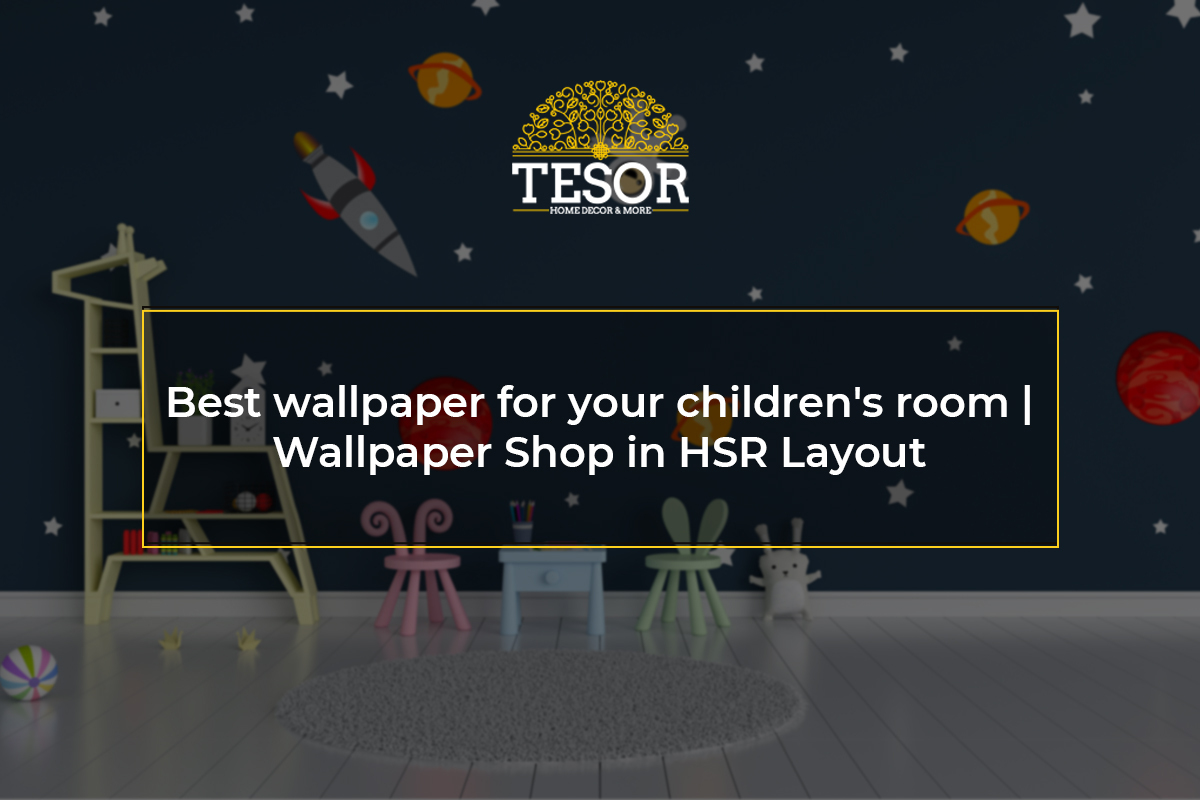 Best Wallpaper for Your Kid's Room
We know you've been looking to buy the best wallpaper for a kid's room" for a while now, as your tolerance for peeling paint and stained walls is beginning to wear thin. Further, you've also begun to wonder what kind of special talent it takes to turn a room you painted just a year ago into something that looks like an abandoned building. Kids, right? You are right about forgetting the paint and going after wallpaper, though. Being the best wallpaper shop in Bangalore, we feel responsible for helping you choose the best wall colors for your children's room.
Let's begin.
How Can You Ensure That Your Children Have the Best Space To Learn, Play, and Grow?
As parents, we want to create an environment that's comfortable, safe, and inspiring for our children. Wallpapers are a good place to start because they add a personal touch to a room while also adding a bright, vibrant, and lively atmosphere.
Designing a perfect room for your child involves choosing the right wall colour and wallpaper for the room because it helps in creating an inviting and stimulating environment.
How To Choose the
Best Wallpaper for Your Kid's Room
?
You should consider the overall style and color scheme of the room when choosing the best wallpaper for your kid's room. This includes the size of the room, the age of the child, and of course, the style of the wallpaper. 
For smaller rooms, it's best to go with wallpapers with softer colours and designs. This will help create a cozy and comfortable atmosphere.

For larger rooms, you can use bolder colours and designs to create a more dynamic ambience.
Younger children may prefer wallpapers with brighter colours, while older children may opt for themes suited to their age.
Pay attention to the overall style of the wallpaper as they come in a variety of styles, from whimsical and fun designs to formal and sophisticated looks. Consider the style of the furniture and other decorations in the room to help you decide on the right wallpaper.
The right wallpaper for children's rooms should be made of durable and easy-to-clean materials such as vinyl and fabric. Conversely, paper wallpapers offer a unique look that can add character to a room while being less durable.
Finally, you should consider the cost of the wallpaper. With Tesor, you can find wallpapers that fit your budget and are available at competitive prices.
What Type of Wallpaper Should You Use for the Rest of the House?
When you choose wallpaper for other rooms in your home, make sure that it complements the one you chose for the kid's room.
There is a wide selection of products available from Tesor, including:
Damask Print

: This type is perfect for a formal interior.

Flocked Print

:

You can achieve a glamorous appearance with flocked, crystal, or glitter-embedded prints.

Floral Print

: Keen on a laid-back look and a relaxed vibe? Then this is the one for you.

Plaid Print

:

If you fancy a quaint country vibe, go for plaid, gingham, or country motif patterns.

Geometric Print

: Pick a geometric or abstract pattern to create contemporary, modern decor.

Textured Print

: Great for hiding imperfections and bad walls.
What Advantages Does the Tesor Wallpaper Offer?
Choosing the best wallpaper for your kid's room can be a challenge. No matter what your preferences are, Tesor is the perfect place to find the best wallpaper for your children's room.
Additionally, our team offers a range of services to make the entire process easier — from helping you choose the perfect wallpaper to offering tips and advice on how to install it.
Let's look at some more Tesor advantages:
We don't sell low-quality paper-made wallpapers; we sell only non-woven and vinyl materials, known for their durability and ability to be cleaned easily.
Our wallpapers are easy to install and are suitable for all types of walls. They are designed to endure and last a long time. With proper care, they can last up to 10 years.
No matter what you're looking for, whether it's a particular design, color, texture, cartoon characters, or scenic views, we have wallpapers for every taste.
Our experienced team will help you create a unique and personalized look for your child's room. Whether it is a theme-based design or an eclectic mix of different elements, they will help you create a room that is both functional and aesthetically pleasing.
Buy the
Best Wallpaper for Your Kids' Room
From Tesor
Buying quality wallpaper in Bangalore need not be a daunting task. Head to Tesor wallpaper shop in HSR Layout in Bangalore to check out a wide range of wallpapers in different designs, colors, and textures.
Alternatively, you can go to the page of your chosen product on the Tesor website and click 'Enquire on WhatsApp'. For bulk orders, message us on WhatsApp at +91 988-604-8525.