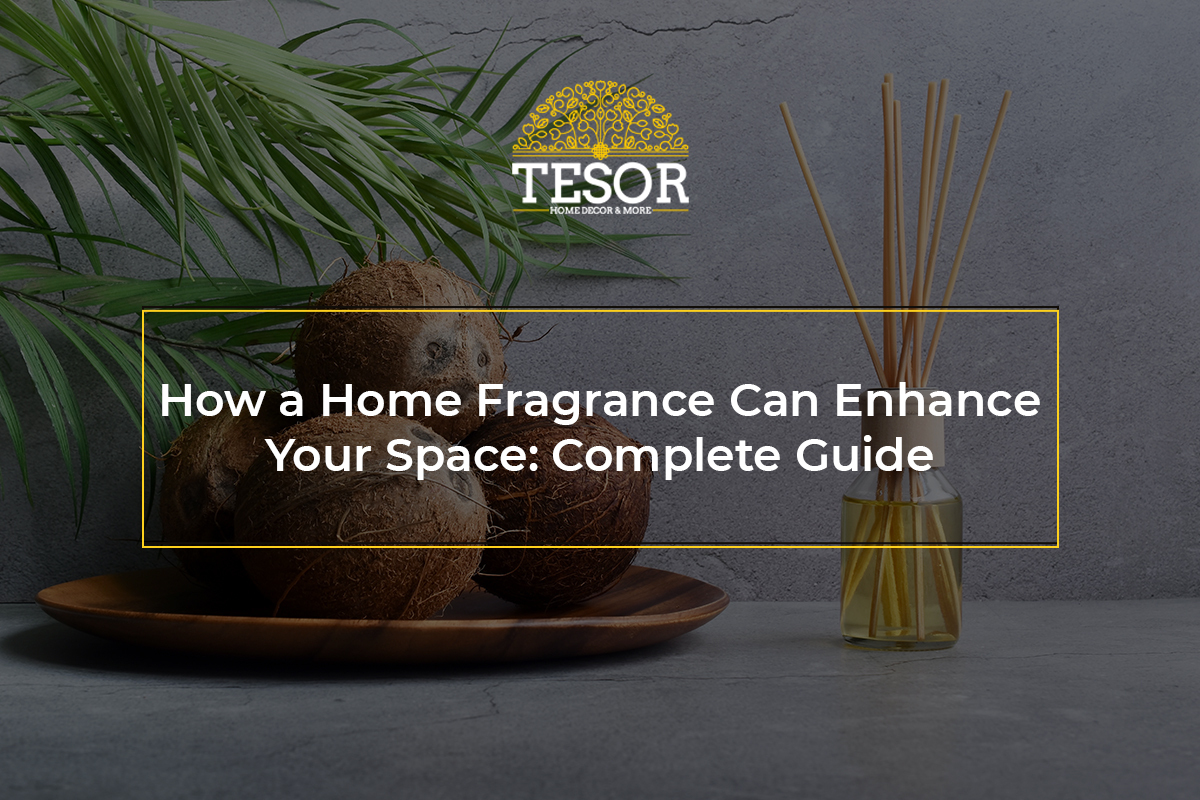 Enhance Your Abode With the Best Home Fragrance Products
At the end of a rough day, a simple scented candle in your room can create a sense of tranquillity and soothe your nerves. Home fragrances can also effectively enhance the functionality of a space and create a more welcoming environment. As scents trigger our sense of smell, it directly impacts the limbic system (the part of our brain that stores different memories and emotions). With some of the best home fragrance products becoming quite popular lately, we have come up with a detailed guide on which scents can help your guests feel welcome, create a positive aura that helps you stay focused, and make you feel relaxed.
Best Home Fragrance Products
To Enhance Your Home Decor
1. Reed Diffuser
Reed diffusers are kept half submerged in glass jars filled with natural or essential oils, and the reeds gradually release the fragrance into the room. The smell from diffusers is mild and has a calming effect.
These are ideally placed on centre tables in a living room to help the fragrance spread evenly across the house. They can also be placed in room corners at an elevated height. As the smell is not very strong, reed diffusers are perfect for smaller or studio rooms, evocating a subtle yet mild fragrance.
2. Tea Light Diffusers
Tea light diffusers, also known as oil burners, use candle flames to spread fragrance across a room. You can place them strategically in your living room, such as the corners or entrances, and the fragrance evenly spreads across the room within 15–20 minutes.
While the flickering candle evokes a sense of warmth and comfort, the fragrance of the diffuser creates a calming atmosphere. Tea light diffusers in living rooms pair well with essential oils that hint at clove and cinnamon. It establishes an atmosphere of warmth and is extremely relaxing, especially during winter.
Being one of the best home fragrance products, diffusers can also be placed in entrances and hallways. The subtle fragrance of sandalwood and patchouli is perfect for setting a welcoming entrance in hallways or lobbies through diffusers.
3. Scented Candles
Scented candles have become a part of self-care rituals and are widely popular as good fragrances for the home. From scented candles made of paraffin wax to expensive beeswax candles, scented candles are known for soothing anxiety. However, we don't often realize that particular fragrances have particular functionalities. Knowing which scent can help us feel at ease and which would boost our mood is important.
While lavender-scented candles help relax both mind and body, cinnamon and citrus help refresh our senses and release stress. Vanilla-scented candles automatically lift our moods and stimulate feelings of cheerfulness and joy!
You can use as many scented candles as you wish, depending on the size of the room. However, it's important to position these candles in safe locations so there aren't any fire hazards.
A great advantage of scented candles is that they not only enhance the energy of space as the most effective home fragrance but also give an impression that efforts have been made to design a room in a certain way.
4. Potpourri
Potpourri is a mixture of dried flowers and spices that add a touch of aesthetics to any interior decor and is considered a natural room freshener. The idea of potpourri came from the French who'd dry herbs and flowers and mix them with coarse salt.
Eventually, the idea was implemented around the globe, and potpourri is now considered one of India's best home fragrance products. Potpourri can be placed in office corners or centre tables, bathroom shelves, utility rooms, and entrance lobbies. They act as aesthetic interior decor and a home fragrance, keeping areas free of odours and fresh!
Potpourri consists of flowers such as roses, lavender, tulips, calendula, freesia, and spices such as cinnamon sticks, and star anise. They have a mild smell that hangs in the air without being too overpowering.
Transform the Aura of Your Abode With the
Best Home Fragrance Products
Fragrances play a significant role in accentuating a room's energy and decor! A beautiful interior may feel dull if the smell is ordinary or rusty. Adding home fragrance products to your interior decor can instantly accentuate the look and feel of the living room or other spaces in the house.
The calming effects of some home fragrances are unparalleled and leave us feeling elated and refreshed. If you are looking for home fragrances that can help you feel this way, Tesor has some of the best home fragrance products. Check out our website and select your favourites today!