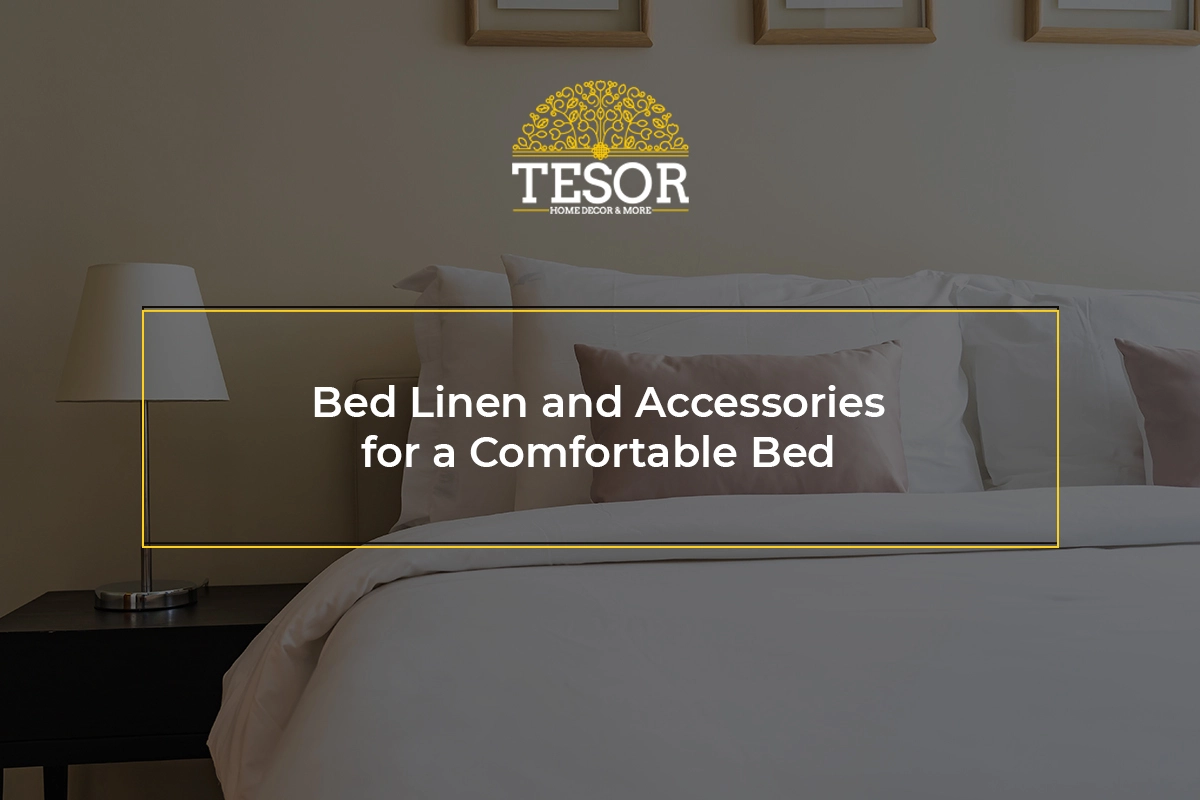 Bed Linen and Accessories For a Comfortable Bed
A bed is your comfort zone; it's the ultimate sanctuary where you lay down after a day's hard work and chores to wash yourself with peace and calm. Therefore, our bed must have all the essentials, especially comfortable bed linen.
This article will share ten important bed linen and accessories to enhance the comfort of your bed. If you've just moved into your new home and wish to decorate your bedroom with utmost comfort, read on to learn more!
Top 10
Bed Linen
and Accessories To Enhance Comfort
We did a bit of research on bed linen and accessories here at Tesor by sending out surveys to various customers and clients. Based on these results, we've created a list of the top 10 must-haves for a more comfortable bedroom.
1. Mattress Protectors
While the mattress forms the main cushion of your bed, they're prone to stains and spills if not covered properly.
With the help of a mattress protector, you can cover your mattress completely and provide an extra layer of softness for increased comfort.
2. Fitted Sheets
Mattresses have a coarse texture; hence you need fitted sheets to cover mattresses and create a soft surface between the mattress and you.
These sheets have elasticized edges and can cover the mattresses completely from end to end. These usually go on top of the mattress cover and stay fixed; you don't need to worry about misplaced sheets.
3. Flat Sheets
Flat sheets are comforting layers strategically placed between the bed sheet and quilt or blanket so that the latter doesn't get dirty or creased.
These bed sheets act as a lighter cover. Hence, if you don't feel cold enough to use a quilt, you could pull over the flat sheet and sleep peacefully.
(Note: If you're shopping online for beautiful flat sheets, you can simply do a quick search for "bed linen shop near me" and choose from an affordable range of sheets).
4. Bed Covers
Bed covers or bed linens are decorative bed toppers that run across the whole length of the bed. They're lightweight and act as the topmost layer of the bed.
While the other layers can be plain in design, bed covers usually have a great design or print that compliments the rest of the room decor.
5. Bed Toppers
Quilts, covers, or any form of blankets spread on top of the bedsheet are referred to as bed toppers.
They differ in thickness, depending on the room's climate. While blankets have a thick composition, quilts are much lighter and climate compatible.
They're usually folded and kept horizontally at the end of the bed to drag and pull over while lying down.
6. Decorative Cushions
While cushions serve the purpose of supporting our posture and providing comfort for our backs when we sit, systematic placement of cushions on the bed can make the bed look comfortable and add texture and an element of aesthetics to the rest of the room decor.
They help make a bed look cosy and serve a decorative purpose.
7. Throws
Much lighter and smoother in texture than a blanket, throws are kept along the end of the bed for those chilly nights when you need an extra layer to sleep better.
While throws are completely optional, they are usually purchased in sync with cushion designs to create a mix 'n match effect.
8. Wallpapers
While having a clean, layered bed with beautiful sheets is important, the rest of the room should also match your bedroom decor.
Wallpapers can act as catalysts in a bedroom decor, highlighting the bed and cutting through the clutter.
9. Sheer Curtains
While not directly connected to bed accessories, the kind of curtains you have in your bedroom play a huge role in determining the comfort factor in the space.
Light and sheer linen curtains that let the light and airflow through even when closed act as huge comforters and can make your bed attractive by the interplay of light and shadow through them.
10. Bed End Bench
A bed end bench is a great accessory that can help you keep the clutters on your bed or old sheets on the end bench and help you keep the bed clean and comfortable. It also adds that extra hint of luxury and style, amping up the room decor.
Where To Get the Best
Bed Linen
and Accessories
Bedrooms are personal spaces where we are completely ourselves. This space should be reflective of our personality and help us be our true selves. Therefore, it's important that we choose the lightest and most comfortable fabrics for the bed layers and decor that are soothing.
We invite you to check out Tesor for all your bed linen and accessory needs. Visit our website or our store in Bangalore, and shop for yours today!