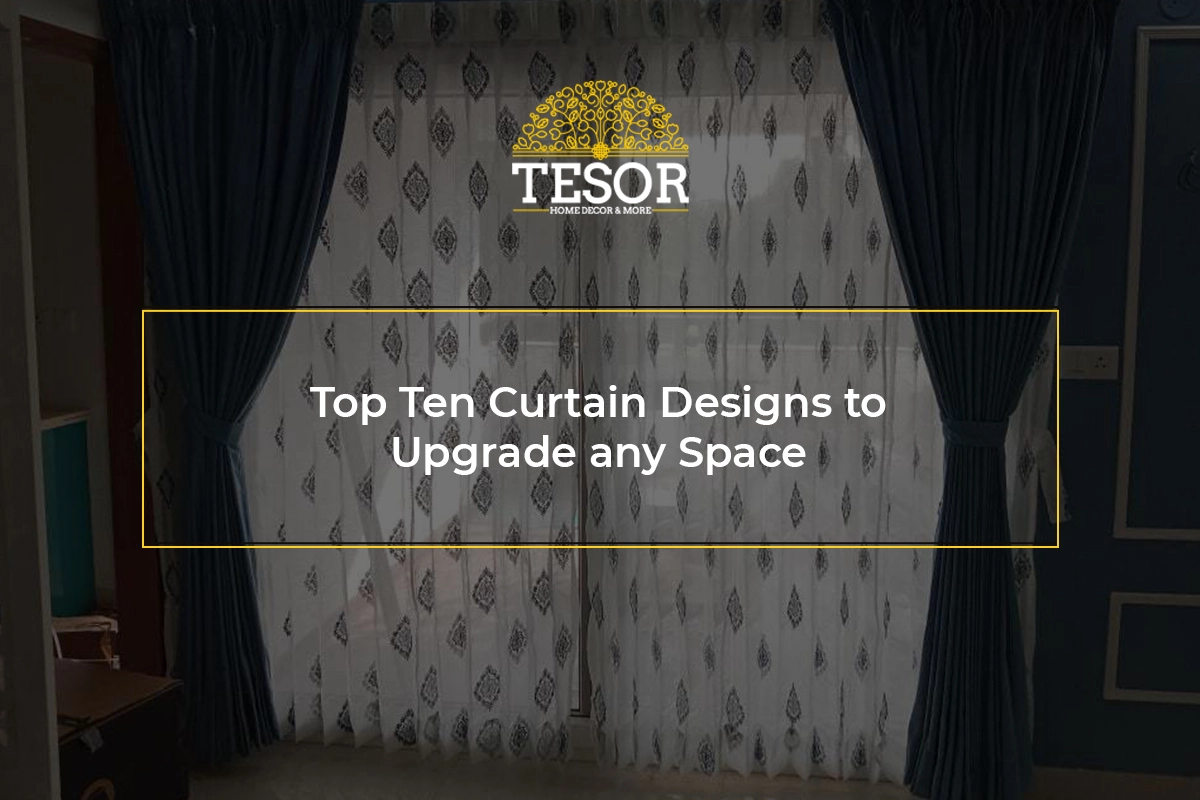 Top Ten Curtain Designs To Upgrade Any Space
The right curtain designs can transcend your interiors to a great extent. While curtains are primarily installed to block sunlight from coming through into your rooms, curtains play a game-changing role in uplifting the appeal of a room.
The interplay of light and shadow through curtains enhances the aesthetics of a space, making it calming and adding character.
In this article, we have put forward a list of ten popular curtain designs that can amp up any room, especially your bedroom, to help you choose curtains for your interiors.
Top 10
Curtain Designs For Bedrooms
Based on a lot of experimentation by our experts here at Tesor, here are the best curtain designs that will enhance the look and feel of any room in your home.
1. Ceiling to Floor Drapes With Jute Binds
Incorporate visual drama into your reading space with ceiling-to-floor drapes and jute binds. While the puddle-length drapes add a touch of elegance to your reading room, jute binds can manipulate the light flow into the room.
Place your study table near the window and get cosy with your favourite book and a cup of coffee.
2. Velvet Curtains
You can easily accentuate a neutral interior with long velvet curtains; they instantaneously add a touch of glamour to a space.
Living rooms with light decor or neutral shades can be uplifted by using green or red coloured velvet curtains.
Black velvet curtains also add a touch of elegance to a space.
3. Horizontally-Pleated Curtains
Made with several horizontal pleats to add a touch of playfulness and a breezy vibe, horizontally-pleated curtains in dual shades are great for your children's rooms.
Unlike regular, flowy curtains, these curtains add a note of elegance to the room and have an element of charm and cheerfulness, keeping the energy light and positive in a space.
4. Linen Curtains
Lightweight and an ensemble of comfort and luxury, linen curtains add sophistication and comfort to a space.
They are the best choice if you want to keep your curtains closed and let air and light enter your room.
Easy to wash and high on visual appeal, linen curtains are best for spacious living and bedrooms.
5. Mix'n Match Solid and Printed Curtains
A combination of solid and printed curtain designs can create a stunning visual and amplify the decor of a living space.
By using light and sheer printed curtains with floor-length solid curtains knotted on both sides of the window, you can incorporate colour blocking in your interiors, making the decor lively and comforting at the same time.
6. Layered Curtains
Layered curtains with different textures don a decadent, theatrical look and evoke a heightened sense of luxury in your room.
You can create an enchanting decor by using layered curtains and knotting the front layers on both sides.
It offers a vintage appeal as well and serves multiple purposes. A brilliant curtain design for bedrooms, you can use all the layers if you wish to block out the sunlight or simply use one layer while knotting the rest for visual elegance.
7. Pinch-Pleated Drapes
Minimalistic and subtly beautiful, pinch-pleated drapes provide an airy and charming appeal to a room.
They're perfect for study rooms as they allow maximum light to flow through. The translucent quality of the fabrics provides a breezy and comfortable appeal, making them perfect for small spaces.
8. Damask Curtains 
Damask curtains are perfect for interiors built on a royale note. They're known to evoke a luxurious feel with heavy works of gold, silver, copper, or purple on the fabric, transforming the aura of any space from basic to extravagant.
These curtains are heavy and have a richness in texture and appeal, which adds to their grand appeal.
9. Semi-Transparent Floral Curtains
You can never go wrong with floral curtains, especially when you place them against a white backdrop.
From different shades of flowers and leaves to cute little butterflies, sheer curtains with floral patterns keep the mood of any space light and cheerful and allow sunlight to play around the room.
10. Ruffled Curtains 
Classic and luxurious, ruffled curtains can broaden a space, accentuate the remaining decor, and lift up the mood of the room.
We highly suggest picking a colour that matches your room, as these curtains are notorious for drawing attention in any background.
Make sure you go for ruffled curtains in shades that compliment the rest of the decor.
Choose the Best
Curtain Designs
and Amp up Your Interiors Today!
From linen, polyester, and cotton to silk curtains, the choices of fabrics and patterns are many. If you're going curtain shopping for your space, make sure you get the measurements right and choose colours that complement your interiors.
Curtains are intricate parts of an interior that can instantly alleviate the beauty of the rest of the room.
At Tesor, we offer a variety of premium curtain designs that'll make your home the talk of the town. We invite you to visit our website or drop by our store in Bangalore, and we can help you pick the best ones.