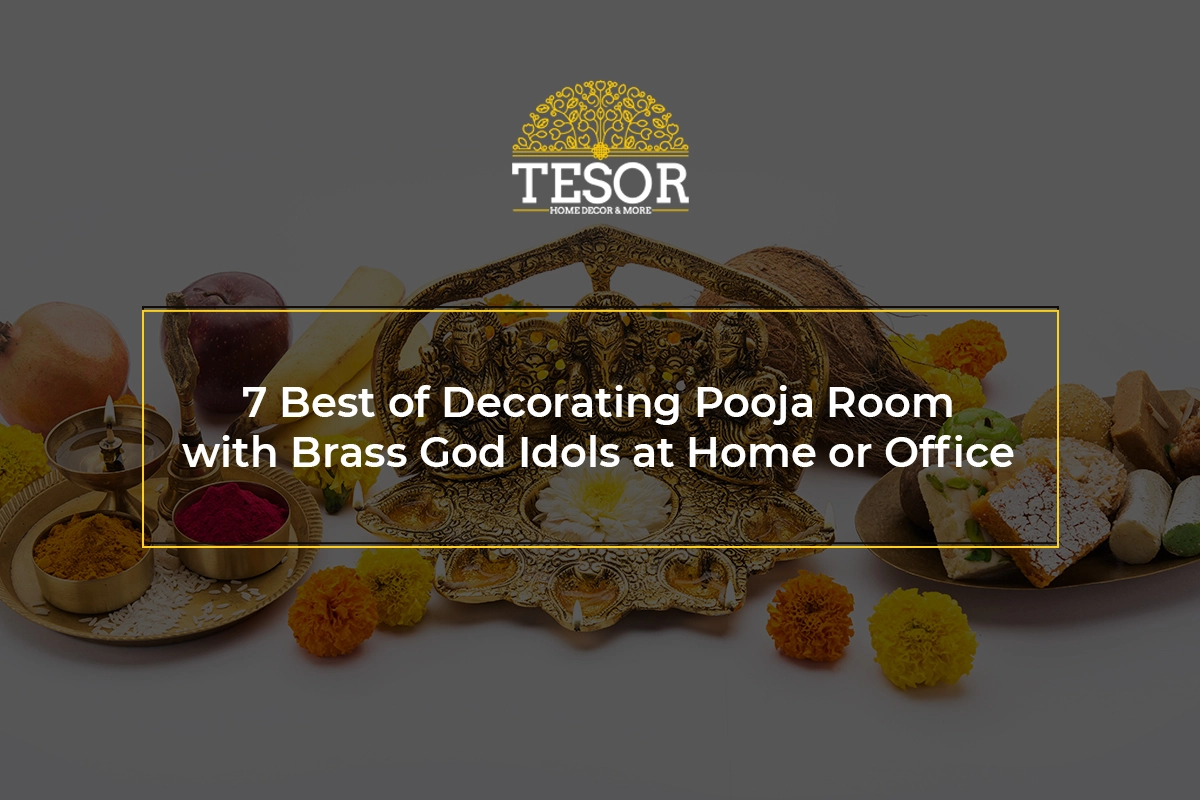 Decorate Your Pooja Room With These 7 Brass God Idols
Brass is known for evoking a calming atmosphere and bringing balance to any space. Our abode is where we find the most comfort at all times; however, even our homes become chaotic at times. Brass has an earthy, grounded aura, which takes away the negativity and adds a positive vibe to the environment.  From restoring strength to exuding a healing aura, brass god idols are highly preferred for pooja rooms due to their intrinsic healing quality.
In this article, we have put forward a list of seven brass idols that you can choose for your pooja room and bring home positive energy. 
Seven Brass God Idols To Decorate Your Pooja Room
We took a survey of hundreds of customers who bought our brass god idols here at Tesor. Based on their responses, we've compiled a list of seven brass god idols that could best decorate your pooja room.
1. Brass Buddha Idol with Meenakari
An epitome of morality, calmness, wisdom, and truthfulness, Lord Buddha brings opulence and contentment.
It makes an incredible gift for loved ones and also serves as an idol you can place in your pooja room.
If you're on a quest to find peace and happiness, a Buddha model can evoke calming energy that can help you get closer to your higher self.
2. Antique Meenakari Lord Krishna Idol
Who doesn't love Lord Krishna? The eighth avatar of Vishnu and the God of protection, Lord Krishna, is the symbol of passion, love, and tenderness. He brings hope and happiness to all.
A brass Lord Krishna model will not only look beautiful in your pooja room, but it will also bring unparalleled contentment and opulence.
The antique Meenakari Lord Krishna Idol has been made with intricate details and expertise, using a traditional sculpting method to curate this marvelous piece of art.
A brass Krishna idol will accentuate the aura of your interiors and bring home happiness and peace. 
3. Antique Radha Krishna Brass Idol
A sheer epitome of positive energy and divinity, the antique Radha Krishna brass idol represents love in its purest form. Incorporating a Radha Krishna brass idol into your pooja room will beautify it, and the soothing element of brass will evoke a calming aura in your pooja space.
Worship the eternal, transcendent love of Radha Krishna and bring home happiness with this brass idol.
4. Antique Hanuman Brass Idol
Protective and symbolic of purity and fulfillment, an antique brass Hanuman idol can elevate the mood of a space and bring in positive energy.
Perfect for pooja rooms, a brass Hanuman model can instill strength and confidence and motivate you to believe in yourself. Lord Hanuman helps us remember the good we can bring into our lives by staying connected to God and respecting our parents.
Bring home an antique brass model and celebrate the purity and craftsmanship of the intricate brass idol of Hanuman. 
5. Brass Ganesha Idol on Pedestal
A brass idol of Ganesha in the pooja room is known to bring happiness and prosperity to one's house. There are different types of brass idols in the HSR layout, and brass Ganesha idols are very popular among them.
A brass Ganesha idol will ward off the negative energies in your house and is known for bringing success, good luck, and prosperity. Carved delicately by skilled artisans, this brass Ganesha idol is placed on a pedestal and created in a standard size so that it is perfect for your pooja room. 
6. Brass Deepa Lakshmi Statue
Auspicious and beautiful, the brass Deepa Lakshmi Statue is symbolic of wealth, prosperity, and fertility.
This idol of Deepa Lakshmi represents Lakshmi with a lamp in her hand, echoing the prosperity and happiness that she brings with her to the lives of her devotees.
Carved to perfection and highly detailed, this Deepa Lakshmi Statue can also be a beautiful gift for your loved ones during festivals. You can incorporate this brass Lakshmi idol in your pooja room and welcome bountiful blessings for you and your family.
7. Brass Durga Idol
Durga is the goddess of strength and protection. Brass Durga idols are symbolic of feminine prowess and strength. By including a brass Durga idol in your pooja room, you can incorporate an essence of femininity, affection, and strength.
Worshiped and known as the protector and destroyer, a brass Durga idol will bring fulfillment and opulence to you and your family.
Decorate Your Pooja Room With Intricately Beautiful
Brass God Idols
!
Brass has an intrinsic quality of earthiness which can incorporate balance and sheer calmness into an environment. At Tesor, you can choose from varieties of brass god idols to accentuate your pooja room into a space of peace, prosperity, and fulfillment.
Brass idols have intricate details and designing which add to their beauty and accentuate their appeal. We hope this article helps you choose the brass idols that you want to keep in your pooja room and worship with devotion.