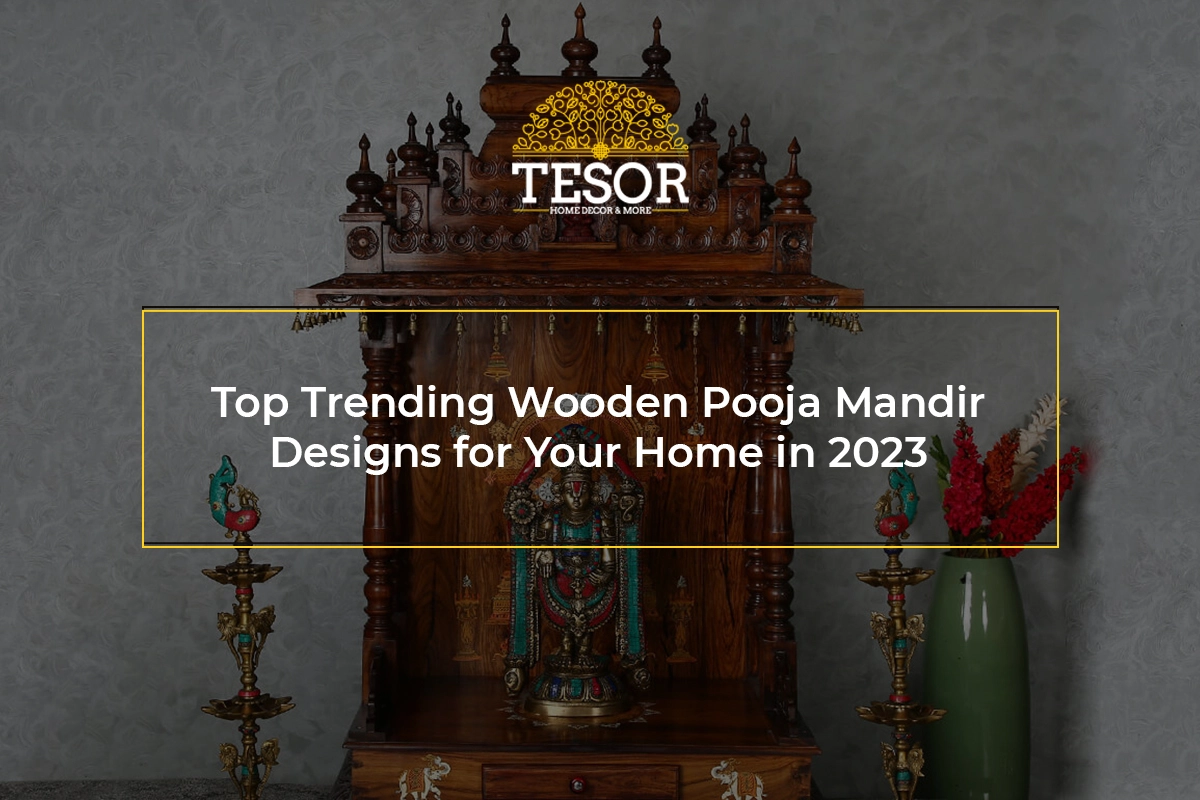 Top Trending Wooden Pooja Mandir Designs for Your Home in 2023
The pooja mandir is a sanctuary of peace, spirituality, and belief for the average Indian household. It could simply be a corner of a bedroom or an entire wall devoted to the mandir; however, the main aspect to consider is that it must resonate with calmness and peace.
There are a wide variety of wooden pooja mandir designs for your home that are high on appeal and aesthetics and complement the space's look. From lights placed strategically to evoke a nice effect to beautiful curvature designs on wood, there are many wooden mandir designs that you can choose from!
In this article, we'll help you with a comprehensive list of the most trending wooden pooja mandir designs of 2023 to help you take inspiration from or customize your mandir as you think is best.
Top 8 Trending Wooden Pooja Mandir Designs For Your Home
Based on our research, here are the top eight wooden pooja mandir designs for a home in 2023.
1. Traditional Arc Mandir
A classic design that you can find in many households, the traditional arc mandir design has an old-fashioned appeal.
It's perfect for houses that have wooden interiors or wooden furniture.
The best part about this pooja mandir home design is that you will get a wide range of designs carved out of wood, or you can even customize the same in a design of your choice.
2. Wooden Pooja Mandir With LED Lights
LED lights can transform a space in the most aesthetically pleasing way possible! If you wish to keep the mandir space lit without drawing in too much attention, you can opt for wooden pooja mandir designs with LED lights.
These lights can be fitted in strategic positions to offer a subtle, pleasing aura and are perfect for contemporary interiors.
3. Jaali Mandir
This is one of the most intricate home pooja mandir designs, with checkered structures on the wooden mandir, adding to the aesthetics of the mandir.
While some mandir designs have jaali doors that can act like a doorway to the mandir, offering partial visibility where you can see the diyas glowing, some have jaali structures on the arc of the mandir. Both designs evoke a traditional appeal and go well with wooden decor.
4. Floating Unit Pooja Mandir Design
This design allows the mandir to be adjusted on the wall, where you can worship and offer your prayers in a standing position, depending on the height of the mandir.
This design will fit perfectly well in houses with smaller spaces. You only need to allocate a section of the wall, and you can have a beautiful pooja mandir in your home.
5. Wooden Pooja Mandir With Inbuilt Cabinet
Performing a ritual or pooja in the household requires certain essentials that you need to keep near the mandir. There are wooden pooja mandirs that come with attached cabinets where you can keep all the essentials that you need for pooja, such as incense sticks, diyas, candles, and so on.
These structures are usually customizable, so you can attach as many drawers as required and finalize the design.
6. Single Mounted Shelf Mandir Design
If you're looking for a simple wooden pooja mandir design for your home that only occupies a little space and is simplistic yet elegant, then you can go for a single-mounted shelf wooden mandir design.
The structure of this specific design allows you to place the idols one after the other with a diya and immerse in the rituals.
7. Mandir Designs With Divider
A lot of households prefer a separate space for the mandir if it's located within the living room or bedroom.
In such cases, you can go for mandir designs with wooden screens or dividers. The wooden divider acts as a division between the living space and the mandir and is currently trending in the list of top home pooja mandir designs.
8. Wooden Pooja Mandir With Aesthetic Backdrop
While the pooja mandir can offer an aura of peacefulness and spirituality, you can accentuate the beauty of this space in our household in various ways.
A simple wooden pooja mandir can look increasingly beautiful when placed against a wooden panel fitted with LED lights to exude a futuristic appeal.
Select the Best Wooden Pooja Mandir Designs for Your Home With Tesor!
The materials most commonly used in making wooden pooja mandir designs are teak wood, Sheesham wood, and mango wood. These have a smooth texture which aids in the carving process and is resistant to harsh weather conditions.
While you can always buy ready-made wooden mandirs online or from shops for your household, you can also customize these designs to bring a balance between your interior design and the pooja mandir design.
Tesor has a wide collection of beautiful pooja mandir designs you can choose from and immerse yourself in worship. Visit our website or stop by our store in Bangalore and check out our collection of pooja mandirs.