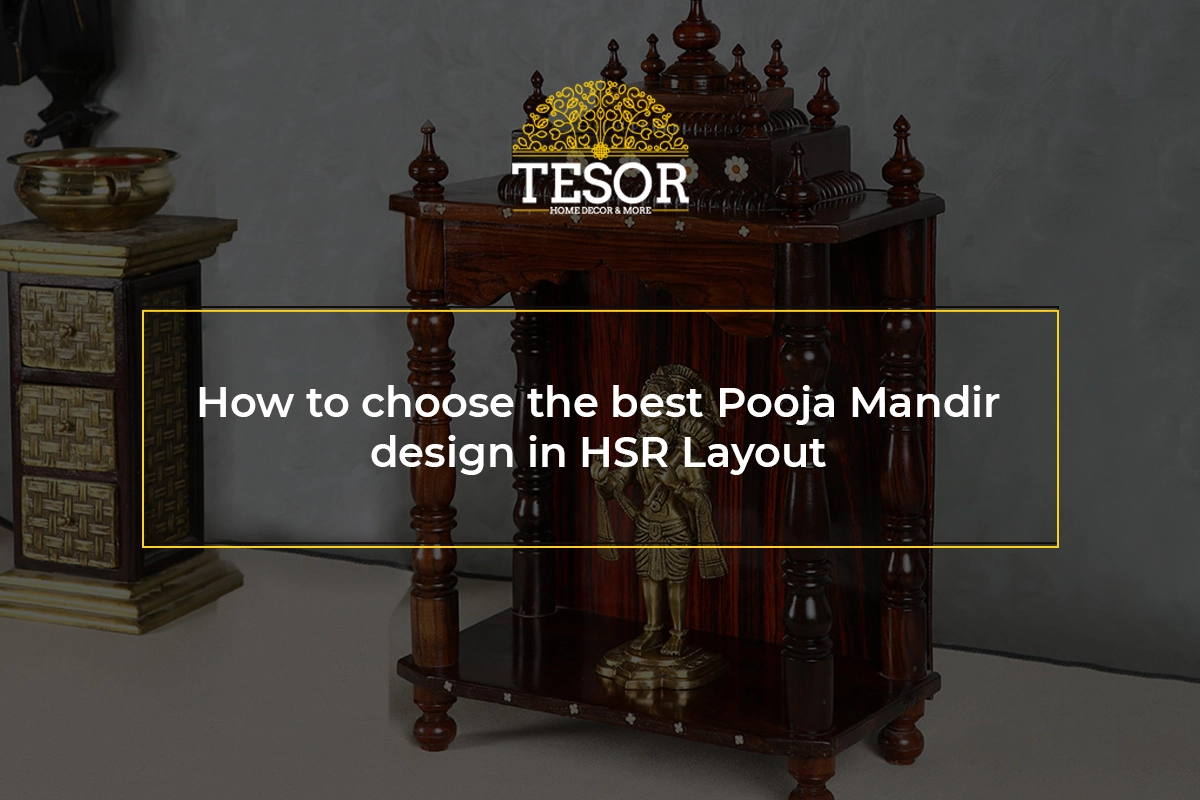 Choosing the Best Home Poojā Mandir Designs in HSR Layout
When choosing the best home poojā mandir designs, there are numerous things to take into account. The mandir's size and design ought to be suitable for the number of visitors. People should be able to move around the mandir easily. And it should be well-lit. Additionally, the mandir should be built such that poojā objects can be conveniently placed in and near it.
Selecting the right poojā mandir takes a lot of thought, so we have plenty of original suggestions to help you choose the best home poojā mandir designs.
Choosing the Best
Home Poojā Mandir Designs
Here are five quick home poojā mandir designs suggestions for your home that'll promote serenity, joy, and optimism.
1. Mandir Corner With Jaali Panels
Consider jali panels if you enjoy intricate designs for poojā mandirs in your home. Jalis are essentially ornamental designs on perforated screens. In essence, jali designs screen out harsh light while allowing natural light to enter a space. The design also blocks glare and filters in light and air. 
This style is versatile and can work in any living area and is best if you have a TV unit, especially with a wooden finish. By incorporating a honeycomb jaali design, you can elevate your home poojā mandir design as it looks especially aesthetic in laminate or wood.
2. Modern Poojā Room in a Large Living Space
You can incorporate traditional home poojā mandir designs with stylish and contemporary interior decor without disrupting the overall look of the area. Incorporating sophisticated designs, sleek interiors, and eye-catching lights can completely transform your space.
Turn your empty wall or space into a miniature mandir. Keep it classy with simple shapes and neutral colours.
3. Wooden Home Temple Design with Carvings
Pick an empty spot in your house, and place a corner unit made from sturdy wood with a classic dome and exquisite jaali work.
To make the space look fuller, adorn it with bright, decorative lighting. Try using interior soft-focus light that illuminates the corner.
Be sure to check out the wide range of wooden temples that are available readymade from poojā mandir shops in Bangalore.
4. Minimalist Wall Mandir
A great way to use an empty wall in your house is by placing your deity and mounting a mandir on it. This home temple design's simple, minimalist aesthetic is ideal for any unused space in your living room.
You can even stick to a monochrome metal palette like plates, bells, lamps and deities as it brings uniformity to the space and elevates the look of your home poojā mandir designs.
5. Classic Wooden Poojā Unit
Home poojā mandir designs are traditionally made of wood. We recommend getting an ornate, traditionally carved poojā unit in wood to adorn the corner of your living space. Highlight this area with focus lights and lovely bells suspended from the wall over the unit.
With such a beautiful setup, you're sure to receive compliments from friends and family alike.
Check out our poojā mandir shop in HSR layout to get a hold of a wide range of options. 
Get the Best
Poojā Mandir Designs
For Your Home
Now that you have all the information you need about home poojā mandir designs, you can begin your journey to finding the right one for your house.
And what better place to begin than the best poojā mandir shop in HSR layout? Tesor offers the finest home furnishings at affordable costs to anyone looking for poojā mandir shops in Bangalore.
Check out our amazing collection of home decor products, including tabletop lamps, clocks, picture frames, and other options. You can check out our store or online at our website.