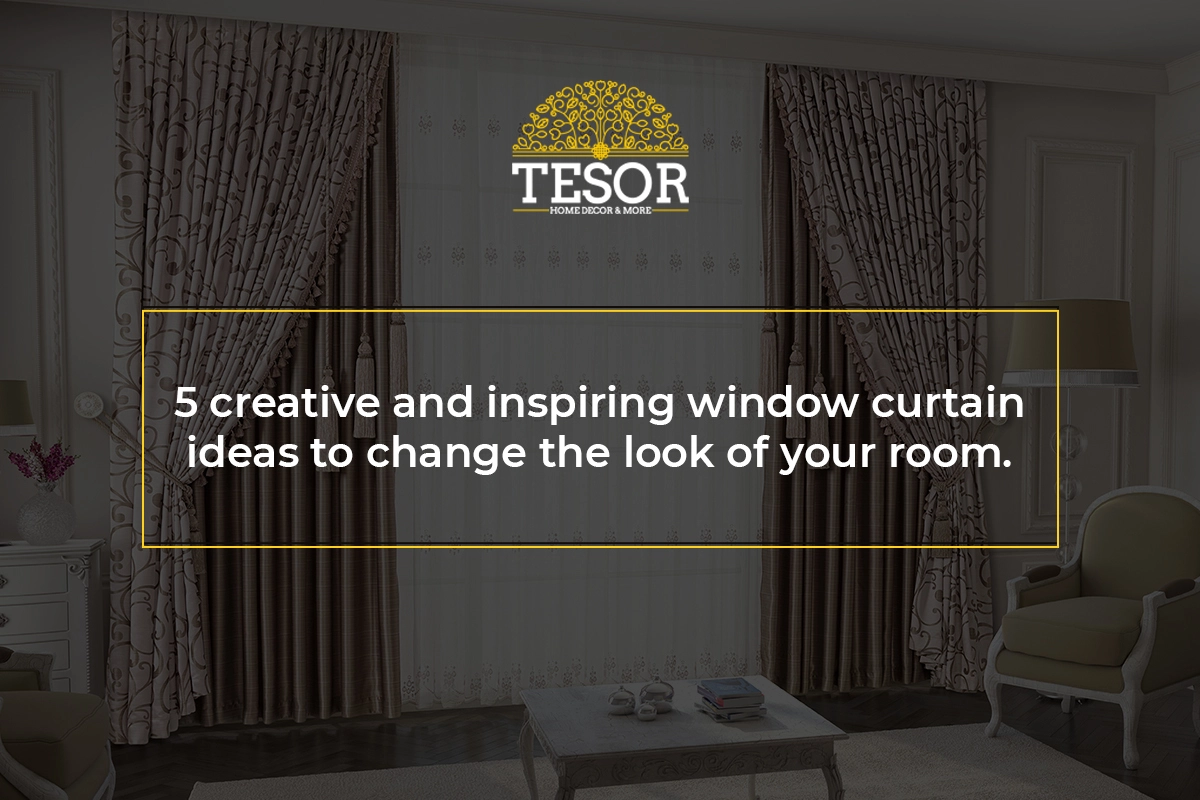 5 Creative Window Curtain Ideas to Spruce Up Your Room
Curtains are one of the simplest and best ways to transform the look of your room. The right window curtain can transform how a room feels, whether you want to add a dramatic statement or a minor change.
If you're unsure where to start, we've got plenty of inspiring ideas to help you choose the perfect window curtain. We'll also share the best place to buy curtains in Bangalore.
Five Inspiring
Window Curtain
Ideas
Here are five creative and inspiring window curtain ideas to enhance your living space.
1. Complement the Living Room Colour
A good rule of thumb to follow when choosing the perfect window curtain colour is to match it with the other furniture in the room.
The best way to go about this is by picking curtains that suit the wall's colour scheme, as it accentuates the room's decor.
You can even make a statement with bold curtains that grab all the attention in the room.
Add variation by choosing contrasting colours with the room furniture, walls, and decor.
2. Prints Vs. Solids
Make a note of your room's theme when looking at available window curtain options so they match. For example, you'd ideally select patterned curtains if the rest of your room's furnishings are solid colours. The opposite holds true as well.
By adding large printed curtains, you can enhance the visual weight of the space. To balance it out, you can try adding any white or complementing solid-colored curtains.
3. Choosing the Appropriate Length and Size
A few inconsistencies can make or break the overall aesthetic when it comes to the length and size of your curtains. These days, curtains that reach almost graze the ground are popular for their clean look.
If you've got a double-height ceiling, emphasize it by using double-height curtains. The extra cloth might give a touch of extravagance and emphasize the room's grandeur. You also want to choose the ideal width for your windows.
The best way to find the right width is to measure the frame and multiply it by a factor of 2/2.5. When the curtains are drawn back, the extra fabric helps to create a gathered appearance on the sides.
By adding extra long curtains, you can even enhance the drama. This type of window curtain bunch up at the bottom, giving it a grandiose feel.
4. Light and Sheer Curtains
Sheer curtains tend to make a living room feel light and airy while still giving the room a sense of privacy.
They're the perfect type of window curtain to give you a minimalist, light, and loose style.
The lightweight fabric is perfect for creating a minimalist, light, and airy feel in your home. Using the layers of curtains adds softness and privacy as natural light enters the room. 
5. Window Blinds   
Unlike window curtains, blinds are a great addition to moisture-prone areas like kitchens and bathrooms.
Blinds are versatile and come in different wooden shades. You can choose the right one to complement your flooring.
They're easy to install and will give you more control over how much light should enter a room, as you can either cover a section of the window or the entire window, depending on your requirements.
You can even find an array of designs, hues, and patterns and choose the right style you have in mind for your home.
Where To Find the Perfect
Window Curtain
Finding the ideal curtains to match your home's décor may add character to the room. From fostering a comfortable atmosphere to radiating richness, window curtains offer versatility in style and appearance.
From printed curtains to solid drapes, we at Tesor World are the best place to buy curtains in Bangalore at an affordable price. Follow our blog to get interesting updates from the best curtain shops in Bangalore.