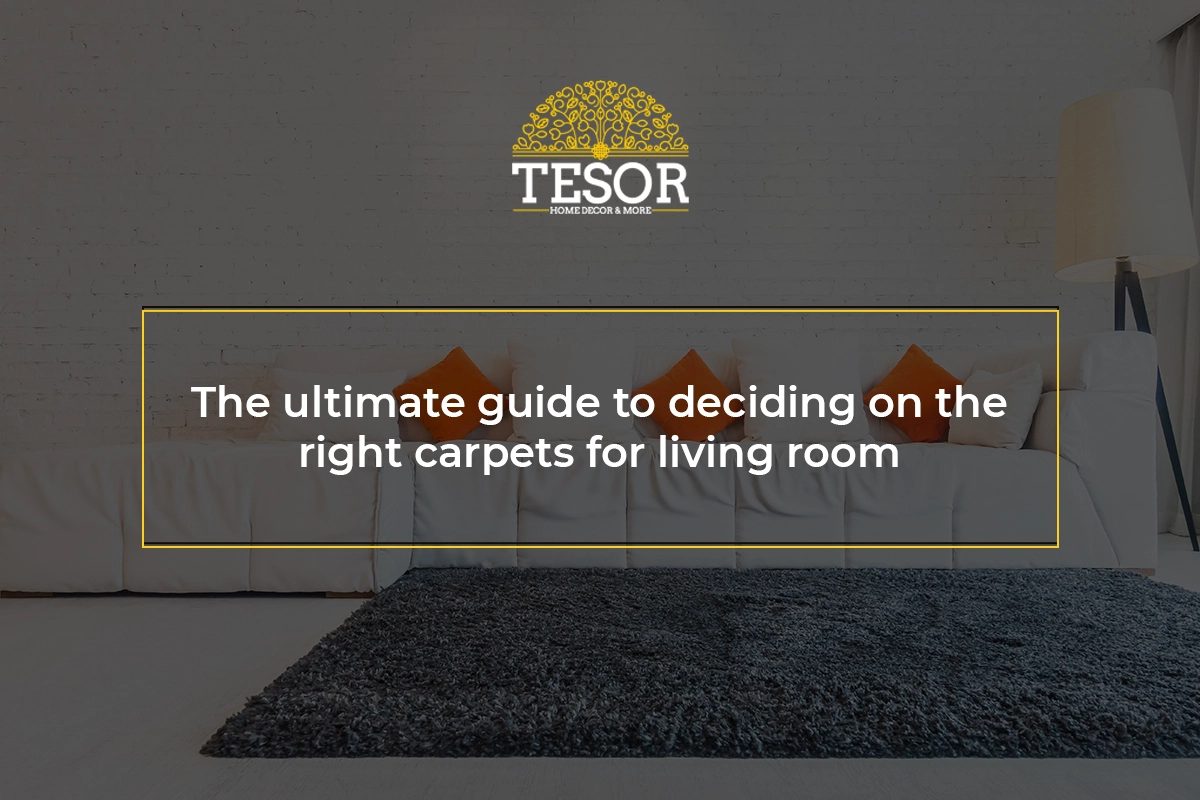 The Ultimate Guide to Deciding on the Right Carpets for Living Room
One of the quickest and easiest ways to transform your living room is by adding a floor carpet. Not only is carpet for living room space budget-friendly and convenient, but they revamp your living area.
Habitants get the opportunity to explore carpets as they get the added benefit of brightening up a room, changing the colour theme, and even covering up small imperfections.
Although there are many different types and styles of carpets to choose from, finding the right one for your home can be a bit tricky if you don't know where to start.
Luckily, we've put together a few tips to help make choosing the perfect carpets for the living room a breeze.
Tips on Choosing the Right Carpets for Living Room
Based on our experience with helping clients design their homes, here are five pro tips to help you choose the right carpets for the living room.
1. Pick the Right Colour Theme
The right colour for carpets in the living room is a priority as it's a vital characteristic that serves multiple purposes when it comes to home decor. It's well known that colours may instantly evoke a personal association by grabbing attention. Additionally, by using the right colours in the wallpapers and furniture, you can make any room appear smaller or bigger.
Keep in mind while finding the right floor carpet, brighter hues will enlarge and open up your space. Earthy colours will give a sense of warmth to the area. And darker colours and bold patterns can hide stains.
2. Assure the Softness of Fibre
One of the main reasons to have carpets for the living rooms is the comfort that comes along with them. The softer the carpet, the more comfortable it is to walk and lounge on.
In recent years, soft carpets have become increasingly popular due to their luxurious feel. These fibres are much finer than traditional carpet fibres, and they're even resistant to staining and wear.
3. Ensure Durability
When you're looking for the perfect carpets for your living room, you want something that looks great but is also durable and long-lasting. Carpets are classified as durable due to their resistance to wear and tear.
Keep in mind that there are many durability-related features you need to look out for when purchasing carpets.
One of the biggest factors to consider is the quality of the material. Higher-quality materials will tend to last longer.
Ensure the rug is tightly woven to sustain the shape of the carpet for a longer duration. It's important to make a note of the age of the carpet. An older carpet means a depreciation in quality.
While shopping for carpets for the living room, it's important to consider not only the space but also the furniture placed in that area.
Choosing the right carpet for your house will ensure balance and warmth to create the perfect living room space.
8×10 feet to 9×12 feet is a good size for a living room carpet. It should be big enough to allow you to place all the furniture on it, but not so big that the furniture feels cramped.
If you have a coffee table, make sure the floor carpet is at least six inches wider on all sides so you can pull chairs away from the table and still have them on the rug.
5. Materials of the Carpet
Carpet materials are divided into two categories: natural and synthetic.
Natural carpet fibres include wool, jute, silk, and cotton, while synthetic carpet fibres include nylon, olefin, polypropylene, acrylic, and polyester.
While natural fibres are more eco-friendly than synthetic fibres, the latter tend to be more stain resistant and durable.
However, this isn't a hard and fast rule. Natural materials like wool are extremely durable to wear and tear, whereas cotton isn't as strong by comparison. Likewise, synthetics like nylon are quite resilient to foot traffic, whereas olefin is best suited for lower foot traffic.
Your choice basically boils down to what's more important to you: Eco-friendliness, durability, or a mix of both.
Where To Choose the Best Carpets for Living Room
So, as you can see, there are many factors to consider before you buy carpets for a living room.
If you're looking for the perfect office carpet or living room rug, browse Tesor World or visit our store to find a wonderful range of options to choose from.
Stay tuned to our blogs for interesting tips on home decor!