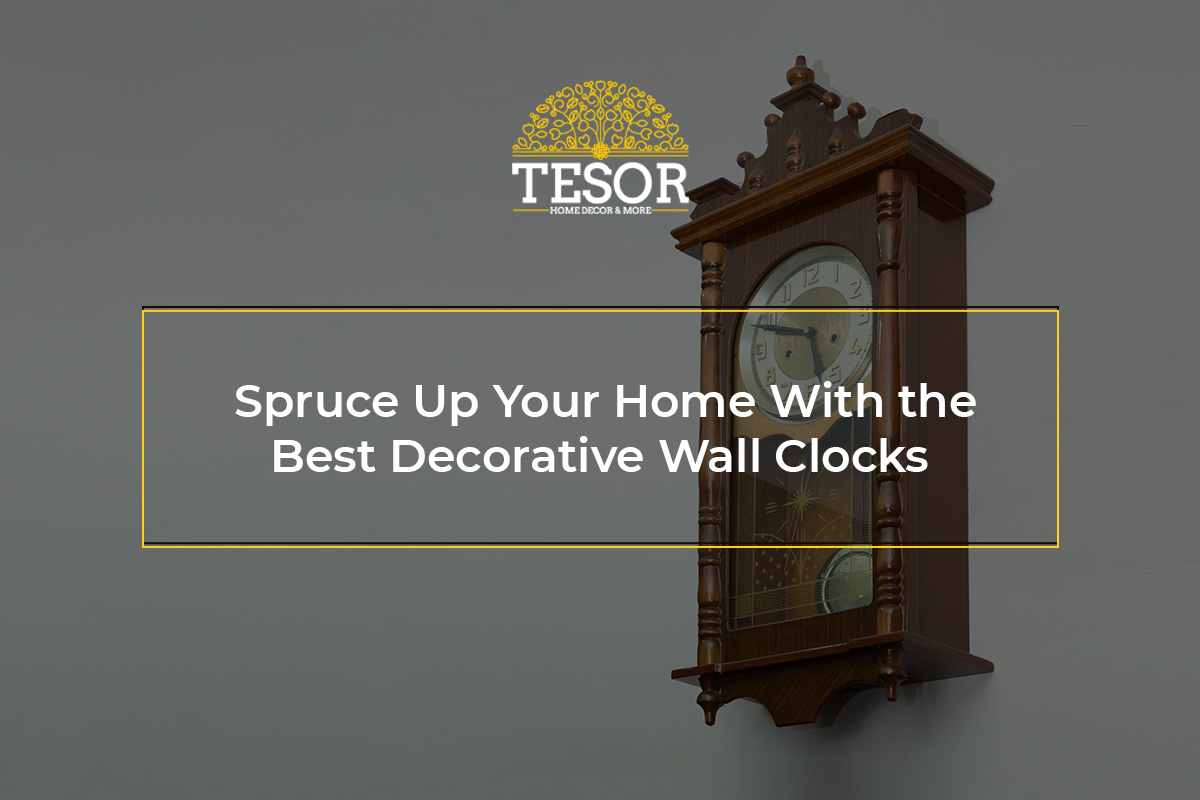 Spruce Up Your Home With the Best Decorative Wall Clocks
A clock is a timeless (no pun intended) classic piece that not only serves the practical purpose of telling you the time but also transforming your home decor. There are many leading décor sites that bring you amazing and best decorative wall clocks for your home. 
Here are some ideas on how you can decorate a wall clock in your home.
8 Ways to Incorporate the
Best Decorative Wall Clocks
in Your Home
1. Install Large Wall Clocks
Large wall clocks are really popular right now, and it's easy to see why: they look impressive and eye-catching.
Because of their size, you can spend less on another wall decor without compromising your wall's overall look. Although there is a vast selection that can complement the modern or eclectic decor, large clocks look great in a farmhouse or industrial setting.
If you want a large wall clock, make sure to pick a somewhat simple design, as too many intricacies on such a big clock might look overwhelming.
2. Picking a Clock for Your Dining Room
Rather than using wall clocks on doorways and mantels in living rooms, create a great focal point for dining room walls, especially if they're quite big.
Finding an artistic wall clock for your dining room may be challenging, but if you have a large rustic wooden one, you are all set. They will give "dinnertime" a whole new meaning.
3. Use Multiple Clocks for Different Time Zones
A very original technique to use wall clocks to decorate a bigger surface area is to hang many clocks next to each other, each representing a different time zone. The clocks should be contemporary and simple in design.
If your job demands you to keep track of times in different parts of the world or if you have foreign contacts you'd like to stay in touch with, this urban setup is very helpful. It's also a great idea if you have relatives living in different time zones.
4. Choose a Sophisticated Clock With Minimal Face
A stylish, plain wall clock face is ideal for modern interior decor. You will surely find a modern clock design that suits your taste because they come in virtually any color and pattern, including marble or granite.
These clocks can hold their personality and style and can even be mounted on a big wall, minus any further decoration or design. They make a perfect decorative wall clock for the bedroom.
5. Use Abstract Clocks if Your Home Is Contemporary
Minimalist or abstract wall clocks are the ideal design for contemporary spaces. Simple shapes and designs are the hallmarks of modern design; therefore, ornament-free wall clock concepts are fantastic.
For the perfect minimalist workstation, hang a modern wall clock over the desk, and add only a few simple elements, such as mugs, tiny plants, and bookends.
6. Classic Cuckoo Clock
The cuckoo clock is the best option if you want something more unique and intricate than the usual wall clock.  Any area will instantly become more intriguing with the addition of these attractive, detailed traditional handicrafts.
7. Contrasting Clock on Your Gallery Wall
Little, antique-looking wall clocks blend in perfectly with busy, gallery-style walls (walls packed with numerous works of art).
When you contrast a circular clock with more geometric shelving or wall art, even an unconventional gallery wall will be elevated to a new level. This is undoubtedly one of the best decorative wall clocks you will ever find for your home gallery wall.
8. Sunburst Clock
A sunburst wall clock is a wonderful accent item for any decor because it's versatile and beautiful.
Sunburst wall clocks are a distinctive fusion of modern and eclectic design and are decorated with border pieces that expertly imitate the sun's rays. These dazzling objects are magnificent by themselves and in combination with other wall-decorating elements.
Tip: It's natural to ask how high to hang a wall clock while setting it up. As a general rule of thumb, always hang clocks at eye level. You should hang the clock a little higher to capture attention from all parts of the room if your home is big and has a lot of open space or a high ceiling.
Tesor: Bringing You the
Best Decorative Wall Clocks
Your home is one of your greatest assets, and it's important to treat that asset to things that you love. These handmade treasures adorning the walls of your home add life, meaning, and character to the space — and they needn't be limited to the walls. A cleverly-designed wall clock can serve the same function, acting as artwork on your wall while also serving a functional purpose in keeping time.
From Rosewood mandir to beautiful plants to wall clocks, we at Tesor offer aesthetic home decorative items in Bangalore at an affordable price.