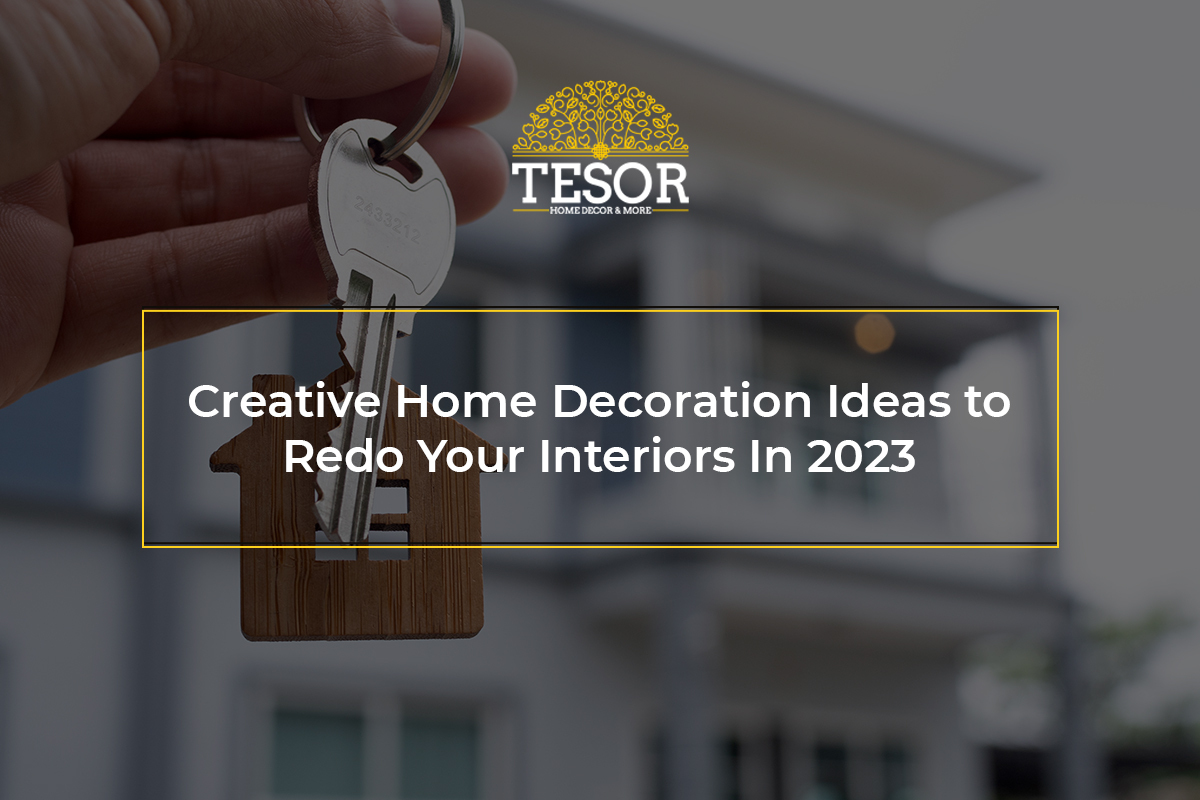 Creative Home Decoration Ideas to Redo Your Interiors In 2023
It's time to let go of your old self and embrace the new year as a better version of yourself! This does not have to be just about practising new habits but also about changing things around you! And what better way to start than to redecorate your home with things that will make you happier & motivate you to do better! If you're looking for home decoration creative ideas, we've got you covered! Let's start with
Making It BOLD. BRAVE. BEAUTIFUL.
It's been a tough past two years and we're not saying that the pandemic ended with the start of the new year. But don't let the pandemic keep holding you back.  Decorate your home with creative ideas to feel a fresh start. 
Here are 4 easy decoration ideas for your home. This 2022, be confident and adventurous and let it show through your interior decor. 
1. Colour block your walls AND ceilings!
What's the colour block you ask? Only the best thing that 2022 could bring us! Colour-blocking is the art of combining colours that are polar opposites on the colour wheel to create unique and complementary combinations. 
Everything in interior design comes down to the colour, so if you're planning on doing a complete renovation explore the world of colour blocking. Be brave and use contrasting blocks of colours on your walls and ceilings! 
2. Build your own miniature forest!
Image: 
https://elements.envato.com/indoor-plant-succulent-plant-in-pot-H3EZCKD
What better way to freshen up your home than to imbue it with life? The thing about plants is that they come in different sizes and hence you can put them anywhere: bedroom, kitchen, corners of hallways or your study area! 
Pick a plant pot that'll go well with your interior design. A colour that'll make the green leaves pop and add character to your home. If you think this idea is worth a shot, check out Tesor World. It's a highly reviewed home decor store in Bangalore with a beautiful collection of ceramic plant pots in all kinds of shapes, sizes and colours! 
3. Add quirky and interesting art pieces
Image:
https://elements.envato.com/art-wall-mockups-vol7-HGRK78

In the words of Nicki Minaj: "who wants to look simple when you can look stunning?" Bring drama to your home by adding interesting pieces of art. Something unexpected, something brave. Wall art or decor items like a tapestry, hanging mirrors, hanging plates, murals, etc. 一 whatever piques your interest. 
Art pieces don't always have to be decor items, they can also be new innovative furniture, cabinets or shelves that integrate the latest design trends. It's your house, so do whatever makes you happy, no matter how bizarre or strange people think it is. 
4. Dress your home in mesmerizing fabrics
Image: https://elements.envato.com/blue-drapes-in-cozy-bedroom-P8YBWAG 
If your home decor revamping plan doesn't include colourful textiles it's simply incomplete! Adding "textile" refers to any home decor item that is woven or made out of fabrics. Throw pillows, blankets, rugs, upholstery, curtains, etc. are all items of fabric you can add to your interior decor plan. 
You can drape your walls with silk and velvet, and your floors with faux fur and cotton. The choice is yours and there are plenty of options to choose from! 
Hope this blog could help out those who are wondering how to improve home decor this new year. It doesn't just have to be adding plants, fabrics and art pieces. You can take it a step further and add secret cabinets and shelves! But we can discuss that at another time. 
We hope that with this, you will find some inspiration to make your living space bold, brave and beautiful. Until next time, cheers!