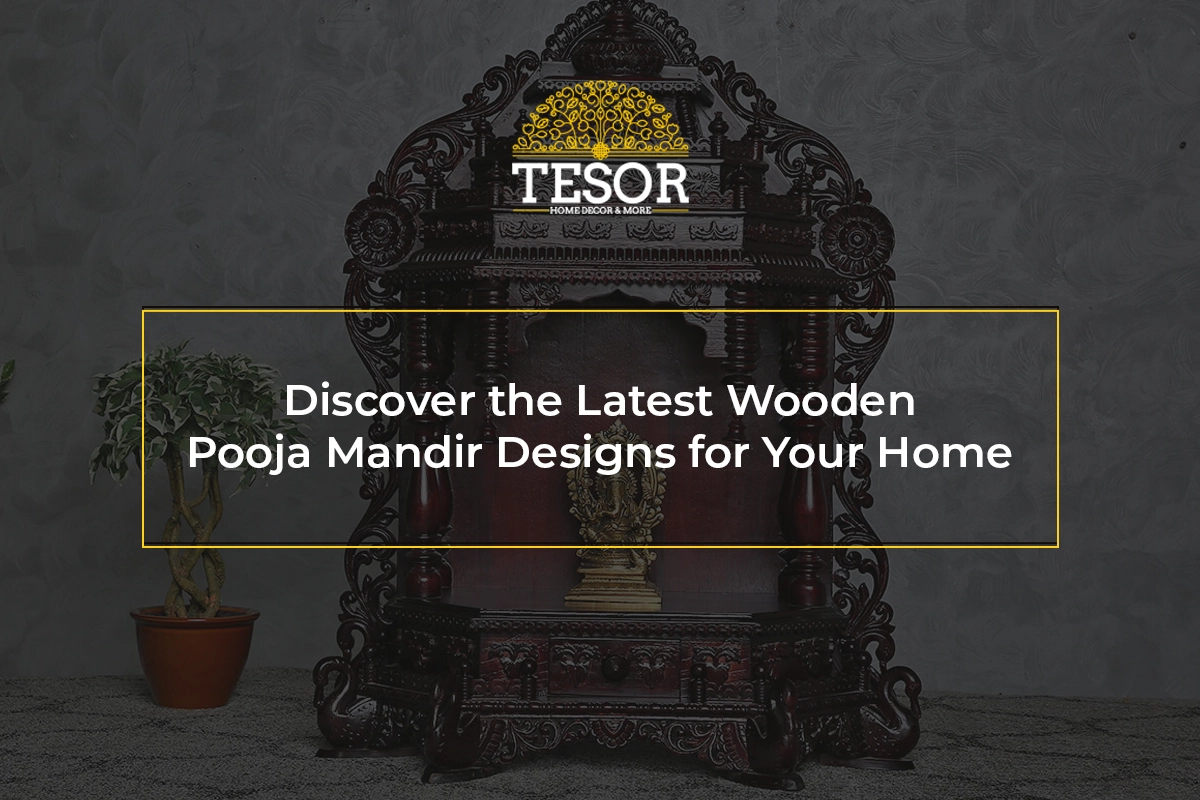 Discover the Latest Wooden Pooja Mandir Designs for Your Home
Installing a wooden pooja mandir is a fantastic way of creating a sense of piety and zen in your home. A mandir is synonymous with devotion, peace, and harmony; hence, adding a wooden pooja mandir is a great way to welcome these qualities into your humble abode. 
A pooja room is a sacred space where one can connect with religion and spirituality. Bring a pooja mandir home and elevate the essence and aura of this space. Wooden mandirs can also add to the aesthetic and make your place of worship more beautiful.
Wooden pooja mandirs come in several different styles, designs, and sizes. You can select the one that aligns with your aesthetic and home decor. Let's look at some popular wooden pooja mandir designs for home. 
Latest Home Pooja Mandir Designs
Let's discover the modern and trendy pooja mandirs to elevate the pious ambience of your prayer room.
1. Traditionally Carved Wooden Mandir
Sometimes, the classics are usually the best! This vintage wooden pooja mandir design is for the old-school traditionalist in you. These mandirs ideally feature a wooden arch or small dome on top, along with intricate carvings of pious symbols and motifs. Complete with a timeless jali structure at its front, this wooden mandir is perfect for those who want a more conventional template. 
These wooden mandirs are typically crafted with rosewood, Sheesham, or teak wood but can also be customized. It is a minimalist design, letting devotees focus on the idol inside rather than the wooden mandir. This mandir can also come fitted with a shelf to hold the statues. 
2. Wall-Mounted Mandir 
Another aesthetic wooden pooja mandir option for your prayer room is a wall-mounted temple. While most mandirs traditionally are placed on the ground, these wall-mounted mandirs offer stylish variety.
This wall-mount deviation means the mandir is at eye level with worshipers, thus making it easier to carry out poojas and keep clean. Moreover, you can add a wooden panel underneath with concealed brackets to make it seem like the mandir is floating.
This idea is especially useful for mandirs placed in smaller spaces or tight corners. 
3. Nature-Inspired Mandir Design
Another trendy design that is currently making the rounds is the nature-inspired theme. You can have your wooden mandir carved to depict scenes of nature to bring the beauty and tranquillity of Mother Nature into your home. To complete the theme and enhance the aesthetic, individuals can also place indoor plants and other greenery. This beautifies your prayer room instantly, making poojas more devout and peaceful.
Devotees can opt for an open-shelf mandir design. This is characterized by an open shelf plan to display different statues, idols, photo frames, and other religious artifacts. It offers easy access to place and remove items and is easy to maintain. Moreover, you can even add hanging lights from this to present a warm yellow glow, making your prayer room feel more elegant and graceful. 
Want to Discover More Pooja Mandir Designs for Home? Browse Through Tesor's Vast Collection.
Add to the pious ambience by bringing a pooja mandir home. Our devoted artisans handcrafted all the temple designs, representing a fusion of artistry and spirituality. Adding these will enhance the aesthetic of your prayer room while creating an atmosphere of tranquillity and religiosity. 
Head over to Tesor and browse our catalogue for the perfect wooden pooja mandir designs that you connect with and invite reverence and harmony into your home.
Read More: 7 Benefits Of Decorating Pooja Room With Brass God Idols