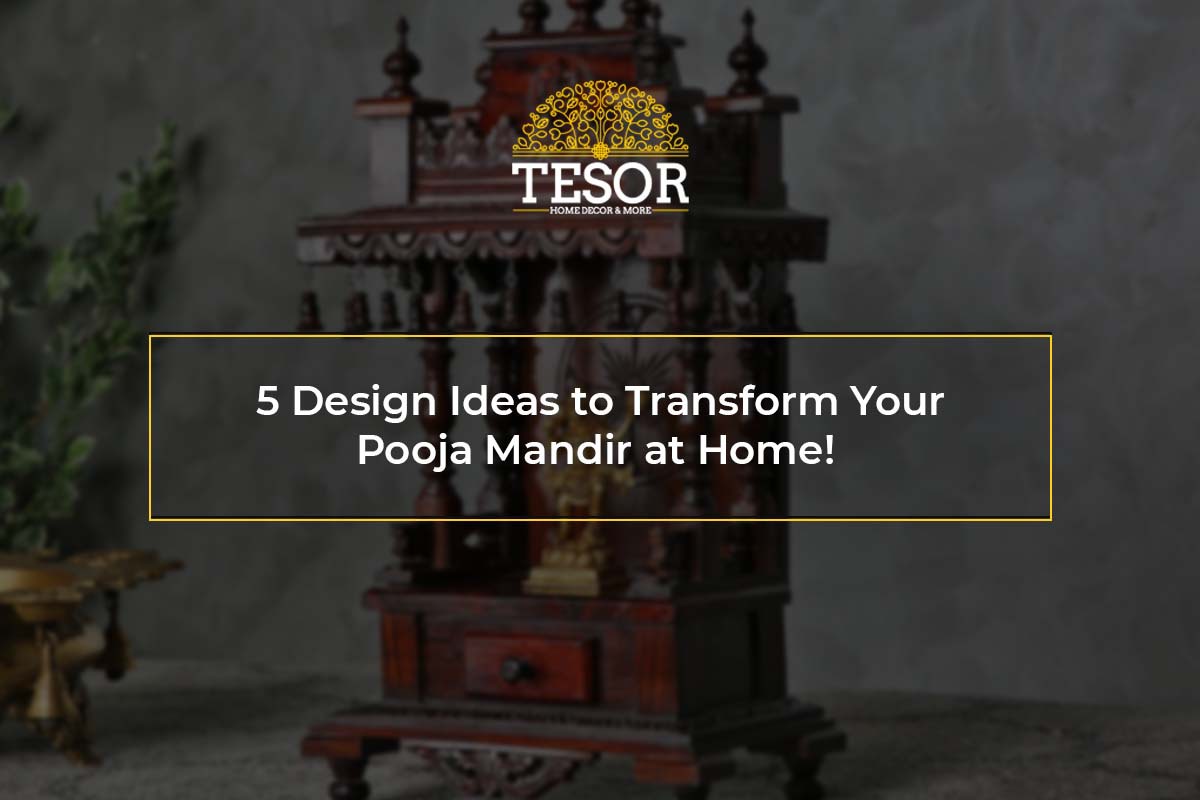 5 Design Ideas to Transform Your Pooja Mandir at Home!
5 Design Ideas to Transform Your Pooja Mandir at Home!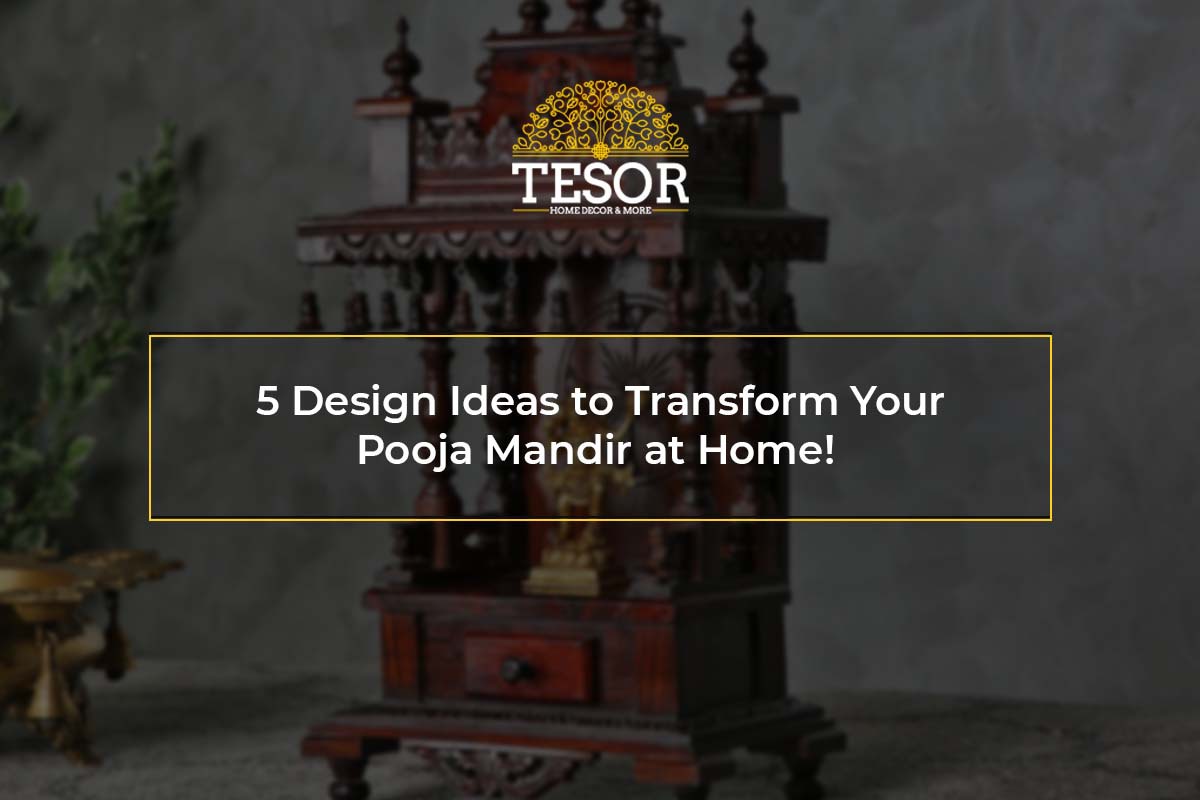 As decor standards get more modern by the day, there is one thing in Indian homes that remains traditional, serene and sacred 一 The pooja room. 
No matter how big your home pooja mandir is, there is always a way to make it look beautiful, devout and appealing. Colours, flowers and ornate decor can all help you revitalize your prayer room so that it radiates positive spirituality.
The layout and the Vastu shastra should, of course, be done according to the rule book. But, when it comes to decor and design you are free to choose something you and your family will love. 
If you are renovating your pooja room, or building a new home and are looking for simple interior design ideas for your pooja room, look no further! 
Here are 5 pooja room ideas to get you started on creating your unique style of furnishing and decor. 
1. Wooden doors with intricate motifs
We all know how important the front door of the house is! The same importance must be given to the doors of your home pooja mandir. You can have traditional designs that have bells carved onto the doors or go for something more minimalistic and modern with a floral inlay. 
If you live in an apartment or a small home where you can't afford to incorporate a separate room for your deity, fret not! We offer the most beautiful pooja mandirs for homes in Bangalore. They range from  Sheesham wood mandir designs to contemporary wood mandir designs, so you can choose a mandir that has beautiful traditional carving on its doors and drawers! 

2. Walls with a pop of colour and charisma
A perfect wall decoration idea for the pooja room is a beautiful backdrop to compliment the overall design. You can use colours like yellow or orange to create a sense of peace and tranquillity in the pooja room. You can also have it custom painted or simply use a wallpaper 一 it's more affordable and gives you multiple colour texture and style options.  
If you don't have a dedicated mandir room and have your idols placed on a wall mandir or any kind of small mandir, you can add canvas paintings of your deities to add charm to your place of worship.  

3. Floor decor that lasts longer
Every home mandir's floors are decorated with rangoli during festive occasions. But it's a hassle to decorate the floors with hand-drawn rangoli designs every day. So, a more permanent solution to always have colours on these sacred grounds is by adding decorative rugs and cushions! 
Painting rangoli designs on the floor or setting tiles that have rangoli designs is another creative approach to keep the flooring gleaming all the time. So, make your floors pop by using contrasting colours and patterns!
4. Lights to create a sanctuary  
Add soft, focused lighting that envelops your pooja room and the idols within them, to create a peaceful ambience. When it comes to small pooja rooms, lighting can be a great way to draw attention away from the pooja area's limited space. 
You can even add accent lights, pendant lights, or candles to give the pooja room a glowy and serene effect. If you think this idea is worth giving a shot check out these candle collections that are perfect for the pooja room.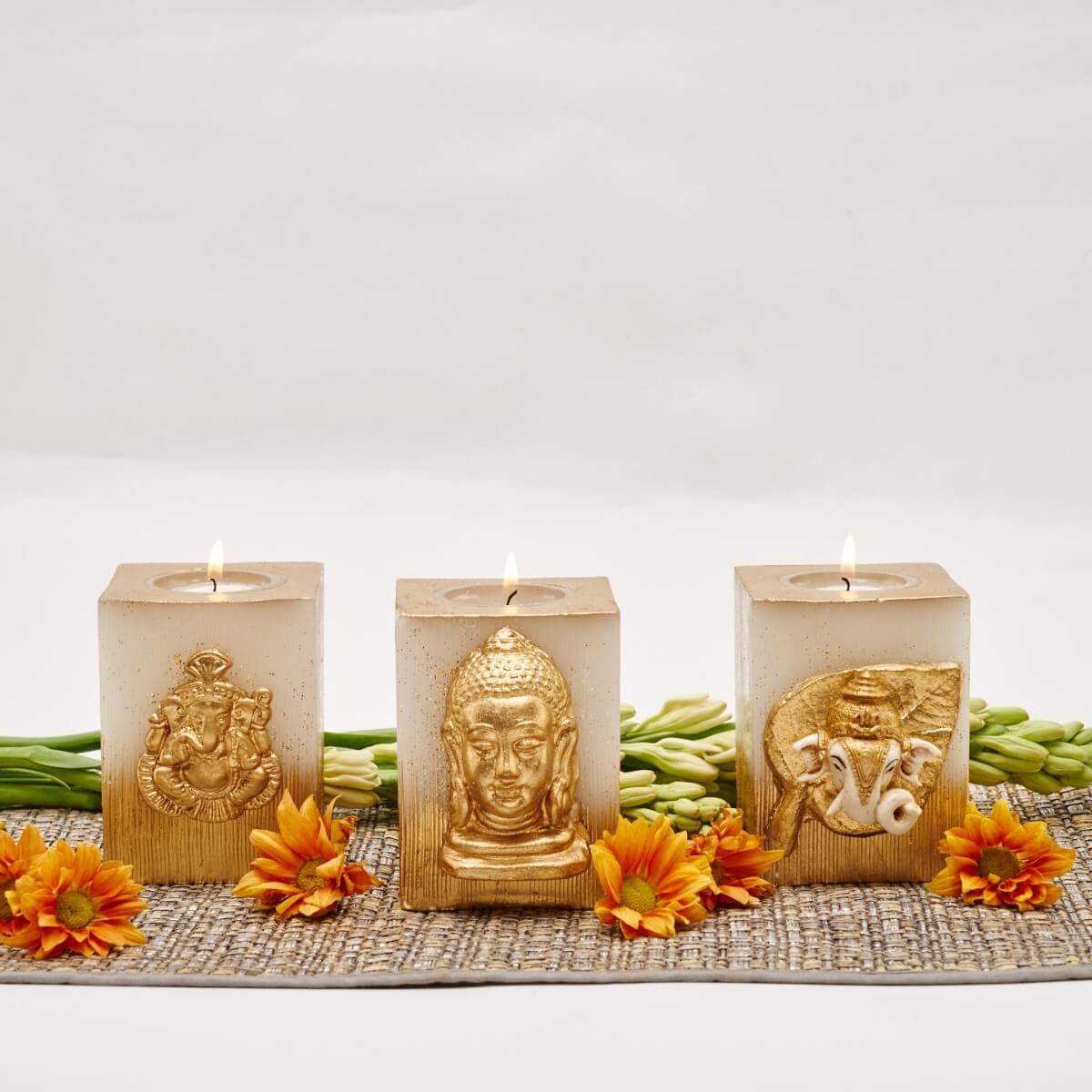 5. Accessorize, don't clutter
While clutter should be avoided at all costs, you can always add a few well-chosen ornaments to the room. Lamps, bells, and pots made of brass or silver are ideal because they are commonly found in temples.
You can also string up artificial torans or garlands of marigolds at the entrance; a vase of potpourri at the threshold of your home pooja mandir; or hang up traditional brass lamps, diyas and bells. 
All of these little trinkets will transform your home pooja mandir from simple to serene! 
You can even go a step further by adding shelving and wall art to your design ideas! There are no limitations when it comes to decor ideas. So take your time deciding what you want. 
Every minute spent in your spiritual space is a minute cherished by your whole being. Big or small, fancy or simple, modern or traditional, make it your favourite place at home. If you're feeling inspired by the ideas we have shared above, have a look through our collection of home mandirs, brass idols, and wall decor at Tesor World and handpick the ones that you think will go best for your pooja mandir!
Have a peaceful and blessed day!