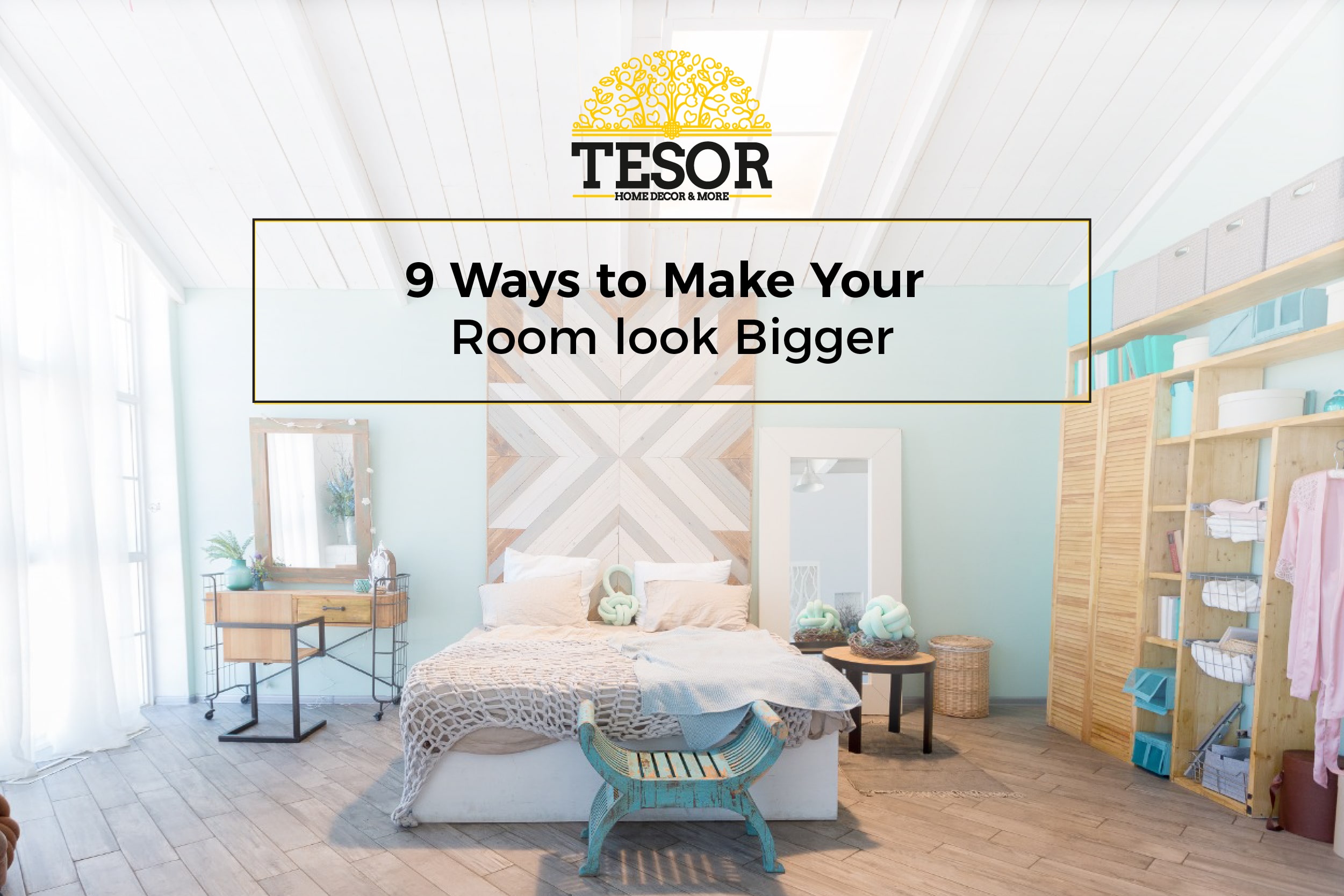 9 Tips on How to Make a Room Feel Bigger
9 Tips on How to Make a Room Feel Bigger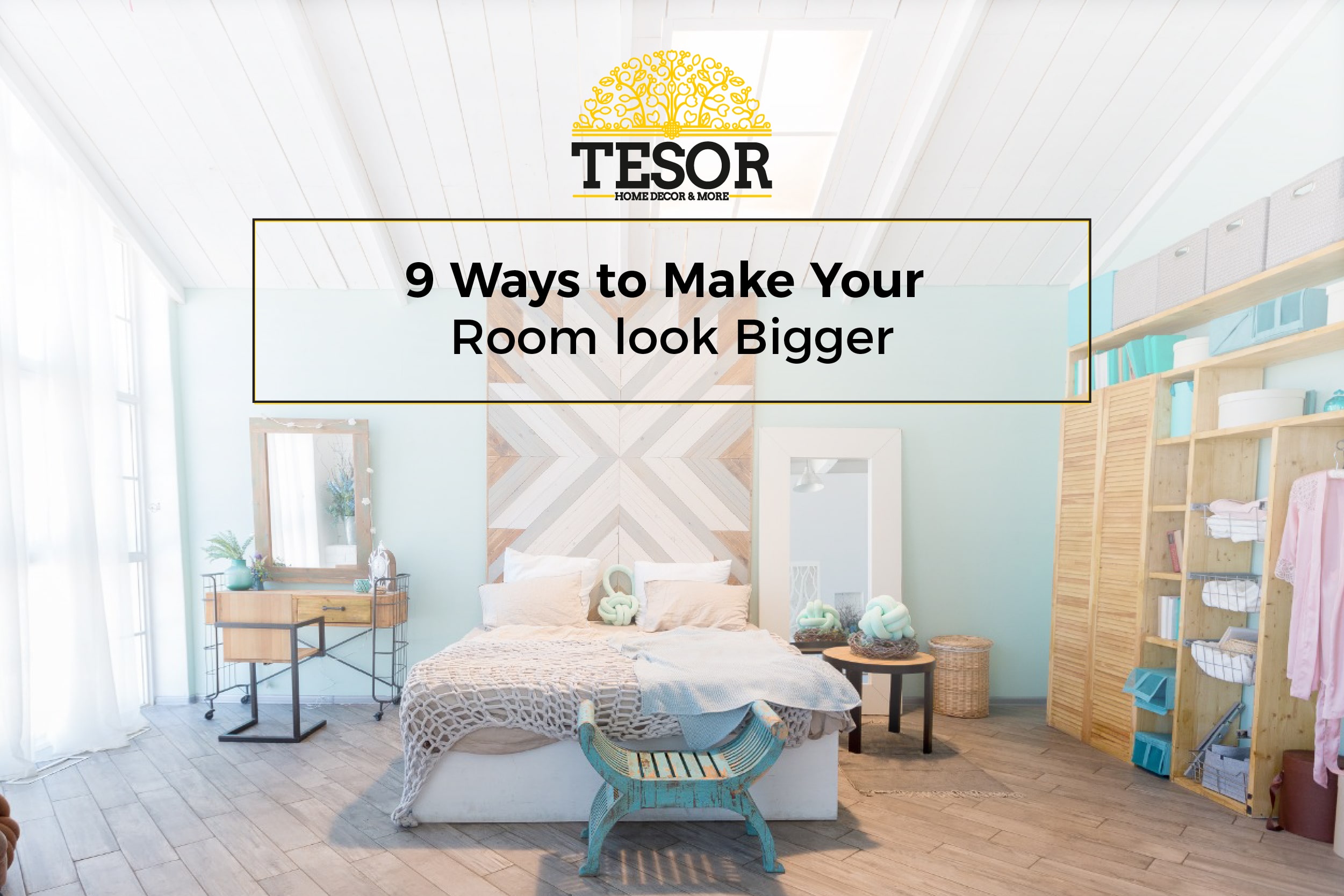 Small spaces often have quite the charm and tend to be snug, zen-like zones when done well. They're simple to maintain, easy to decorate, easy to clean, and easy to organize. However, cramming all of your possessions into a tiny space ends up making it look cluttered, claustrophobic, and far from restful. Colour techniques, mirror placement, and creative lighting can make your room feel a lot more spacious than it is. Want to add some pizzazz to a small space? Read on to find out how! 
White as Snow
Did you know, specific painting techniques make a room look bigger? So, you may wonder what colours make a room look bigger and brighter. In the design world, it is well known that light, softer hues tend to have an open, airy effect. White, with its reflective qualities, naturally makes a room feel calm and serene. Moreover, painting the walls and ceiling the same shade of white gives a cloud-like effect blurring the boundaries while also helping to maximize natural light's results.  
Sometimes, an all-white space could feel too cold, so pairing it with warming elements like wood gives a small room a more relaxed look.
Ditch Thick Curtains (and Rugs)
When it comes to interior designing, it's all about tricking the eye. Thick curtains and rugs add more "stuff" to the room, so doing without them helps keep things more simple. Moreover, curtains block natural light from entering the room, giving it a dim appearance. Opt for sheer curtains. If you want privacy, you can always opt for shutters or cloth blinds. 
Hang Floor-To-Ceiling Curtains
If curtains are a must, learning how to use curtains to make your room bigger can be helpful. For instance, hanging long curtains that drop all the way to the ground makes the ceiling look instantly higher. 
Add Reflective Surfaces
Using a mirror in a room gives it more openness as it reflects the space and light. It's an excellent way to trick the eye that the room is more spacious than it is. Placing a mirror near the window to reflect the light outside is pretty effective if done correctly.
Clear the Clutter
Whether a space is big or small, nothing can make it feel more disorganized than having too much clutter lying around. By neatly putting away things on shelves and inside cupboards, the space tends to feel more open and orderly. Decluttering means more of the floor is visible, helping the room feel more spacious. 
See-Through Glass
Room furnishings like end tables and coffee tables make the room look clunky. With the use of glass furniture, the space around the table will open up the view beyond. Moreover, the transparency of the glass ensures that it takes up less space, provided it's not overly styled. 
Stripe it Out
Adding some aspects to a room can change its entire look, one of which is wallpapers. For ways to make a room appear bigger with wallpaper, specific hacks go a long way. 
Just like in fashion, stripes work wonders when it comes to interior design. They give the appearance of stretching, and using striped wallpaper can play with your vision too. Horizontal stripes make the room wider, while vertical stripes make the room appear longer, giving the illusion of more space. 
Multi-Purpose Furniture
One way of creating space is to use furniture that can be used in more ways than one. If you have a small room, then one of the problems could be storage. You can fix this by using furniture like an ottoman — it can be used as a table, seating, and storage space. 
Clever Lighting
A room looks larger when it's well-lit.Overhead lights draw our eyes to the ceiling, while a corner lamp will highlight the size of the room. Getting rid of draperies and opening up the windows lets the natural light in from outside into your space. 
Small areas are all about editing. The more you accumulate pieces, possessions, and patterns into the room, the more cluttered it's going to feel. Organizing is the key. Stacking your knick-knacks in one unit instead of letting them lie around is one way of making a space look less messy. If everything you use is in a designated spot, you eliminate clutter and give out the feeling of more space. Similarly, for art, busy patterns and overwhelming colours have a jarring effect drawing away from the expanse of the room. 
The bottom line is you need to be intentional about everything that goes into the room. If you have a small room, then use a large piece of art to adorn the walls instead of many smaller pieces. 
There are plenty of tricks to make the room feel more expansive, but here are some we usually stick to. And they work. If you need help picking the right items for your room, Tesor World has a wide variety of furniture, curtains, artwork, and more. You could also view the complete range on tesorworld.com. Or drop a message on WhatsApp at +91 988 604 8525.