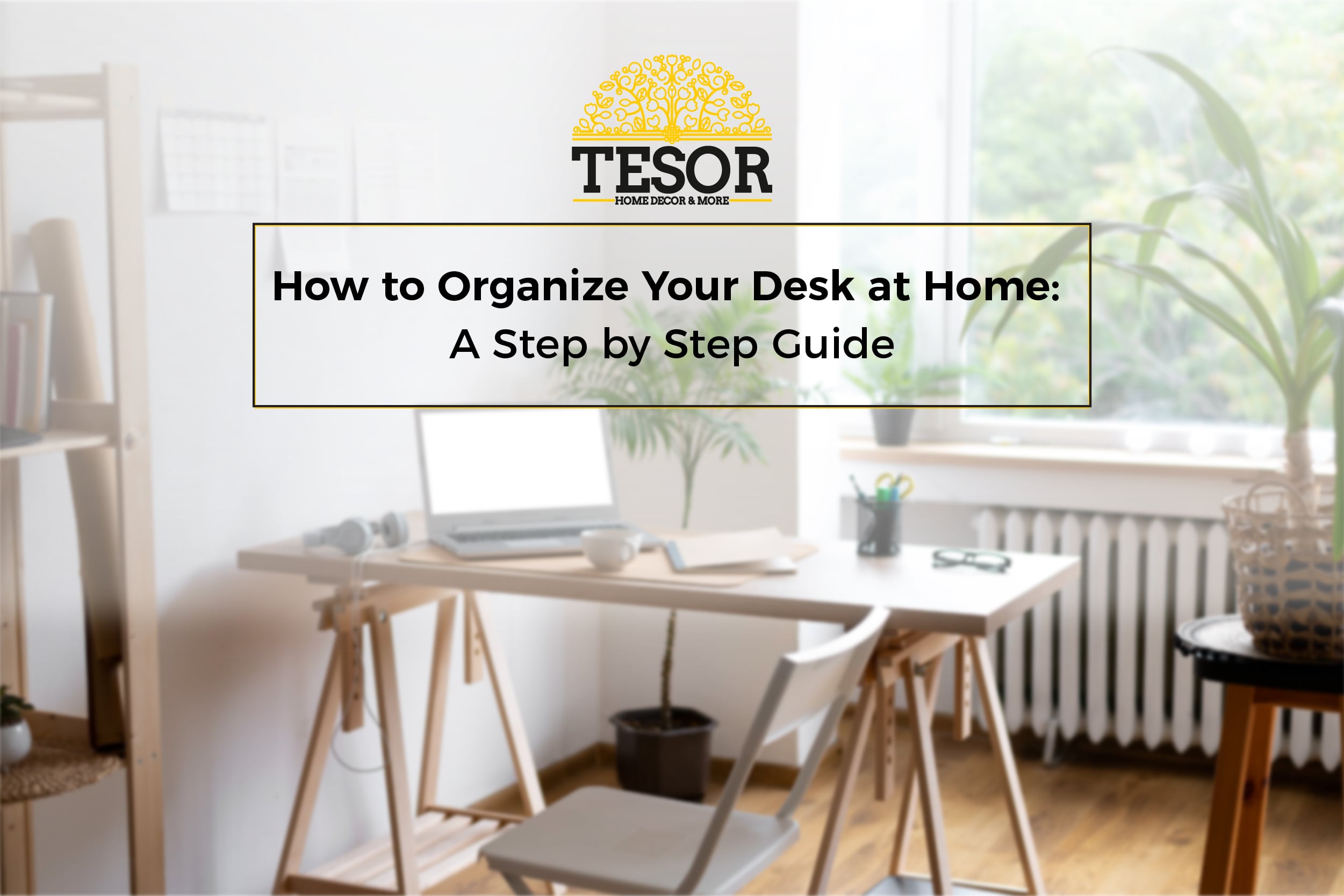 How to Organize Your Desk at Home 一 A Step by Step Guide
How to Organize Your Desk at Home 一 A Step by Step Guide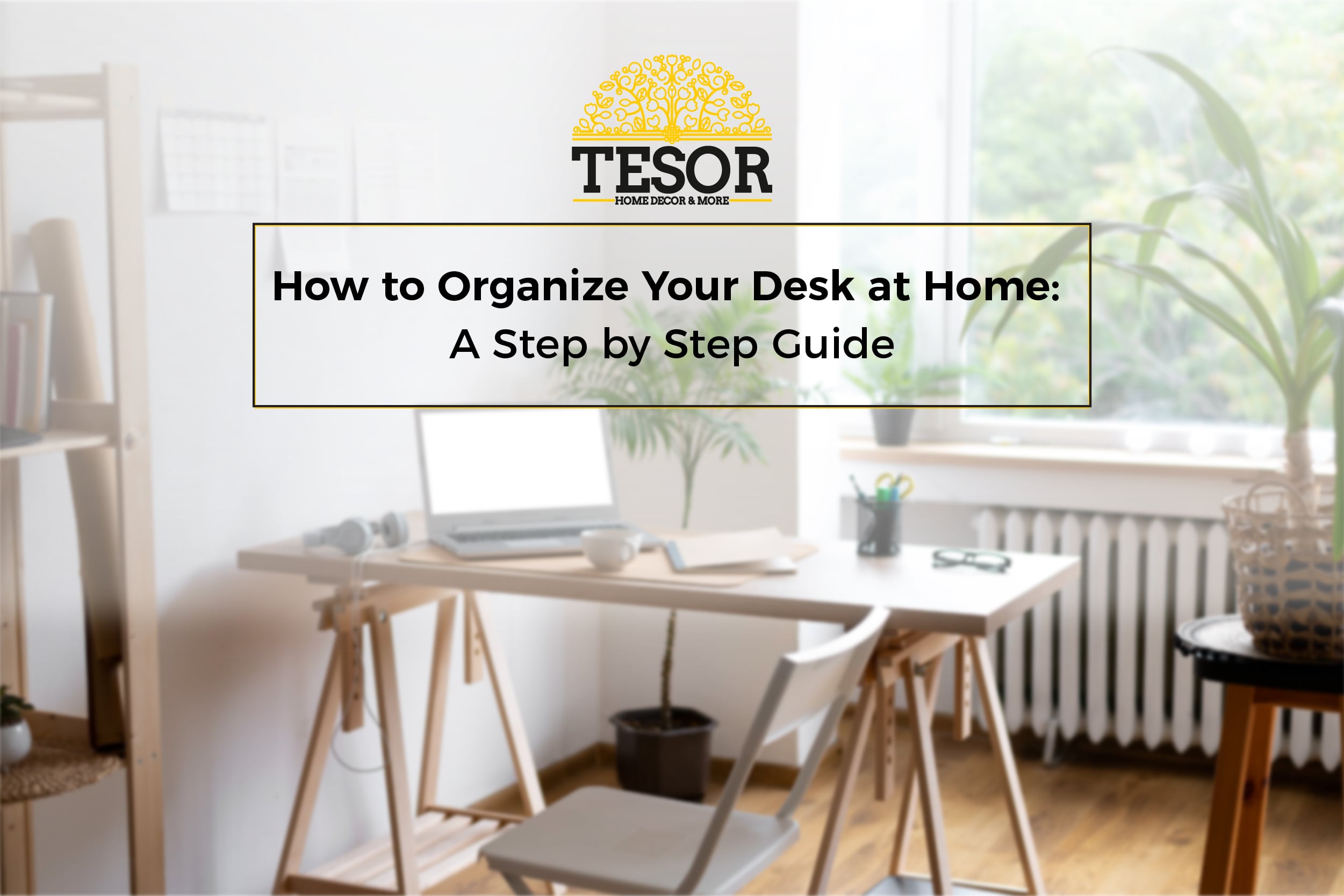 Working from home, attending e-classes, enriching our minds with hobbies — most, if not all of it happens in a small space in our homes. We spend the majority of our day in this station, so why not make it fun and creativity-boosting?
If you're wondering how to organize your desk at home or revamp your desk into a functional, organized, and aesthetic space for yourself, your partner, or your child, you've arrived at the right place. Having a fun and organized desk not only makes it look neat and lively but has been scientifically proven to boost creativity and motivation levels, by optimizing your workspace. 
This blog post lays out a few tips and tricks to be adopted to attain an aesthetic and functional Work Space at home. Here at Tesor World, we often get asked questions such as 'How do I organize my desk?' 'How do I make my desk look aesthetic?' Don't worry, we've got you covered. 
So, let's get right into the good stuff!
Functionality
'A cluttered space is a sign of a cluttered mind.' I'm sure it's not the first time you've heard of this quote. Several research studies point to the fact that clutter affects our anxiety levels, sleep, and ability to focus. It leads to decreased productivity and creativity. Here are some things to keep in mind on the topic of 'How to organize your desk at home for studying' 一 
Desk Choice
While our beds can be comfortable and inviting to stay in the entire day, it's not the best to do our office/school work on it. So, if you don't have a desk at home already, it's probably a perfect time to invest in one. Having a desk that doesn't occupy too much space in your room, of perfect height and width is more pertinent than you'd think for good productive work and overall aesthetics. 
Colours
Yes, the colours you choose for your workspace largely affect the aesthetic that you're going for, but we also know that certain colours have proven to increase brain activity. Blue, green, and yellow have all been shown to increase productivity. While blue is proven to create a calming and soothing environment, green is great as it doesn't cause as much strain to the eye as most colours do, and a mellow yellow is perfect for boosting optimism and creativity. 
Lighting
Studies show that natural lighting plays a tremendous role in boosting energy and creativity levels, so placing your desk next to a window is always a great option and it also adds to the aesthetic! If your room doesn't have a window or a ton of natural lighting, it's okay, you can always have some warm lighting on your desk as it isn't as harsh on your eyes. 
Aesthetics
Yes, we are finally down to the question of the hour, 'How do I make my study desk look cute? ' And it is much easier than you think. 
If you're someone who already has a specific aesthetic to the room, the best idea to tie it all together would be to give your workspace the same aesthetic too. But, if you're looking to go another route, the first task is to figure out what aesthetic resonates with your personality the most. 
Personalize
You are more likely to work on your designated station if you feel drawn to it or resonate with it deeply. So, adding tidbits of 'you' to the desk is a definite yes. Adding your favourite artwork, album covers, uplifting quotes on the wall above your desk is one great way to do it while also adding to the aesthetic. 
Minimalism
Having a clean and clutter-free desk is easily achievable with a minimalistic approach. You can achieve this by reducing the overall number of items on your desk to what is most essential. If you're wondering how to be more efficient for note cluttering, it's simple — go digital! Here are some things you can include to keep your desk organized — organization drawers, pen holders, cable holders, having your laptop set on a stand to avoid neck strain. A clear and minimalistic office desk will provide a sense of serenity and in turn, lead to more productivity! 
So, those were a few desks organization and decorating ideas for you. Pick the right items for your desk and workstation today. And if you require help with selection, Tesor World has a wide variety of aesthetic and organizational items to upgrade your workspace. You could also view the complete range on tesorworld.com. Or drop a message on WhatsApp at +91 988 604 8525.