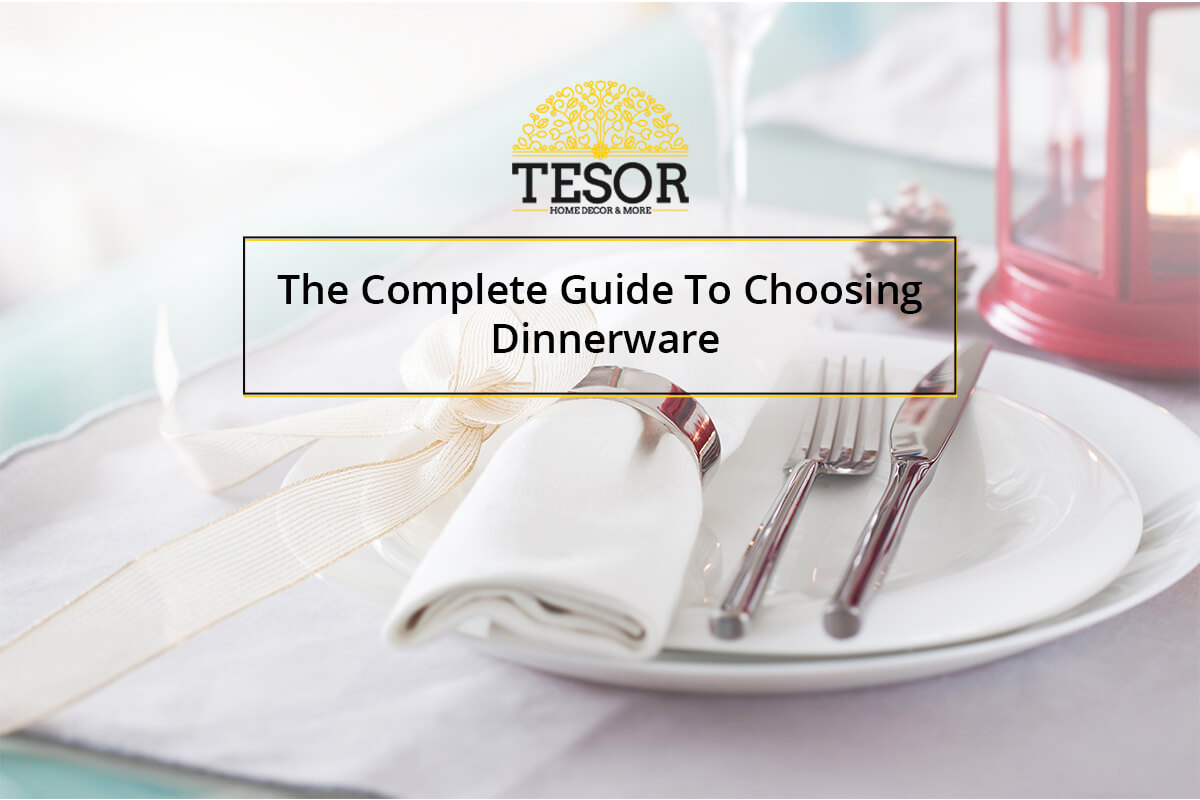 The Complete Guide to Choosing Dinnerware
The Complete Guide to Choosing Dinnerware
Though it is not scientifically proven that tableware or dinnerware can enhance the taste of the food, we can say with certainty that it can alter the mood of diners. To understand how to choose the right tableware, we need to first understand what dinnerware is.
In a country where most of us eat with our hands, dinnerware may seem like a luxury. While that is partially true, it can also be seen as having practical usage depending on the cuisine served on the table. Dinnerware includes cutlery, glassware, serving dishes and other items for practical as well as decorative purposes.
Different Types of Dinnerware Materials
The material with which your dinnerware is made carries paramount difference. Dinnerware is most commonly made of ceramic, stoneware, porcelain, melamine and vitrified glass.
Ceramic: This is the most common type of dinnerware that people use daily. Ceramic dinnerware is available in different varieties that are practical and elegant. They can be used for multiple occasions. Ceramic is arguably the best tableware material.
Stoneware: Stoneware is definitely one of the most common types of dinnerware that people use in modern times. It is quite durable and you can get a lot of use out of a set of stoneware dinnerware.
Porcelain: Also known as China, it refers to dinnerware made of a fine-particle clay—typically composed of feldspar, kaolin, and quartz—that is fired at a higher temperature. This makes the resulting dinnerware extremely durable and nonporous.
Melamine: This dinnerware is really easy to work with and can be plastered with all sorts of interesting designs. You may see plates made out of melamine with cartoon characters and interesting floral designs. Plates such as these are very appealing for being easy to use and not breaking easily, making them ideal for children.
Vitrified Glass: This falls somewhere in between special dinnerware and casual ones. You can choose to seek out clear glass plates or look for something that is coloured. Either way, you will be getting a beautiful set of plates. These are also easy to clean and dishwasher-safe. That's the versatility and practicality you get with vitrified glass dinnerware.
Plates – The Most Significant of the Lot
It's no secret that plates are the most integral part of any dining experience. It is the one tableware that you just can't manage without. Plates are what you eat out of. It provides a flat surface that is concave only at the edges which perfectly confines your food to its desirable extent.
How many plates in a set? — Fortunately, that is an ambiguous question and the answer is anywhere between 4 and 20. If you're living alone, the basic set of plates consisting of 4 to 6 items would suffice. However, If you're living with family or friends, it makes sense to invest in the whole set—that would contain anywhere between 16 to 20 pieces of elegant dinnerware.
Make Your Plate As Colourful As Your Food
Now you may ponder upon the question — What color plates should I buy? It may seem like a superficial question but consider this— a color does have the capacity to alter your mood or perception. In nature, certain colours attract bees and certain colours don't. We humans assume the taste of food simply by looking at its colours. If the food is red in colour, we assume it to be spicy and if it is green we assume it to be more organic and natural. Similarly, the colour of a plate matters too.
Types of Dinnerware and Their Uses
Appetizer Plate: This is a type of plate that is available in multiple sizes that are quite diverse. However, the main characteristic of this plate is that it usually has a curved tip without indentation. This plate is the first to arrive during a multi-course dinner and is used to serve appetizers or starters.
Salad Bowl: This plate is usually used for serving salads. The salad plate has a round shape with two types of different sizes. The first type of large size of about 22 cm, and the second type of small size of about 20 cm. The salad bowl is an essential dinnerware commodity if you're planning to eat healthily.
Soup Bowl: These bowls have a different shape than salad bowls. Because this type of bowl is used for containing watery food like soup. The shape follows the main function of a soup container. The top of the plate has an arch-like bowl.
Dinner Plate: This is a type of plate used for main courses. It is the most used plate during the entire meal. Many choose to use the same plates for both lunch and dinner.
Bread and Butter Plate: This is a plate used to put bread and butter. It is round like a dinner plate. The difference is that it has a small size. From the Indian context, this plate can be used to carry Naan or Rumali rotis.
Dessert Plate: No fancy dinner is complete without a touch of sugar. Dessert plates are usually used at formal and informal banquets. This plate is usually called the luncheon plate by craftsmen. It serves diverse purposes. You can use it for snacks, appetizers, and obviously desserts.
Drinkware: But what if you get thirsty? Don't worry, there is no shortage of variety when it comes to drinkware — beer mug, coffee mug, cocktail glass, wine glass, shot glass, and if you want something for a more ethnic occasion you could always buy a steel tumbler or a clay kulhad to add taste to that last drop of chai. Don't forget to keep a jug at the center of the dinner table. Remember, it's always good to stay hydrated.
We understand that everyone has different tastes in dinnerware. Consider all that you just read and choose the right tableware for your dining experience. And if you need help with choices, Tesor World has a wide variety of dinnerware from plates to bowls, and jugs to mugs.
You could also view the complete range on tesorworld.com. Or drop a message on WhatsAp at +91 988 604 8525.