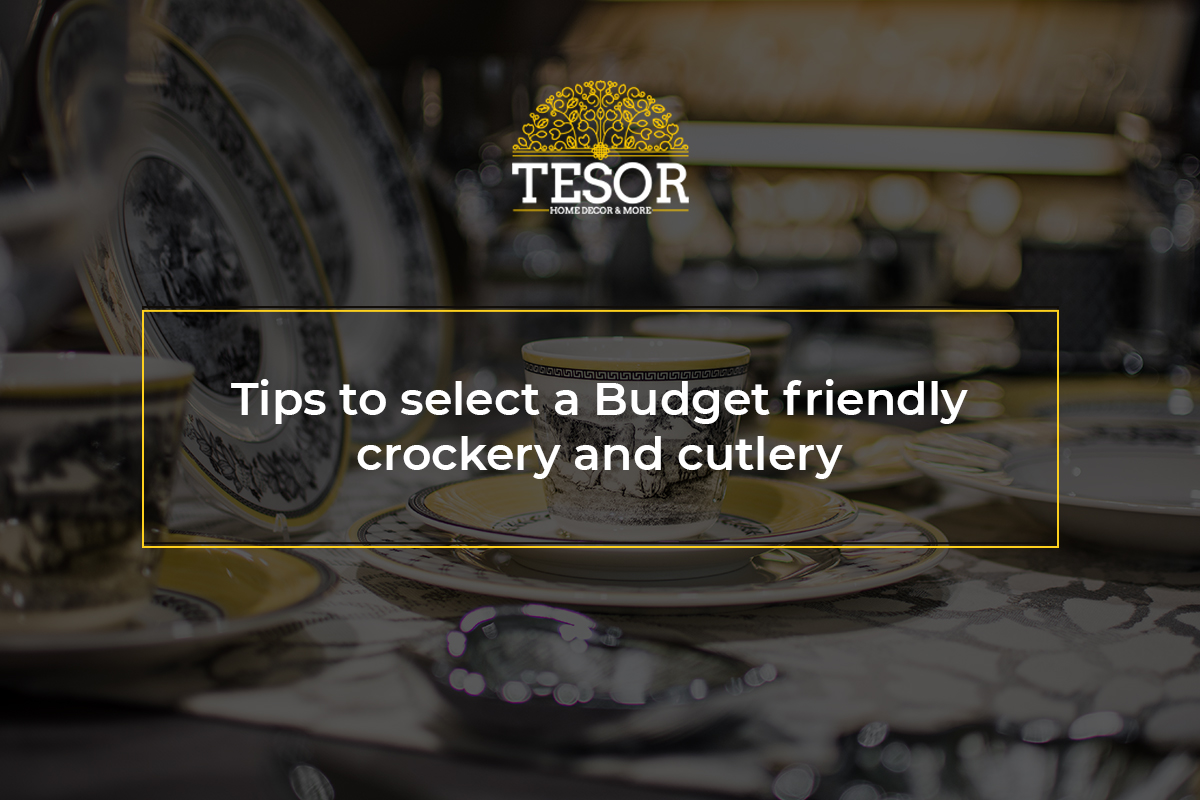 Tips for Selecting Crockery and Cutlery Form the Best Crockery Shop in Bangalore
There's often a misconception that an elegant dining set comes at a hefty cost, but that is not often the case. You can buy beautiful dinnerware at a budget-friendly price from the best crockery shop in Bangalore and curate your kitchenware reasonably.
A beautiful crockery and cutlery set can go a long way in making a positive impression when your guests sit at the dining table, waiting for you to serve them! An elegant crockery set makes all the difference!
In this article, we will help you with three effective tips to select high-quality and budget-friendly crockery and cutlery to help you stock up on your kitchenware collection.
Tips for Purchasing Crockery and Cutlery at Reasonable Prices
1. Fixing a Budget
Crockery and cutlery sets can range from low to high price ranges. It also comes with many options for each price range. If you're looking to purchase high-quality crockery and cutlery, lock your budget depending on your requirements, so you don't spend over the limit.
It's important to consider that this will be a long-term investment. So, budget based on the place of setting, the number of sets you require, and other accessories you wish to purchase with the crockery set.
A great way to fix your budget is by understanding how many kitchenware sets you require and for what purposes. Generally, people buy one set for everyday purposes while dining with the family. Another, for special occasions, when guests arrive or there is a celebration in the family.
2. Choosing the Material
Crockery is made of different materials ranging from chinaware and porcelain to earthenware. While formal crockery sets are usually made of porcelain, china, or stoneware, casual sets are mostly carved out of earthenware or melanin. If you're on a budget, go for the latter.
Let's look at some of the different types of crockery and cutlery that come at a budget-friendly price.
A. Earthenware
Earthenware has a rustic appearance and comes with a glazen finish. Made from unrefined clay, these traditional types of crockery are heated at a low temperature and have a sturdy build. Earthenwares are highly durable and commonly used for themed dinners or casual dining.
B. Stoneware
Non-porous and liquid-resistant stonewares are made at extremely high temperatures, which offer a certain degree of strength and durability to the material. Easy to maintain and budget-friendly, stonewares vary from smooth to grainy textures and usually have a glazed finish.
C. Glass Crockery
Highly popular among different types of crockery and cutlery, glass crockery is available in different colors and can be transparent or opaque depending on the density of the glass used. These require delicate handling as they are heavy and easily breakable.
Glass crockery and cutleries are used for occasional purposes and come at an affordable price!
D. Melamine Ware
Shatterproof and resistant to breakage or cracks, melamine wares are perfect for outdoor or casual dining. Affordable and available in different designs, melamine wares can be used in homes with children or when you have kids loitering around, as these don't break easily.
Read:  8 Useful Crockery Kitchen Gift Items for Special Occasions
3. Setting
Figuring out the setting is important before starting your crockery and cutlery shopping. Decide whether you require dinnerware for a casual setting, outdoor setting, or formal setting and then plan on the number of sets you wish to purchase.
While formal dinnerware comes with an average of 20 sets serving four people, casual dinnerware has fewer pieces. Let's look into this in detail
A. Formal Crockery
Formal crockery consists of kitchenware for three-course meals, with different sets for starters, main courses, and desserts. The whole set usually includes salad plates, soup bowls, cups, bread plates, wine glasses, and dessert bowls. It offers a more elaborate setting.
If you're looking for formal crockery at a budget-friendly price, crockery made with the aforementioned materials is affordable and comes in various designs.
B. Casual Crockery
Casual crockery is meant for casual dining experiences and usually consists of dinner plates, bowls, and spoons. These are usually more durable and have a long shelf life. You can also try a blend of casual and formal crockery according to your taste.
White dinnerware works for formal and casual settings and has a certain level of sophistication.
Stock up on Affordable Kitchenware From the Best Crockery Shop in Bangalore!
Having a nice crockery and cutlery set can add tremendous aesthetic value to your home. And the best part is that it's not a huge investment: you can spruce up your dining area with beautiful and inexpensive crockery and cutlery.
If you're looking for eye-catching kitchenware that delights your guests and family at dinner, purchase from the best crockery shop in Bangalore.
Tesor has a wide range of kitchenware at budget-friendly prices that can transform your dinner table and offer a beautiful dining experience!