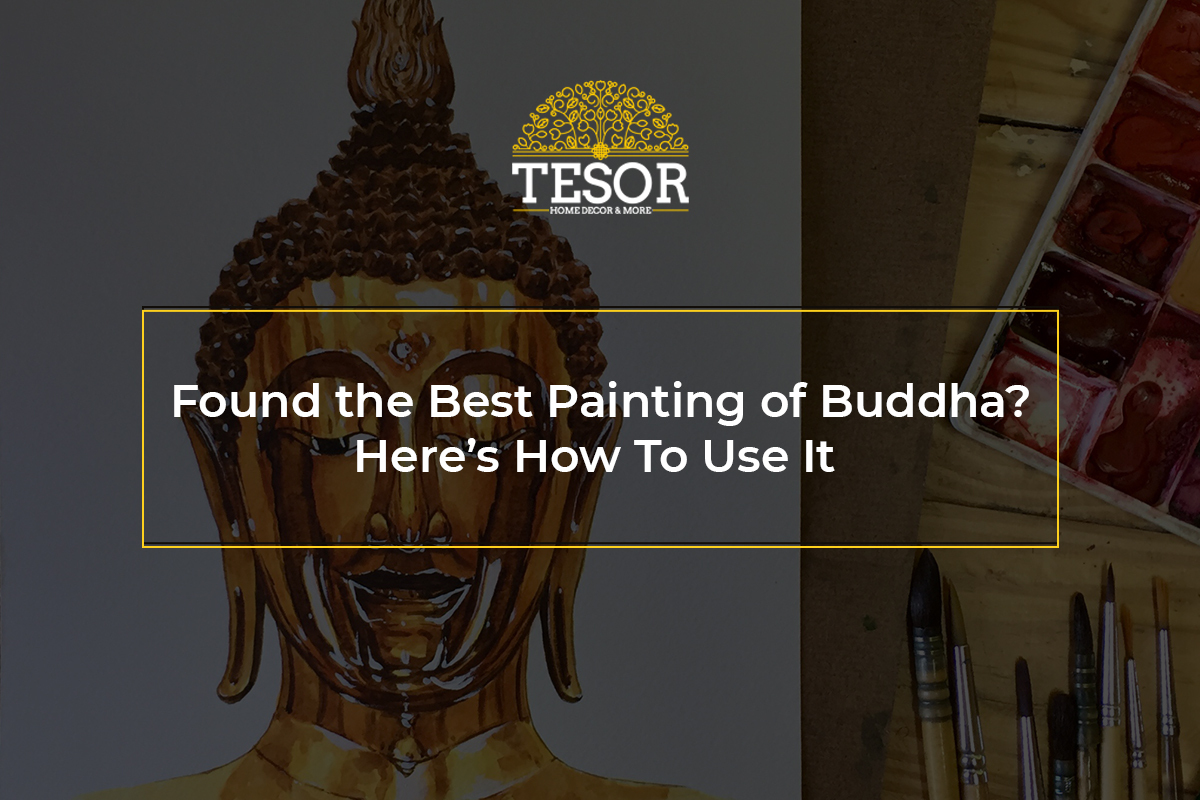 Found the Best Painting of Buddha? Here's How To Use It
Buddha paintings for home decor are popular worldwide due to the calmness and tranquillity that flows through them. The best painting of Buddha is known to have been sold for thousands of dollars due to the sheer element of calmness that it evokes, along with the artistry that comes with the painting. If placed strategically in the living room or master bedroom, a Buddha painting can greatly impact one's state of being and help maintain a balanced atmosphere.
In this article, we will help you with five tips to help you decorate your house with stunning Buddha paintings and create an atmosphere of calmness, joy, and positivity.
5 Tips To Decorate Home With the
Best Painting of Buddha
1. Living Room
The living room is an ideal place for large Buddha paintings. Preferably, paintings that show Buddha on a lotus or meditating are considered suitable for the living room, according to Vasstu shastra. This creates a peaceful atmosphere across the room and balances the energy.
From a decor perspective, a painting of the Buddha above the sofa or as a centerpiece in the living room can amplify the look and feel of the entire room.
It generates a feeling of positivity and gratitude, making the space more positive for everyone in the house to gather and enjoy.
There are many painting shops in Bangalore where you can find beautiful large paintings of Buddha for your living area.
2. Entrance
The entry area of your house is also a great place to position a Buddha painting. A laughing Buddha painting is the ideal one for this specific area of your home. It's supposed to bring luck and happiness.
Besides, a beautiful Buddha painting in the entryway would automatically make your guests feel welcome and appreciate your sense of decor.
While most people prefer to keep laughing Buddha statues or murals in the foyer, paintings have a sense of beauty and finesse that is captivating. And who wouldn't like a touch of art when they step into your abode?
You can find impressive paintings of laughing Buddhas in many art painting shops in Bangalore. Just make sure you choose one that complements the wall color of your house and would go well in the entrance area.
3. Buddha Mandala Paintings in the Bedroom
As Buddha paintings represent the life of Gautam Buddha and foster a sense of well-being and eternal peace, placing Buddha Mandala paintings in the bedroom on the sides of the bed or at the back side of the bed is ideal.
A calming Buddha painting in your bedroom may help you stay true to your true self and feel relaxed after you come back home after a long day and lie down on your bed. Known to instill feelings of happiness and peace, Buddha paintings evoke these energies when kept in the bedroom.
According to the sayings of Vaastu shastra and Feng Shui, the northeastern side of the room is also an ideal place to place the Buddha statue, as this place evokes cosmic energy and sheer spirituality, which contributes to well-being and peaceful living.
4. Along the Corridors
You can place acrylic and oil paintings of Buddha along the corridor walls with lighting. This will light up the alley beautifully while keeping it aesthetically pleasing and positive.
People don't pay much attention to the corridors as they spend more time in living rooms or drawing rooms, but imagine walking through a corridor that's beautifully lit and adorned with captivating Buddha paintings.
5. Study Room
Study rooms require zero distraction, dedicated focus, and a stable state of mind. Buddhism preaches how to stay focused through meditation, and this idea is projected time and again through many Buddha paintings.
While many home decorative items in Bangalore can alleviate the beauty of your study room, it's important to incorporate something that keeps you focused and truly committed to your purpose. By placing the Buddha painting on the wall next to your study table, you can stay focused and return to the task if distracted by anything else.
Buddha paintings are also known to reduce anxiety and stress; hence, it is always a great installation for any room, so to speak, to incorporate a sense of harmony and calmness.
Beautify Your Abode With the
Best Painting of Buddha
!
Most interiors are occupied with urban furniture, trendy wall art, or fascinating wallpapers; more often than not, we have this sense that something is missing! This is where the best painting of Buddha can complement your living room or any other room in the house, showering positivity and a vibe of purity and calmness.
If you are looking for the best painting of Buddha to adorn your walls and feel at home, Tesor has an exquisite range of Buddha paintings to choose from and transform your abode beautifully!