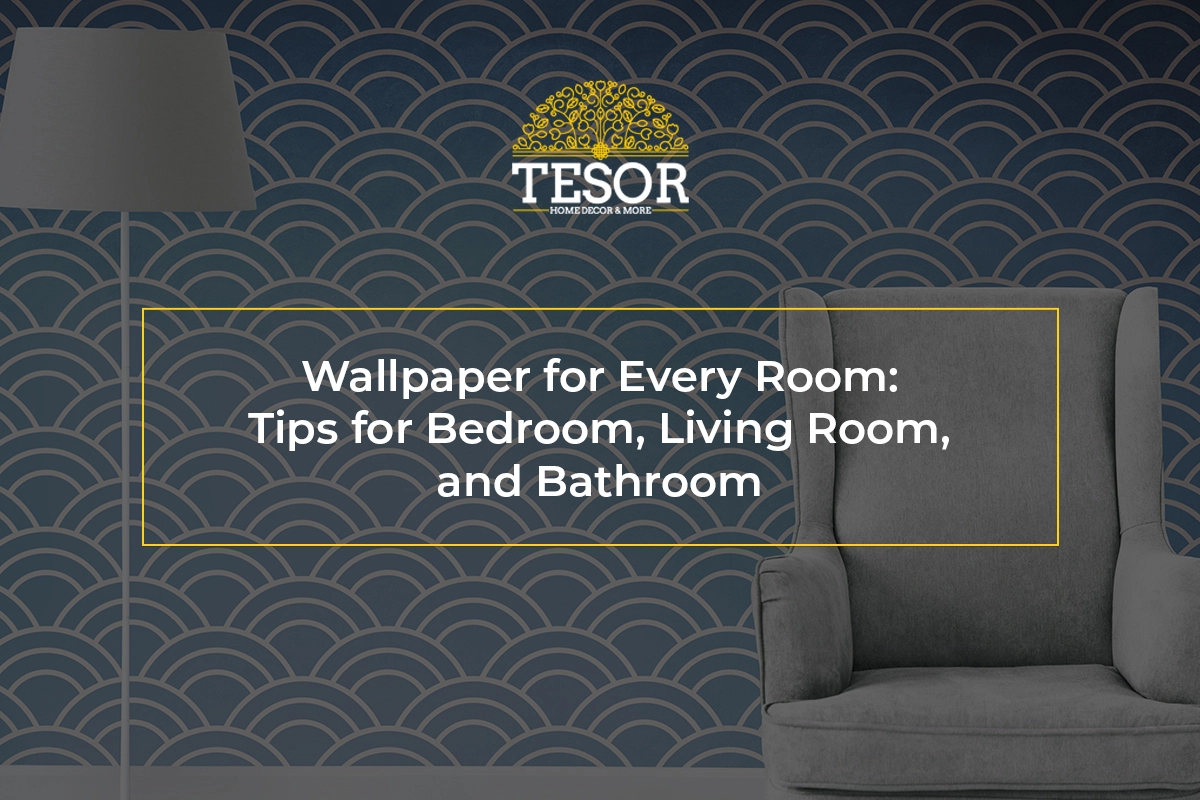 Wallpaper for Every Room: Tips for Bedroom, Living Room, and Bathroom
Selecting the perfect wallpaper is a key component of interior decoration. An enticing wallpaper can instantly convert an ordinary room into a visually appealing one. If you wish to transform the ambiance of the whole house and elevate its aesthetics, then it's important to pick the right wallpaper ideas for specific rooms. This will go a long way in creating your dream house! 
Picking a wallpaper design can be quite exciting for homeowners. But it's important to consider the room and its functionality before doing so. Here are some tips and considerations to help you choose the perfect wallpaper for walls in your bedroom, living room, and bathroom. 
Tips for Picking the Best
Wallpaper for Walls
in Your Bedroom, Living Room and Bathroom
Let's look at what factors you should consider while choosing the ideal wallpaper for the different rooms in your dream house. 
1. Consider the Aesthetic of Each Room
The most important element to consider when choosing the ideal wallpaper for walls in your house is the overall look and feel of the aesthetic you wish to create. The aesthetic will differ based on which room you are looking at. For instance, the wallpaper for walls in a nursery will be very different from walls in your home office. Similarly, the wallpaper designs for your living room, bathroom, and bedroom should all be different in look and feel. 
2. Consider the Functionality of the Room
The next tip is to determine the functionality of the room for which you need wallpaper. The purpose of the room you wish to decorate matters a lot, especially when it comes to your bedroom, bathroom, and living room. Picking a wallpaper based on the purpose of each room is essential since different rooms require specific wallpaper designs. 
Individuals can experiment with grand wallpaper ideas for their living rooms to impress guests and visitors. Similarly, they can choose elegant and unique wallpapers for walls in their bedrooms to differentiate them from the rest of the house. After all, the master bedroom is the most important room. 
The bathroom is typically wet and moisture-laden, thus, it would be smarter to select wallpaper ideas consisting of vinyl. This is because vinyl is quite moisture-resistant and easily washable. This makes it very useful for wet and humid environments. 
3. Ensure the
Wallpaper Design
Complements Your Existing Decor
The visual appeal of a great wallpaper idea is enhanced when it matches your existing interior decor. What is your living room's theme? What colour is the flooring? What palette is the furniture in your bedroom? What is the colour scheme of your bathroom? 
These are some examples of questions that homeowners need to consider before choosing their ideal wallpaper design. Consider these factors to help zero in on the style, pattern, and mood for the wallpaper for walls of each individual room. Being clear on these helps to reduce visual clashes between your wallpaper ideas and the rest of the decor. 
4. Optimizing Your Budget
Lastly, buying wallpapers for walls can be an expensive endeavour. However, being smart about your resources can help you make the most of your budget. Optimizing your expenditure and giving more weight to certain rooms over others can make a huge difference. For instance, your living room is where you can spend more time on the heavier side to make a statement with your creative and unique wallpaper designs. 
Similarly, your bedroom is where you will spend your most time; hence, investing in good quality durable wallpaper makes sense. However, it isn't necessarily smart to spend a larger portion of your budget on wallpaper for walls in your bathroom. 
Thus, having a clear idea about how to optimize your budget can be a great help for narrowing down options and preventing overspending.
Embrace Your Creativity with Unique
Wallpaper Designs
at Tesor!
Embrace your creativity with some exquisite wallpaper designs and refreshing trends. You can follow these tips to help you select the ideal wallpapers for walls in your bedroom, living room, and bathroom to transform your home into the dream house you've always wanted. At Tesor, you will find the most amazing and wonderful wallpaper ideas, so visit us and let your imagination run free!