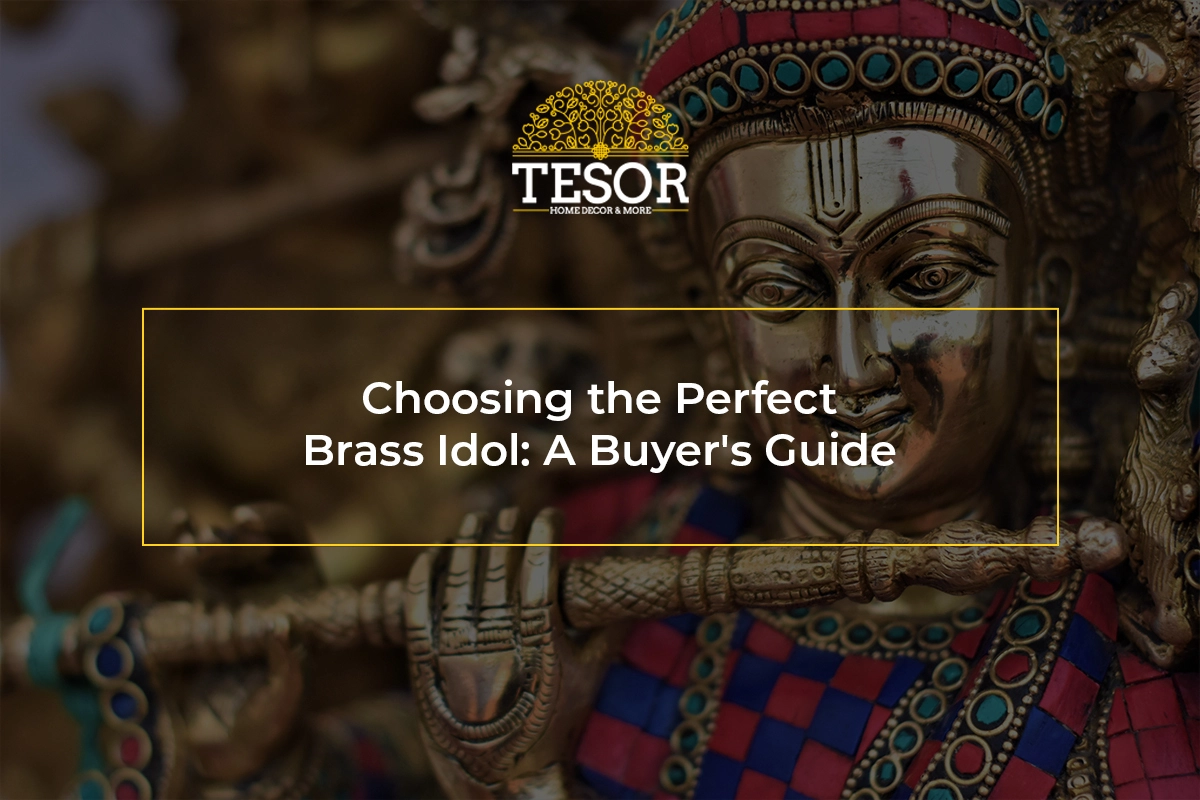 Choosing the Perfect Brass Idol: A Buyer's Guide
Brass idols serve as an excellent means to re-establish a connection with our most peaceful and tranquil selves. They help facilitate a deeper religious and spiritual connection. Brass statues are also known to be auspicious omens, said to bring in prosperity and good luck to those who keep them. 
Adding a brass God idol to your living or workspace serves as a daily reminder to carve out moments of mindfulness amidst our hectic lives. These artifacts often hold immense cultural and religious significance, helping individuals foster their faith and direct their prayers. Additionally, brass statues are also incredibly visually appealing. They are great collectibles that elevate your home's decor while simultaneously creating a pious ambiance.
However, choosing the perfect brass idol requires careful consideration of a few key factors. Whether it's for spiritual significance, religious worship, or as a decorative showpiece, this blog will take you through how to choose the perfect brass idol to fulfill your requirements.
How to Choose the Perfect
Brass Idol
?
Here are five factors that demonstrate the selection of the perfect brass God idol. 
1. Picking the Ideal Material and Quality
One of the predominant features of decorative statues is the quality of the material with which it's made. Brass is a highly popular choice for statues and idols because of its durability, shine, ease of maintenance, and overall beauty. Remember to look for high-quality brass idols that are well-chiseled and boast a smooth finish when shopping for a showpiece. It is also important to ensure that the brass statue is crafted from solid brass, not just brass-plated.
2. Choosing the Appropriate Size
The next consideration for picking out the perfect brass idol is the size. You need to consider the proportions of the brass statue relative to the room in which you intend to place it. Thus, before deciding to buy the idol, accurately measure your available space and select a size that fits well in the designated area. 
Moreover, if the brass idol is intended for home worship, ensure that the statue is of the appropriate size for you to handle during rituals comfortably. Brass idols, which are too big, can be difficult to perform ceremonies with. Furthermore, the wrong measurements of this statue can dampen the aesthetic and overall visual appeal of your home mandir as well.
3. Carefully Select the Artisan and Origin of the
Brass Idol
Another important factor to consider while shopping for brass God idols is their artisan and source of origin. Remember, these are not just decorative showpieces but rather an investment into your faith and spirituality. Hence, consider getting brass idols only from well-reputed artisans and stores renowned for their craftsmanship. 
This is because these stores will know the spiritual and religious significance of the artifact and assure you of only the highest quality product. For this reason, some brands in India also ensure that brass idols are exclusively handcrafted so that each item is unique and infused with the hard work and devoted spirit of the artisan.  
4. Determine What Finish You Would Like
The finish and patina of a brass idol are important factors when it comes to picking the right statue for your needs. Determine whether you would like a shiny, polished finish or prefer a more aged appearance with a patina. Many customers like this patina as it adds aesthetic value to the ornament, giving it an antique look. 
5. Stick to Your Predetermined Budget
Lastly, the statute's budget and pricing should also be considered. Prices for brass statues and other artifacts can vary significantly depending on elements such as size, weight, quality, and craftsmanship. For this reason, it is important to set a predetermined budget and stick to it so that you can comfortably explore all options within that range. Remember, buying a brass idol doesn't have to mean spending outside your budget on overly expensive items- it just has to resonate with you spiritually.  
Discover The Most Exquisite Handcrafted
Brass Idols
at Tesor!
Brass statues are an excellent addition to your home. Infused with cultural meaning and spiritual significance, these artifacts can add piety and harmony to any room they are placed in. You can use brass idols as pious decorative items or as the center of your home pooja mandir. 
All brass idols at Tesor are handcrafted by elite artisans, making each one unique and irreplaceable. Grace your house with a brass idol today, and transform your environment into a space where peace and tranquillity can flourish.  
Read More: 4 Pooja Mandir Design Ideas for Indian Homes