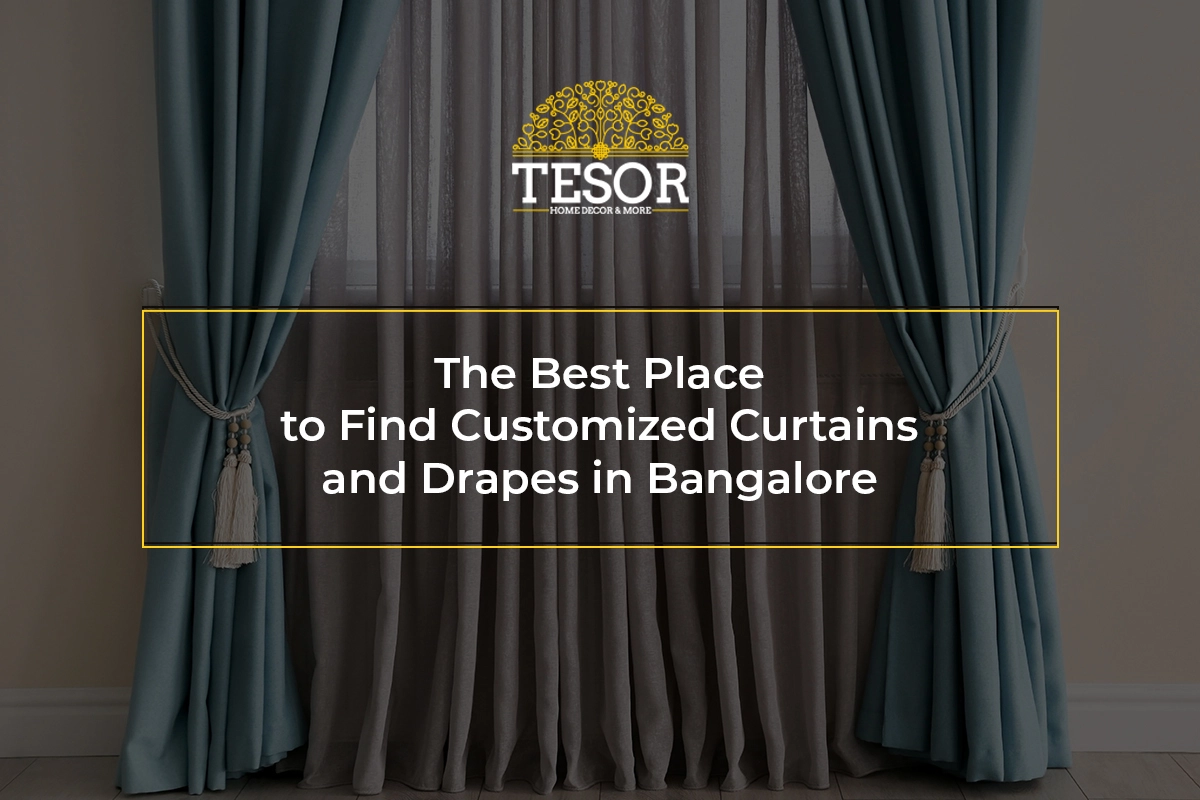 The Best Place to Find Customized Curtains and Drapes in Bangalore
When it comes to home decor, curtains and drapes can play a meaningful role in elevating the overall look and visual appeal of your room. There are several benefits of getting customized curtains installed. Curtains and drapes not only serve practical applications such as providing privacy and controlling light at night but also significantly enhance your space's aesthetics. 
However, choosing the right curtains and drapes is essential if you wish to truly harness the transformative power of these stylish home accessories. In this article, we will delve into what sets Tesor apart from the rest as one of the best places to buy curtains. 
Why Choose Tesor to Get Customized
Curtains and Drapes
?
Here are four key factors that make Tesor the best place to buy curtains in Bangalore. 
1. Precise Fit for Your Every Need
One of the biggest advantages of shopping with Tesor is that they allow customizations of your curtains and drapes. Every house is different, and every window has a different, unique style. This means that a one-size-fits-all approach would make your curtains look awkward and out of sync with the rest of your interior decor. 
Tesor's customizable options allow homeowners to tailor their curtains and drapes to their specific requirements. Users can choose their own colour, style, design, width, and length so that their curtains can align with their existing decor. This level of customization allows their new curtains to seamlessly blend with the existing interior decor and create a visually stunning space. Additionally, a well-measured curtain dramatically augments the curtains' overall functionality too. 
2. Extensive Variety
Another factor that makes Tesor one of the best places to buy curtains is its extensive collection. From fashionable sheer curtains to semi-light filtering curtains to elegant blackout drapes- Tesor has a wide variety to choose from. Their incredible selection of curtains and drapes ensures that homeowners find exactly what they are looking for and don't need to settle. With designs and styles from all corners of India, Tesor's lovely collection will add a refreshing new look to your home and elevate its trendiness. 
3. Quality Assurance
When shopping for curtains and drapes, quality is one of the biggest elements to consider. Curtains are an investment that can make or break the aesthetic of your room, so it is important that you find the right quality and craftsmanship. 
Tesor is renowned for its high standards and premium quality products. Whether its window treatments, brass idols, or other artisanal ornaments, Tesor is committed to providing superior items to all its customers. Their curtains and drapes are crafted with the utmost care to give them a luxurious feel while also simultaneously being incredibly durable and long-lasting. 
Tesor has built a strong level of trust with its customers over the years through consistency and reliability, cementing its sport as one of the best places to buy curtains. 
4. Competitive Pricing
When it comes to pricing and quality, they are both two sides of the same coin. Let's look at the other side now. Prices for curtains and drapes can vary according to a number of factors, such as size, length, design, and material quality. 
However, at Tesor, customers will be surprised to find the most competitively priced window treatments in the market. This means that homeowners can get exquisite premium-quality curtains and drapes without worrying about exceeding their budgets!  
Make Your Interior Decor Visually Stunning with Customized
Curtains and Drapes
From Tesor!
At Tesor, homeowners can get some of the most stylish and elegant window treatments to bring their homes to life. These curtains and drapes are customizable so that they can seamlessly blend in with your interior decor and make it even more visually appealing. Moreover, they are of the highest quality while still being incredibly affordable so that customers from all price segments can buy luxurious-looking curtains. All of these factors set Tesor apart and explain why homeowners consider it one of the best places to buy curtains in Bangalore.
Read More: Easy Tips and Tricks To Clean Your Brass Idols At Home