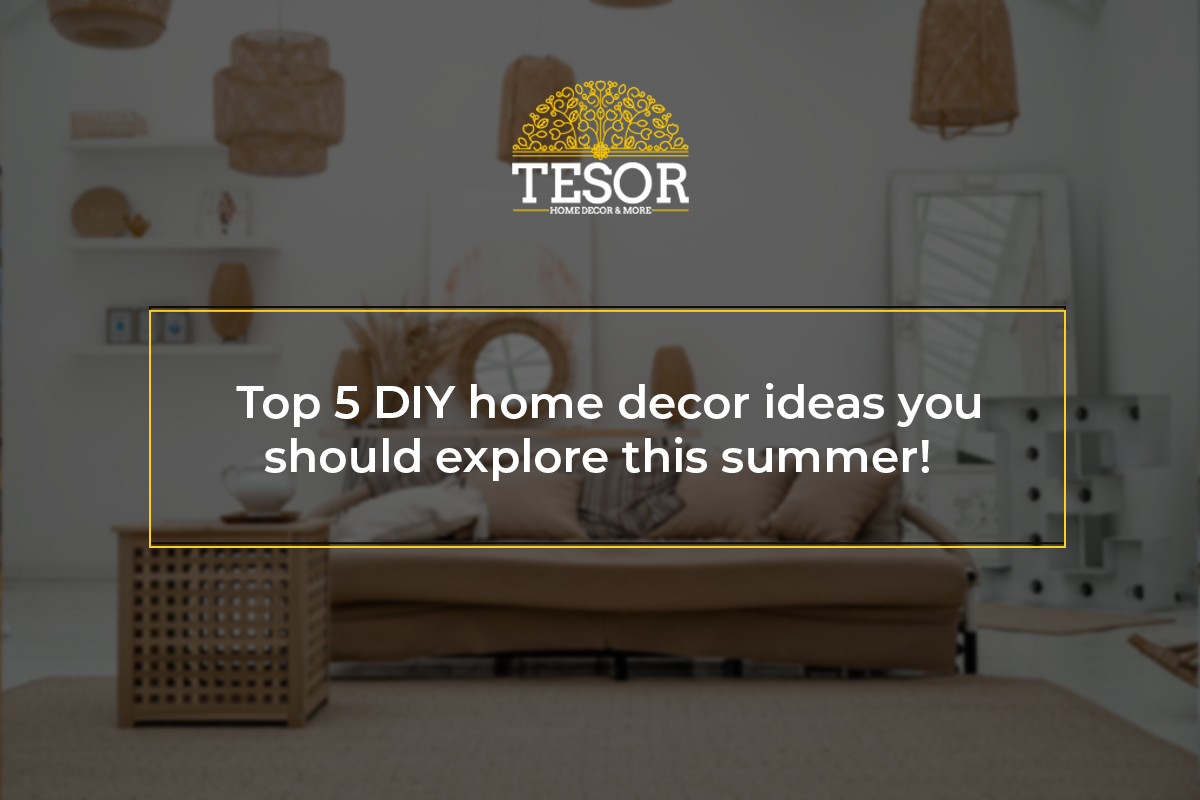 Top 5 DIY home decor ideas you should explore this summer!
Top 5
DIY home decor ideas
you should explore this summer!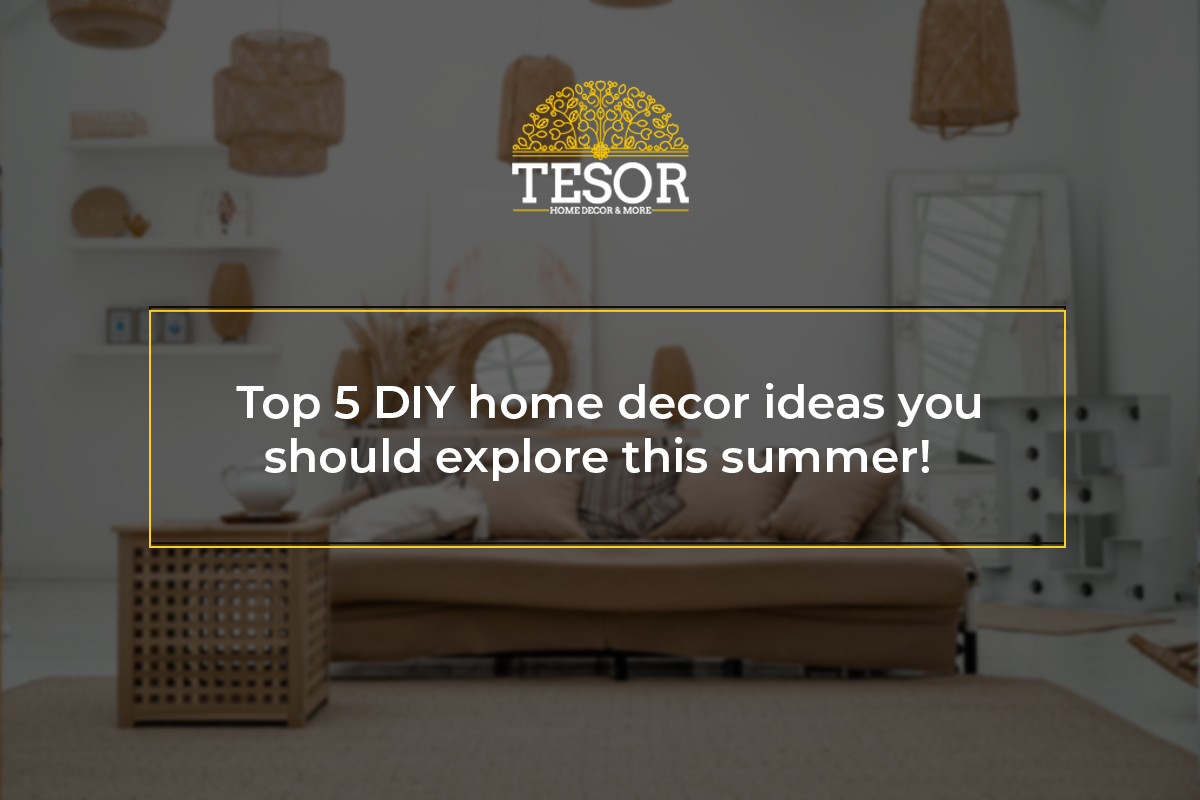 Distract yourself from the heat with fun DIY home decor projects! 
It's that time of the year again when all you want to do is stay home, drink lemonade and eat mangoes all day. While you're at it, why not have fun with some crafty ideas to liven up your home decor? 
Try out these exciting DIY home decor ideas to feel productive while also living that summer life!!
1. Shiny Sunburst Mirror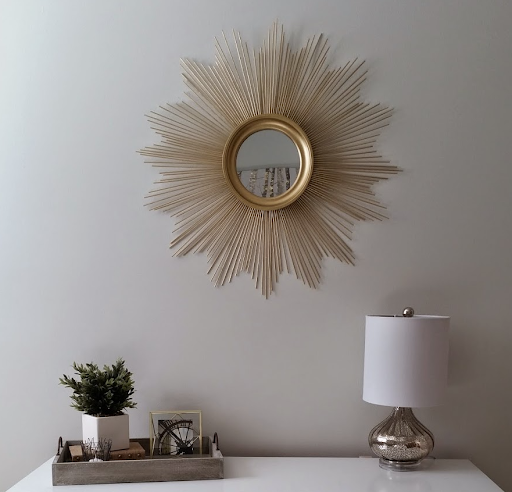 Image credits: Signed by Soden 
This is the perfect DIY project if you think your wall needs styling. With its unique design and fascinating vitality, a sunburst mirror is an excellent decor element. It can be a large piece that takes up a lot of wall space or a small but equally lovely piece of art! After all, it's not the size that makes it so appealing; it's the shine and gleam!
What you'll need:
Glue 

Gold paint

And, of course, a round framed mirror
How to:
Start by taping off the front of your mirror to avoid scratches and paint stains. 

After the mirror is secure, it's time to start glueing the skewers. You can start by sectioning the mirror into 6 pieces and then fill up the spaces in between to maintain consistency. 

Once the skewers are all laid down on the mirror, take your gold spray paint and spray it on the front and the back.

And voila! A new sunburst mirror for your wall!
2. Trendy Laundry Basket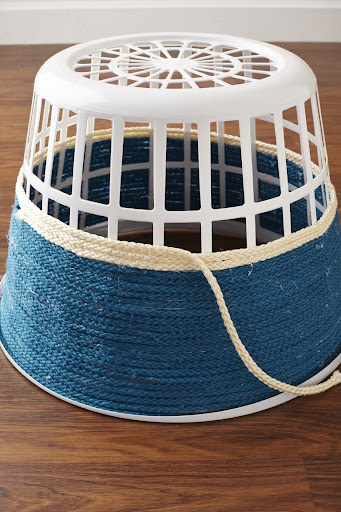 Image credits: Red book mag 
We all have laundry baskets lying around the house. These are mostly boring plastic containers meant to help us sort white clothes from colourful ones. But trust us, they can be more! With a little touch of DIY magic, you can turn your laundry basket into a stunning, functional decor piece. 
What you'll need: 
Glue gun or glue sticks 

A laundry basket, preferably one without the handles 
How to: 
Flip the laundry basket and start with your desired colour of cord 

Apply glue to the lip of the basket and start adhering the cord before it starts drying. 

After glueing the first round of cord, apply glue to the edge of the already attached cord and lay the other round or cord. 

Make sure you are switching colours when you desire and glue it around tight. 

Repeat the glueing and coiling process until you reach the lower edge of the basket. You do not have to wrap the bottom or the interior of the basket. 

And finally, wrap the lip of the basket with the final colour.

You have yourself a trendy laundry basket! 
3. Trippy Vertical Garden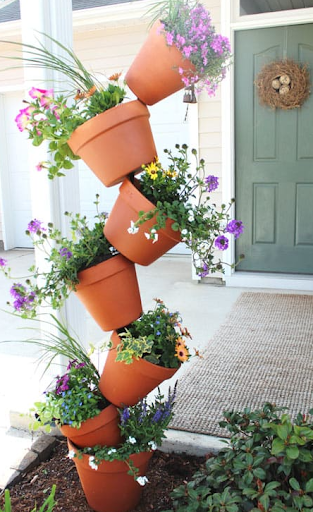 Image credit: We heart this 
It's 2022, and you cannot be an avid gardener and not have a vertical garden! It saves space and is enchanting to look at. There are a couple of ways to build a vertical garden. 
What you'll need:
A steel rod (approximately 6ft)

Hammer 

4-5 clay pots with drainage holes 

Potting soil 

Your choice of flowers and herbs
How to:
Hammer the metal rod at least one foot into the ground for stability.

Place a base clay pot with the metal rod going through its drainage hole and fill it with soil.

Slightly lilt the next clay pot you put through the metal rod. Fill it with soil to hold it in place. 

Continue stacking each pot on the edge of the pot below it. (Remember to fill it with soil as you do it and not after as it could all collapse into one another) 

And finally, add your favourite plants to each one to complete the vertical garden. 
4. Yarn Wall Hanging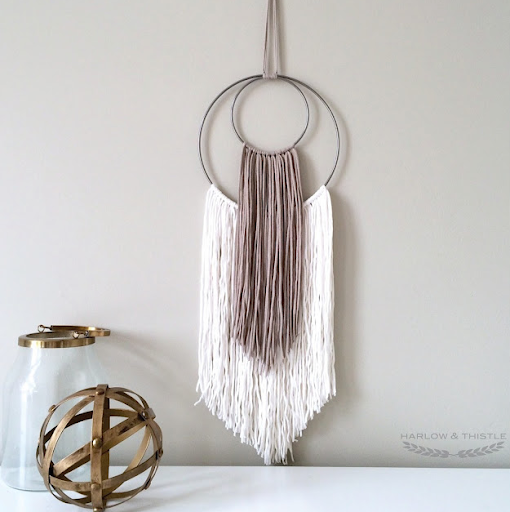 Image credits: Harlow & Thistle 
A yarn wall hanging will make for a beautiful decor piece for any space, including the living room, bedroom, office space, or nursery. It's the perfect decor item for when you want to add neutral textures to your room. 
What you'll need: 
Two metal rings

Yarn 

Scissors 
How to: 
Cut the yarn to the length of your desire.

Make a loop with two strips, place the loop under the metal ring, and draw the ends through. 

Continue this process around 1/4th of the ring and also on the smaller ring with the opposite colour.

Then attach the two metal loops on the opposite end of the strings with yarn.

Cut the hanging yarn on both the loops into a V. 

And you're done!
5. Crafty Coasters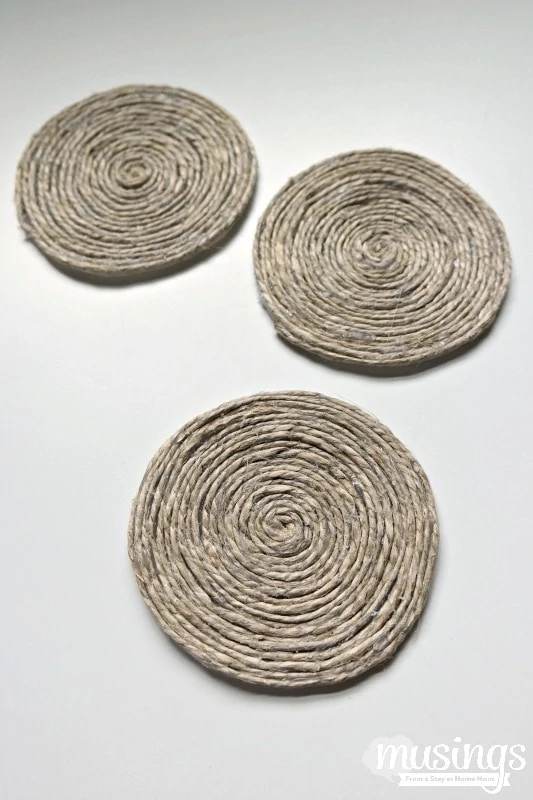 Image reference: Living well mom 
Coasters protect your tables from rings left by freezing cold and scalding hot beverages. It's a must-have item for every home. So why not create one with colours that complement your style? 
What you'll need:
Jute cord 

Felt 

Glue 

Scissors 

Markers 
How to: 
Start by tracing out circles of preferred sized on the felts. 

Add a drop of glue to the centre of the felt and start winding the jute cord from the centre.

Make sure you're wiping away any extra glue as you're winding the jute cord to avoid any mess.

Once you've reached the outermost circle, secure the end with some more glue. 

And done! You've got yourself an authentic coaster. 
There you have it! 5 best home decor tips you can get inspired by without going over budget. If you're feeling crafty and inspired, don't wait around! Now's the time to pick up your glue gun and scissors and get crafting! 
And if these ideas are not inspiring the craftsman in you or you're more of a collector of art pieces like these, check out Tesor World and shop for beautiful authentic interior decor items made by artists across the country! From ethnic wall decor to brass idols 一 shop now at Tesorworld.com