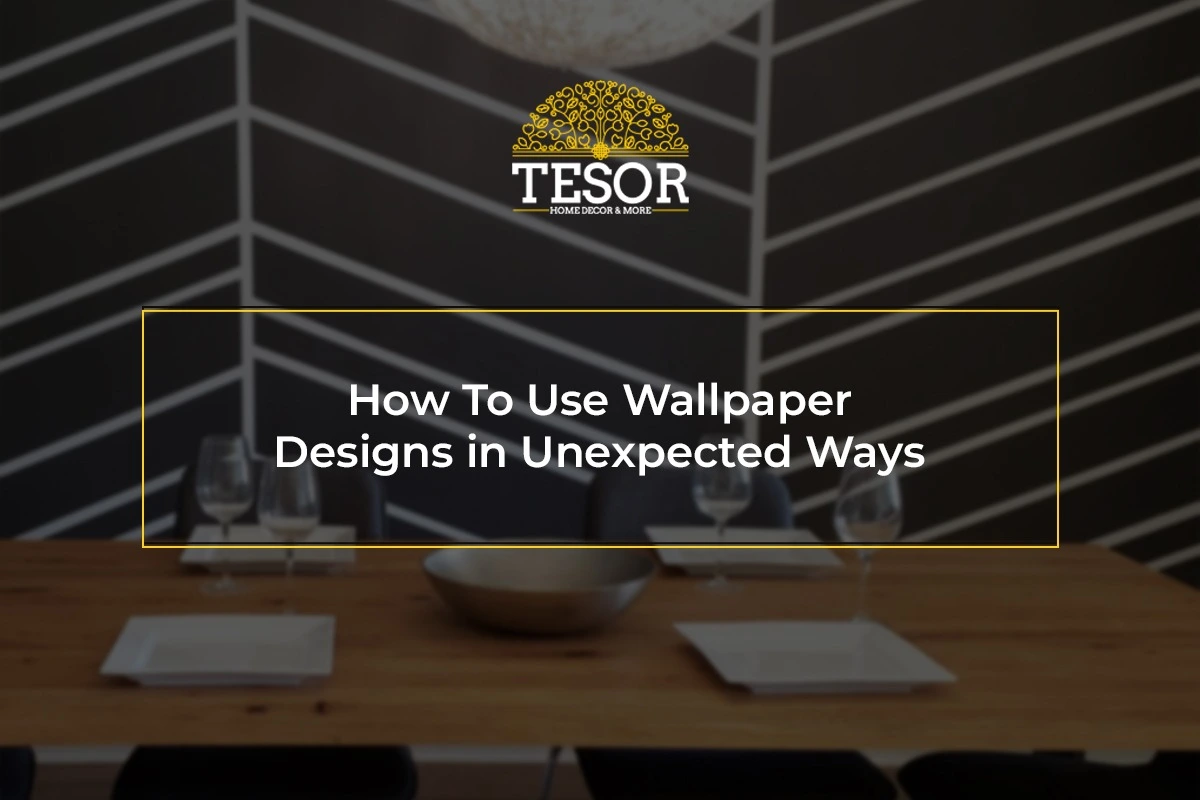 How To Use Wallpaper Designs in Unexpected Ways
Do you find the interior of your home dull and unexciting? It's time to break the monotony and spark creativity by exploring wallpaper designs. Wallpaper designs are a versatile and trendy option that is making a big comeback. 
In this blog, we'll show you how to add interest and personality to any room by using wallpaper designs in unique ways, from stair risers to headboards. 
Get ready to transform your space into a personalized and stylish haven.
5 Ways To Transform Your Decor by Using Wallpaper Designs
Here are five suggestions for using wallpaper designs in your home decor from our in-house interior designers. 
1. Statement Ceiling
Wallpaper designs can add a striking look to your living room, especially on the ceiling. This works especially well in rooms with high ceilings. This is because it gives the pattern more visibility and amplifies its impact.
Moreover, by focusing your attention upward, it can create the impression of a bigger and more open space.
To make the ceiling the focal point, keep the other walls neutral or a single colour.
2. Stair Risers
Wallpapering the stair risers is an unexpected way to add a pop of colour to your home. With the right wallpaper designs, you can transform a dull staircase into a work of art.
Choose a vibrant pattern that complements your decor, or mix and match different patterns for a bold look.
Since stair risers don't receive as much wear and tear as the steps, the wallpaper is likely to last longer and maintain its appearance.
3. Wardrobe
Transforming the inside of your wardrobe with wallpaper designs is a simple yet luxurious way to infuse personality into your space. This often neglected area is the perfect place to add a pop of colour and interest.
Covering the outside of your wardrobe with eye-catching wallpaper is an easy way to update the space without replacing any furniture or fixtures. It's an affordable solution to adding a unique touch to your room.
4. Headboard
A statement headboard can transform a bedroom, but it can be costly and challenging to install. A wallpaper headboard is an affordable and easy alternative. Select a pattern that complements your style and purchase a piece of plywood or MDF cut to size.
Attach the wallpaper to the board using wallpaper paste or double-sided tape.
It's a simple and creative way to add personality and interest to your space without breaking the bank.
5. Bathroom Walls
Wallpapering your bathroom walls is an easy way to enhance the look of your bathroom. You can select from a range of wallpaper designs, patterns, and colours that complement your bathroom fixtures and accessories.
Choose a wallpaper that is waterproof and durable, as bathrooms tend to be high-moisture environments. You can use the wallpaper as an accent on one wall or apply it to all four walls to create a statement.
Transform Your Home With Unique Wallpaper Designs From Tesor
Using wallpaper designs in bold ways is an affordable and easy way to elevate your home decor. It's a simple yet effective way to update your home's interior without the need for major renovations or costly changes.
Whether you choose to create a statement ceiling or add some colour to your stair risers, there are so many ways to incorporate wallpaper into your home.
If you're feeling inspired to experiment with wallpaper designs in your own space, start small and let your creativity guide you. Visit Tesor to make your vision a reality if you want to transform your home with unique wallpapers and furniture.