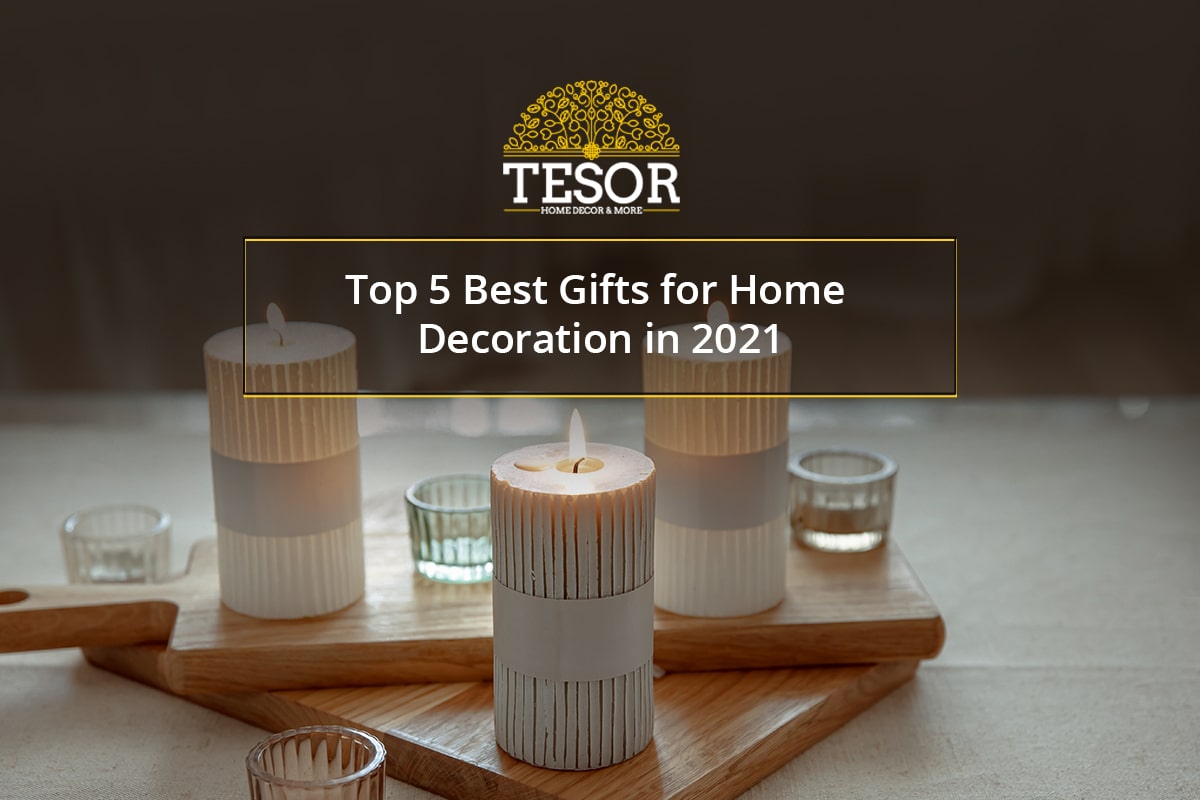 Top 5 Best Gifts for Home Decoration in 2021
Top 5 Best Gifts for Home Decoration in 2021 
The holiday season is almost upon us and the gifts from friends and family are going to start pouring in. However, along with joy and festivities comes a sense of dread. This dread is what we are all familiar with, it stems from one question 一 What do you gift your loved ones? This is especially daunting if you are picking home decor gifts for a home decor buff. 
We get it. You don't want to spend any more time than you need to browse through multiple articles that read "Gifts for home decoration India" and stroll through massive retail stores where everything seems overpriced. 
Make buying for the design enthusiast in your life a breeze this year. You're sure to find the best gifts for home decor for the important person in your life with a little creativity and determination to utilize holiday gifts as a way to express your style. So, let's get you started on your journey to find the best gifts for home decor!
1. Candle Set
Lighting candles around your home changes the atmosphere and improves the ambiance. Making it warm, friendly, and welcoming. This simple act of lighting a candle, its alluring flicker, and the soft glow it radiates, help to relieve and relax the mind. 
Take a moment to visualize what an ideal calming night in your home would entail. Does it involve a home-cooked meal? A Netflix marathon? Whatever your ideal self-care night-in might include, we're 100 percent sure that your loved ones would throw in a few candles in there to make their night. You just cannot go wrong with these! 
2. Hanging Planters
Want to add some instant charm, warmth, and style to their front porch, backyard, or even their living room? Then hanging planters are a quick and easy way to accomplish that. 
A hanging planter is a green or blooming plant in a container that is suspended from the ceiling from a variety of different materials. Rope, chains, macramé… these are all typical hanging decorations in which the planter sits. There are many DIY planter hangers on the internet or pre-made ones you can pick up from the store. They are an inexpensive and great way to bring life to any space which makes them the best gifts for home decor.
3. Themed Carpets
This one requires a bit of creativity and research on your part. Make sure to pick a carpet ONLY if it goes along with the theme your loved one has going on. It might be a make or break when it comes to how it goes along with the rest of the room. 
Other than that, a carpet is a durable, affordable, and versatile option. There's a reason why so many homes come with carpet: it's easy to maintain, can be customized to suit any decor, and support healthy living. Though some may worry that carpet may not be kept as clean as they want, all it requires is vacuuming and occasional professional cleaning. 
4. Customized Doormats 
You can buy customized doormats for your loved ones to use to welcome loved ones, neighbors, and other visitors into their living space. Every part of your home should have a touch of your personality, and doormats are a great way to make that happen.
Personalized doormats are often the first thing guests see when entering a house so it's necessary to make a strong impression with them, however, these are one of those home decor items online which are hard to acquire. So, you may have to look around in your city. 
5.Coaster Sets 
Coasters may be small, but they do more than you may think to protect your furniture, especially if it's made from stone, marble, or wood. You need a coaster to avoid unsightly water rings and marks on your tables from "sweaty drinks" like beer, soda, water, and juice. 
These water rings form due to the condensation on the cup, bottle, or mug. If the temperature of your cold drink is below the dew point, the water will condense as a liquid to the surface. Now it's all drippy and may leave a puddle underneath! Meanwhile, certain cups or glasses could leave small scratches or nicks on the table. With all that in mind, it only makes sense to buy a coaster set as a gift for your loved ones. 
If you are looking for high-quality and exquisite home decor for your loved ones, visit Tesor World — the home decor store in HSR Layout, Bangalore. You could also view the complete range on tesorworld.com. Or drop a message on WhatsApp at +91 988 604 8525.