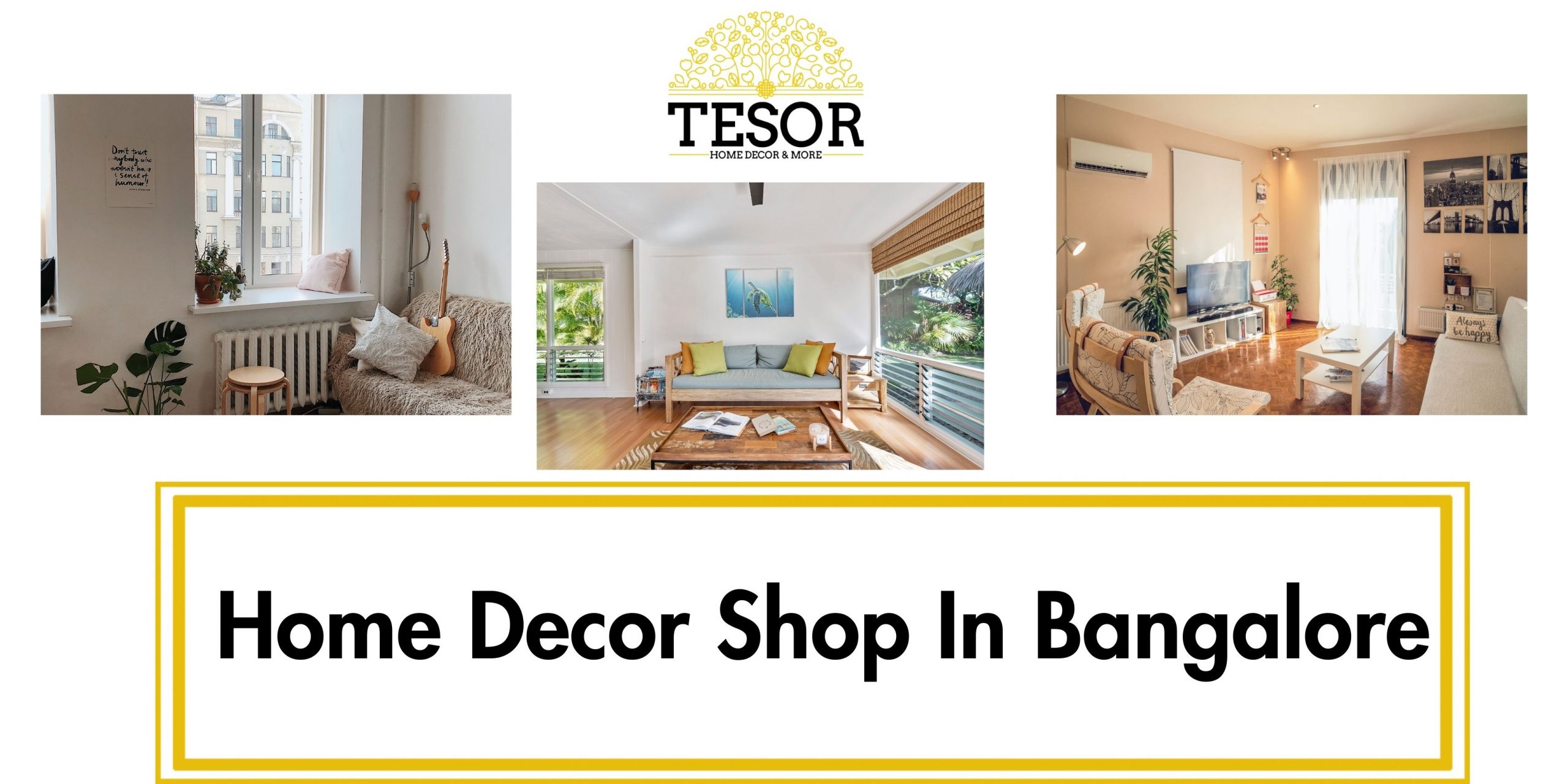 Home Decor In Bangalore
Home Decor Shop in Bangalore
Creating a Relaxing Environment Personalizing Your Space Enhancing Aesthetics
Tesorworld:
Your Destination for Premium Home Decor 
Wide Assortment of Products Thoughtful Curation for Diverse Tastes and Styles Coverage for Every Room 
Exploring Home Decor Options 
Traditional Elegance Modern Sophistication Contemporary Minimalism, Scandinavian Charm, Industrial Chic
Transforming Your Living Room
Furniture Selection Lighting and Ambiance Wall Decor and Artwork, Accent Pieces
Creating a Serene Bedroom
Comfortable Bedding and Linens Calming Color Schemes Relaxing Lighting Solutions
Decorative Accents
Revamping Your Bathroom  Luxurious Towels and Mats Stylish Storage Solutions Spa-like Accessories Invigorating Scents 
Tips for a Harmonious Home
Cohesive Color Palette Balancing Patterns and TexturesOrganizational Solutions Seasonal Updates
Discover an Abundance of Home Decor Products at Tesorworld
Lamps and Lighting Fixtures, Table Lamps, Floor Lamps, Chandeliers, Tableware, Dinner Sets, Cutlery, Drinkware, Pots and, Planters, Indoor Planters, Outdoor Planters, Hanging Planters, Wall Art, Paintings, WallClocks, Mirrors, Photo Frames, Collage Frames, Single Frames, Digital Frames, Bed Sheets, Cotton Bed Sheets, Silk Bed Sheets, and Printed Bed Sheets, Creating a Personalized Sanctuary
Mandirs:
the significance of a poojā mandir in Hindu culture
Factors to Consider When Choosing Home Poojā Mandir Designs
Size and Design
Importance of choosing a size suitable for the number of visitors Design considerations for the mandir's aesthetics and functionality
Accessibility and Ease of Movement
Ensuring people can move around the mandir comfortably Placement of the mandir within the house for accessibility
Lighting
Importance of proper lighting for the mandir Different lighting options to consider
Placement of Poojā Mandir Objects
Designing the mandir to accommodate poojā objects Placement options for convenience and accessibility
Original Suggestions for Home Poojā Mandir Designs
Traditional Wooden Mandir Highlight the beauty and warmth of wooden mandirs different styles and designs available
Contemporary and Minimalistic Mandir
the growing popularity of modern and minimalistic designs contemporary mandirs
Space-Saving Mandir
Provide ideas for small spaces or apartments with compact and foldable mandir options
Wall-Mounted Mandir
 Explore the convenience and space-saving benefits Showcase various wall-mounted mandir designs
Customized Mandir
Discuss the option of creating a personalized mandir Highlight the benefits of customization
Brass idols:
The Beauty and Versatility of Brass Idols
The Timeless Appeal of Brass Versatility in Design  Positive Energy and Spiritual Significance
 Attracting Positive Energy
Promoting Relaxation and Serenity Enhancing Creativity and Inspiration Spiritual Significance and Symbolism
Brass Idols in Home Decor  Statement Pieces and Focal Points Accentuating Different Spaces
Creating a Sense of Elegance Incorporating Brass in Various Rooms Maintenance and Care
Cleaning and Polishing Preventing Tarnish Displaying and Showcasing Brass Idols
Wallpapers:
Importance of a pleasant and appealing home
The role of home decor in creating a charming living space. Enhancing Your Home's Appeal Decorating the floor, walls, and ceiling Choosing stylish home decor items
Tesorworld: Your Home Decor Destination
Overview of Tesorworld
Wide range of home decor products Catering to various styles and preferences Creating a Unique Style for Every Space Traditional, modern, contemporary, Scandinavian, and industrial styles Matching products for different home interiors Focus on the living room, bedroom, and bathroom
Exploring the Collection
Extensive range of products for every nook and corner Furniture, decor, and furnishings
Home decor online shopping convenience
Are you still on the fence about purchasing a brass idol why incorporating brass idols into your home or office is an absolute must?
Essential Considerations When Buying Home Decor Online
When purchasing home decor items, it's crucial to take several factors into account. Here are the primary aspects to keep in mind:
Size & Weight: Ensure that the size and weight of the decor items are suitable for your space, ensuring a harmonious fit.
Utility: Assess the practicality and functionality of the products you choose, ensuring they serve their intended purpose effectively.
Durability & Long-lasting Materials: Opt for items made from durable materials to ensure their longevity, allowing you to enjoy their beauty for years to come.
Reasonable Pricing: Seek home decor products that offer excellent value for money, striking a balance between quality and affordability.
Coherence with Existing Decor: Consider how the chosen items will harmonize with the existing decor in your home, creating a cohesive and visually pleasing ensemble.
Create an Enchanting Home with Tesorworld Home Decor
At Tesorworld, we take pride in providing an extensive range of home decor products to cater to all your decorative needs.