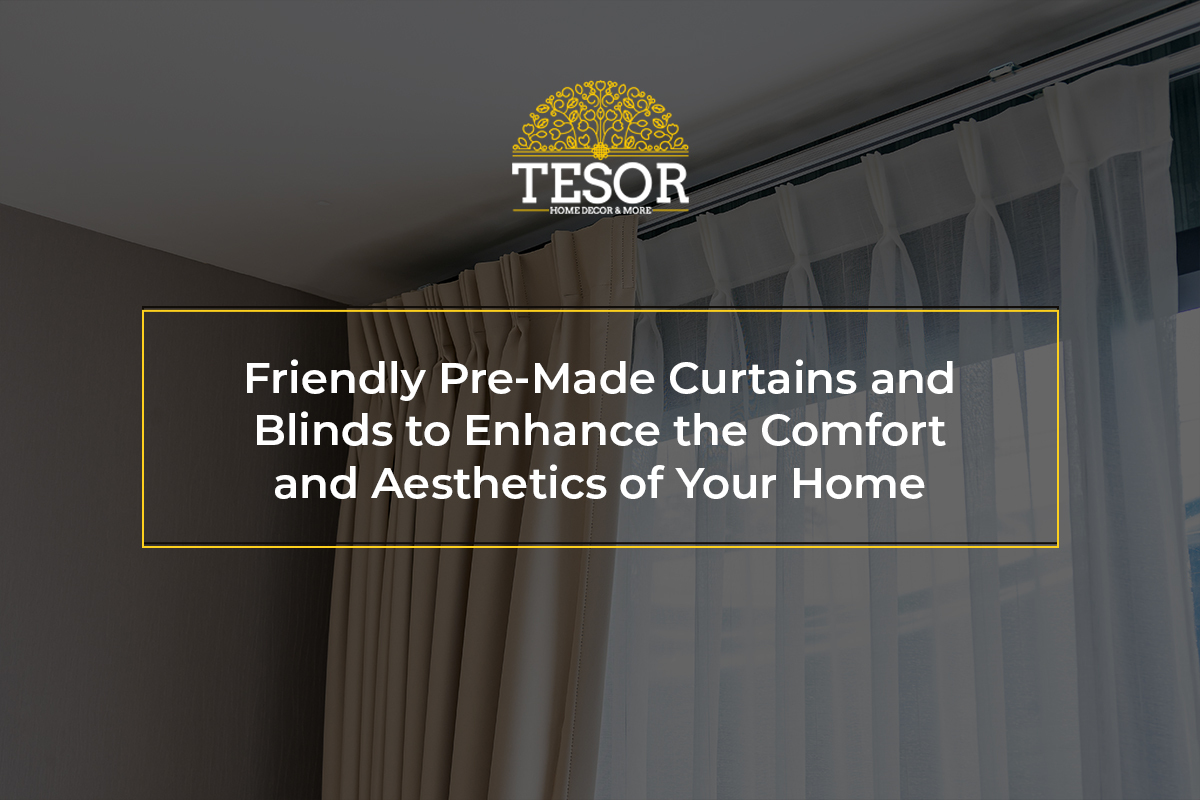 Budget-Friendly Pre-Made Curtains and Blinds For Your Home
Interior decorating plays an important role in converting your home into a place of elegance and comfort. But when it comes to interior design, nothing else holds the transformative power of exquisite curtain designs and stylish window treatments.
However, making your home look fashionable and chic doesn't mean you must overspend. The secret lies in picking budget-friendly options that suit your style. With pre-made curtains and blinds, you can effortlessly improve your home's comfort without compromising on its aesthetics. 
What Should You Keep in Mind Before Selecting Curtains and Blinds?
There are several different kinds of curtain designs and window treatments in the market. With such an exciting range of options at your disposal, picking the ideal one can be quite hard. 
This guide will help you with the ins and outs of selecting the most suitable option to match your functionality as well as aesthetics.
1. Window Measurements
The first step to selecting the ideal curtains and blinds is getting the logistics of what you need right. This involves accurately measuring the width and height of your windows, as ill-fitting curtains or blinds can dramatically impact not just the overall aesthetics but also their functionality.
2. What Room Are You Looking For?
Another pivotal aspect to consider is which room you are choosing your blinds for. This is important as it will determine the purpose behind the purchase. For example, we'd suggest blackout curtains for a bedroom, but a more suitable option for your hall might be normal light-filtering options. 
3. Compatibility with Interior Design
Next is considering whether your selection will match your interior design and existing decor. A set of curtains and blinds might look really graceful in the store, but if it clashes with the existing aesthetic of your home, then it might end up looking quite out of place in your home.
4. Aesthetic and Style
Our homes are an extension of ourselves, and selecting the right aesthetic for your curtains and blinds is a great way of self-expression. Choose one that reflects your unique identity and personality.
5. Budget
The last thing to remember is that selecting elegant curtain designs and stylish window treatments shouldn't weigh too heavily on your wallet. Luckily even high-end pre-made curtains and blinds tend to be quite budget-friendly and affordable. 
Decided on Your Favourite Curtains and Blinds? Head Over to Tesor!
Whether you want curtains that cast a warm yellow glow or blackout ones that ensure uninterrupted sleep- the stylish window treatments at Tesor offer you an endless world of possibilities. 
Let's embark on a journey of affordable home decor together and convert your humble abode into a canvas for your creativity.
These factors will help you choose the ideal budget-friendly pre-made curtains and blinds to not only add a touch of grace to your house but at the same time also meet your functional needs. Head over to Tesor and spoil yourself today.
Frequently Asked Questions (FAQs)
1. Are Budget-friendly Options Durable?
A: Of course! All our products ensure the highest quality for our customers without making them overspend. The same applies to our exciting selection of budget-friendly pre-made curtains and blinds. 
2. How Should I Wash These Curtains?
A: The type of maintenance will defer from curtain to curtain, depending on the materials. While most are machine washable, do read the instructions given on the packaging.  
3. What are Common Trends in Curtains and Blinds?
A: Like everything in retail, trends constantly evolve. However, some evergreen trends remain, such as bold colours, minimalist patterns, and natural designs.